Beauty enhancements through dermatology and plastic surgery are the primary way men and women seek to combat signs of aging and other skin conditions. With advancements in technology and medical procedures, countless options are available for those looking to enhance their natural beauty. One option is ablative laser resurfacing.
Understanding Ablative Laser Resurfacing: Procedure and Benefits
Ablative laser resurfacing, developed by our very own Mitchel P. Goldman, MD, with Richard Fitzpatrick in the 1990's, is a laser skin treatment that removes the top layers of skin. This process stimulates the growth of new, healthy skin cells and reduces the appearance of wrinkles, fine lines, and other skin imperfections, such as acne scars. The lasers target the top layer of skin and affect deeper tissue to stimulate collagen and elastic fiber production. This precise targeting leads to more dramatic results than other skin resurfacing treatments, making it a popular option for those looking to completely rejuvenate their skin.
Ablative laser skin resurfacing removes damaged skin cells while stimulating collagen and elastin fiber production, which is essential for maintaining youthful skin. Our bodies produce less collagen and elastin fibers as we age, which can lead to dark spots, wrinkles, and sagging skin. Ablative lasers reverse this process by stimulating your fibroblast cells to produce collagen and elastin fibers, resulting in firmer, more radiant skin.
Ablative lasers can treat multiple skin concerns beyond wrinkles and fine lines. They can help reduce scars, age spots, sun damage, superficial skin cancer, pre-cancers, and uneven skin texture. This is because the treatment removes damaged skin cells while promoting production of healthy ones. With its ability to address multiple skin concerns, ablative laser resurfacing is a popular choice to enhance natural beauty. There are also many types of ablative lasers, including UltraClear, Sciton Profile, Lumenis UltraPulse, and Active/Deep FX, so patients can find the best treatment for their goals.
Oftentimes, a variety of other lasers are also used at the same time to achieve optimal results regarding excessive blood vessels of lax skin. In addition, injections of Sculptra, a biostimulatory is performed before, during and after the procedure to revolumize the skin and promote skin tightening.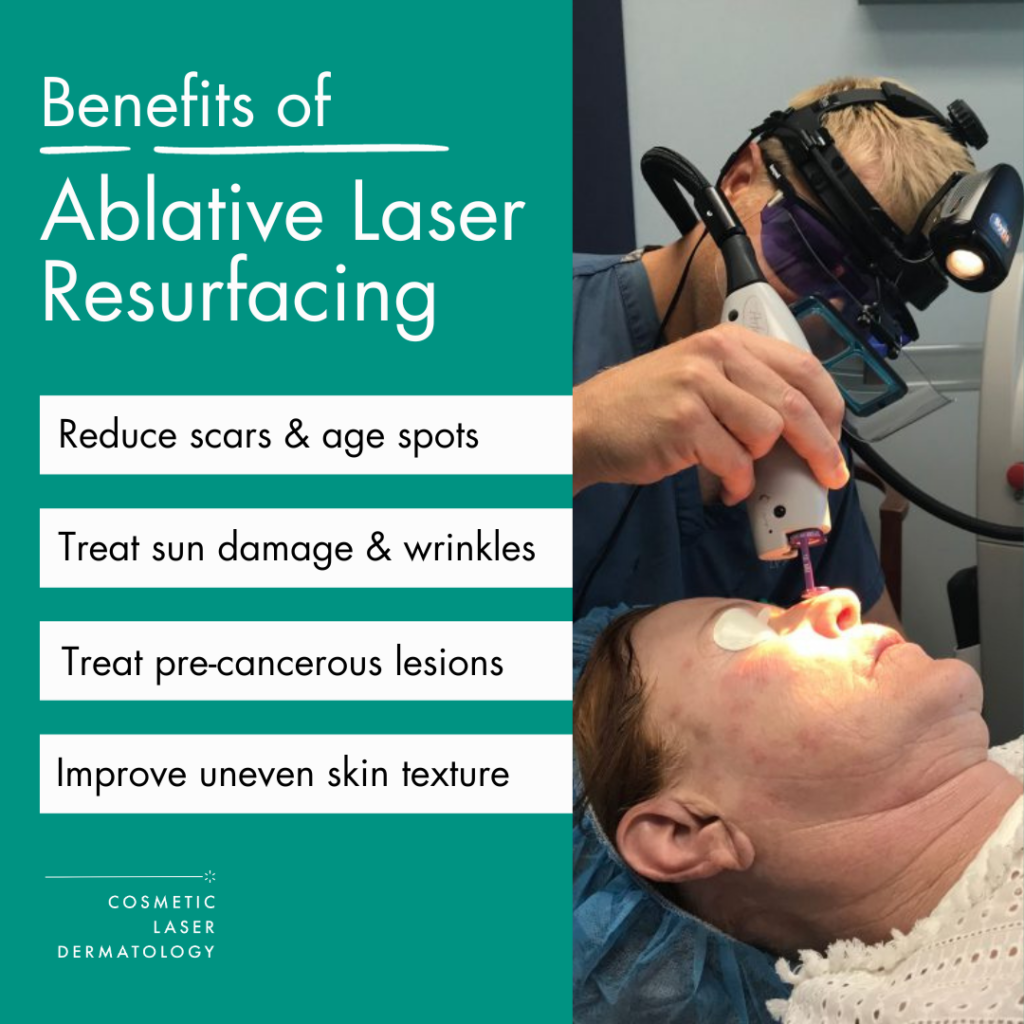 Preparing for Ablative Laser Resurfacing Treatment and What to Expect
Before the procedure, numbing cream will be applied to minimize any discomfort. Patients may also receive nerve blocks and local anesthesia combined with light intravenous sedation. During the treatment, a variety of different lasers at different settings will be used to address your specific problems. You may experience a warming or burning sensation during the procedure, but it should not be painful due to the anesthetics used.
Preparing for an ablative or CO2 or Er:YAG laser resurfacing treatment is important in achieving optimal results. Patients should avoid smoking and stop using certain skincare products in the days leading up to the treatment. Consulting with a board-certified dermatologist can also ensure patients clearly understand what to expect and how to properly care for their skin pre-and post-treatment.
Recovery and Aftercare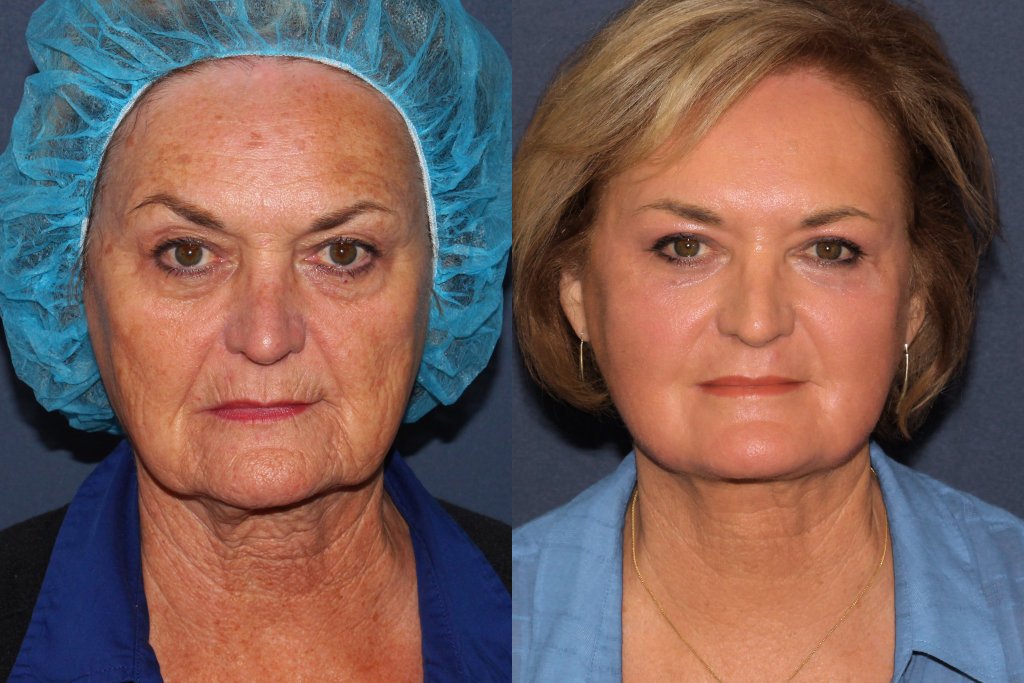 After an ablative laser resurfacing treatment, patients can expect some downtime for recovery, usually 1-2 weeks. The skin may appear red and swollen following the procedure, but these side effects are normal. Crusting and oozing are common for around 7-10 days, and redness can last 2-4 weeks. During recovery, it is important to avoid direct sunlight and protect the treated area with sunscreen and gentle, fragrance-free moisturizers.
Patients should also refrain from using harsh skincare products or makeup until the skin has fully healed. Ablative skin resurfacing recovery is critical to ensure you achieve your desired results through proper healing without further damaging the skin. Our physicians and staff will guide you through this process.
Alternatives to Ablative Laser Resurfacing: Non-Invasive Options
Non-ablative lasers are a non-invasive treatment that can improve skin quality. When researching laser procedures, you will likely learn about two types of lasers: ablative and non-ablative. As previously mentioned, ablative laser resurfacing removes the outer layer of skin to stimulate the growth of new, healthy skin cells. On the other hand, non-ablative laser resurfacing leaves the outer layer of skin intact and focuses on heating the deeper tissue layers to promote collagen and elastic fiber production and skin rejuvenation.
While ablative treatments typically yield more dramatic results, non-ablative treatment is a less invasive option that requires less downtime, but requires multiple treatments to get optimal results.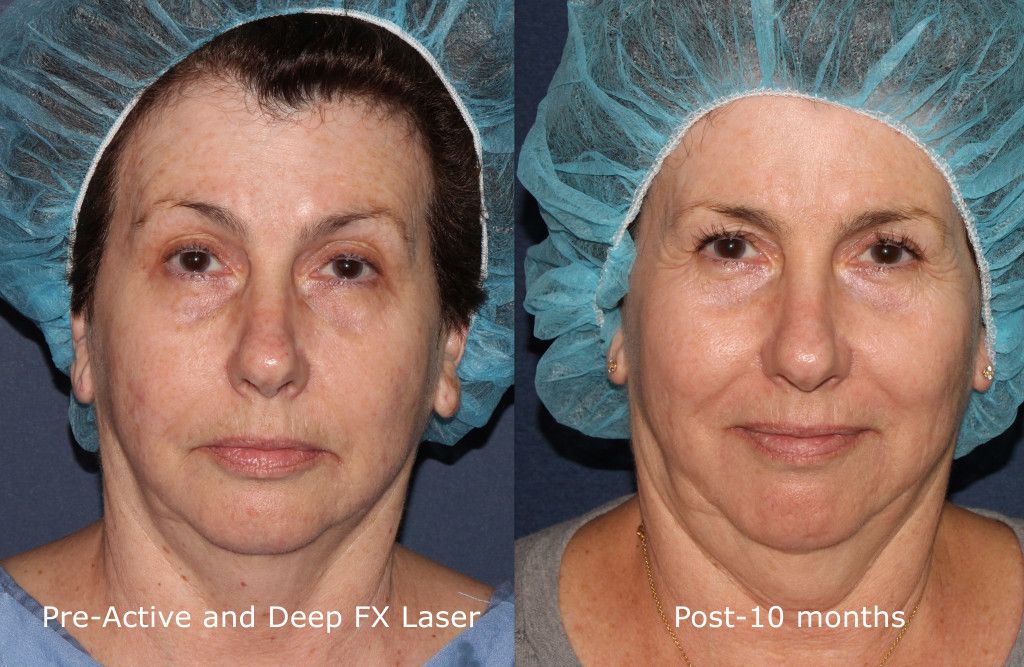 Is Ablative Laser Resurfacing Right for You?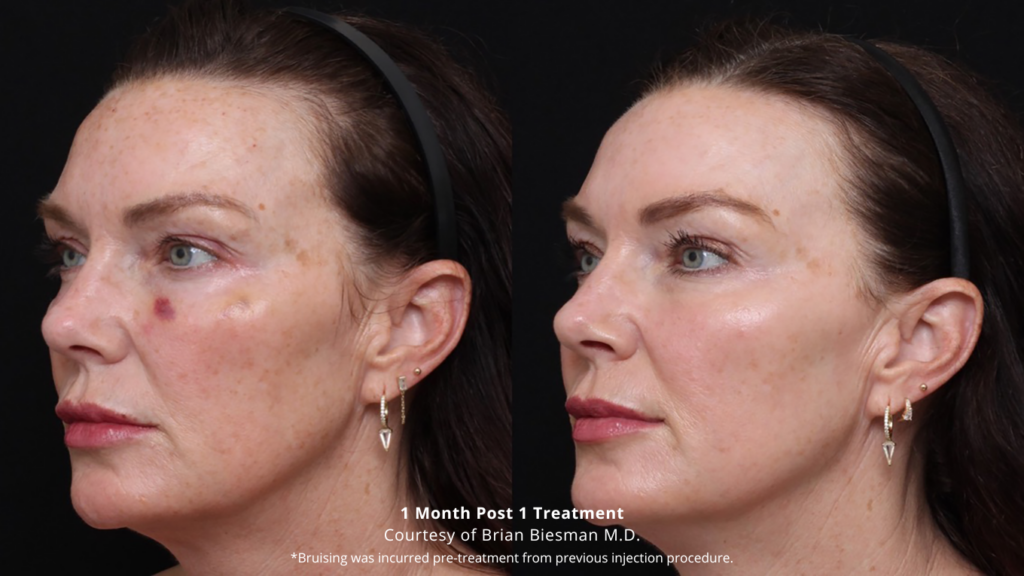 While ablative laser resurfacing is a safe and effective skincare treatment, it may not align with your goals and expectations. For example, if you want a quick recovery with minimal downtime, a less invasive treatment may be better for your needs. Just about any person is a candidate for ablative laser resurfacing. Some people with immunologic problems or certain medical conditions or taking certain medications may not be suitable candidates for the procedure.
By discussing your options and goals with a board-certified dermatologist, you can make an informed decision about enhancing your natural beauty with this popular skin rejuvenation treatment.
Discover More Details About Laser Resurfacing with an Expert
Cosmetic Laser Dermatology is a renowned practice committed to providing the best skincare services in San Diego. With seven highly trained and experienced board-certified dermatologists and the most advanced skin treatments and research methods, patients can depend on accurate information and optimal results.
Contact us to schedule a consultation and learn about our ablative laser skin resurfacing procedures.