CoolSculpting® Elite is the leading non-invasive, FDA-cleared fat reduction treatment proven as a safe and effective way to achieve your body contouring goals. Without surgery or incisions, this innovative treatment addresses fat that has become resistant to diet and exercise.
By choosing Cosmetic Laser Dermatology, you are opting for one of the leading CoolSculpting Elite providers with our experienced board-certified dermatologists –a team at the forefront of cutting-edge technology with our proprietary Cool³ body sculpting (a combination of CoolSculpting Elite, Zimmer ZWave, and CoolTone®) for a comprehensive body contouring treatment.
What is CoolSculpting?
Cosmetic Laser Dermatology offers CoolSculpting Elite, a fat reduction method that uses cryolipolysis, which means fat freezing.
How CoolSculpting Works
CoolSculpting delivers freezing temperature directly into the targeted fat cells through the skin to break them down. The body can then dispose of them naturally through metabolic processes, resulting in a slimmer appearance.
What are some of the benefits?
CoolSculpting can be an excellent choice for men and women who want to achieve the body of their dreams. The popular body sculpting treatment offers the following advantages:
Non-invasive
Quick procedure
Treats many body areas
Natural-looking results
Long-lasting results

CoolSculpting Treatment Areas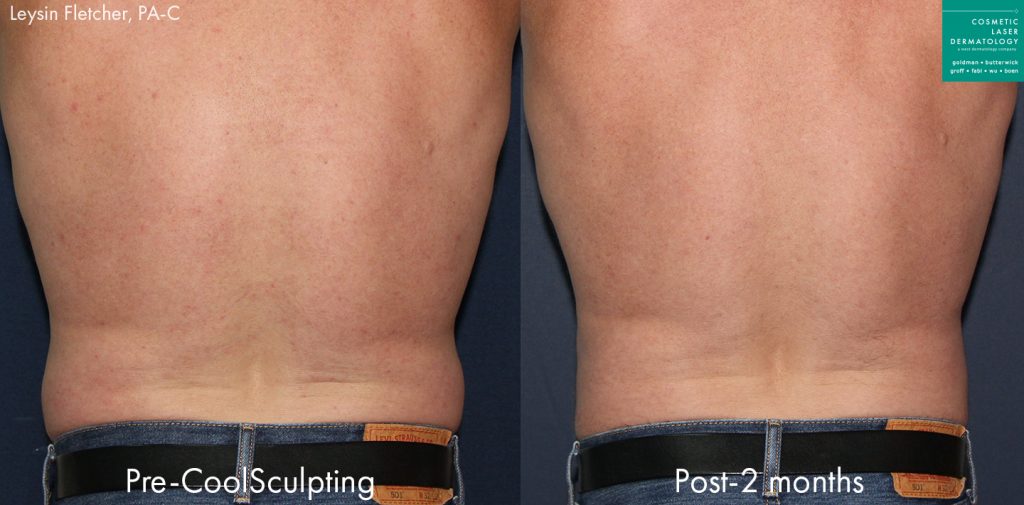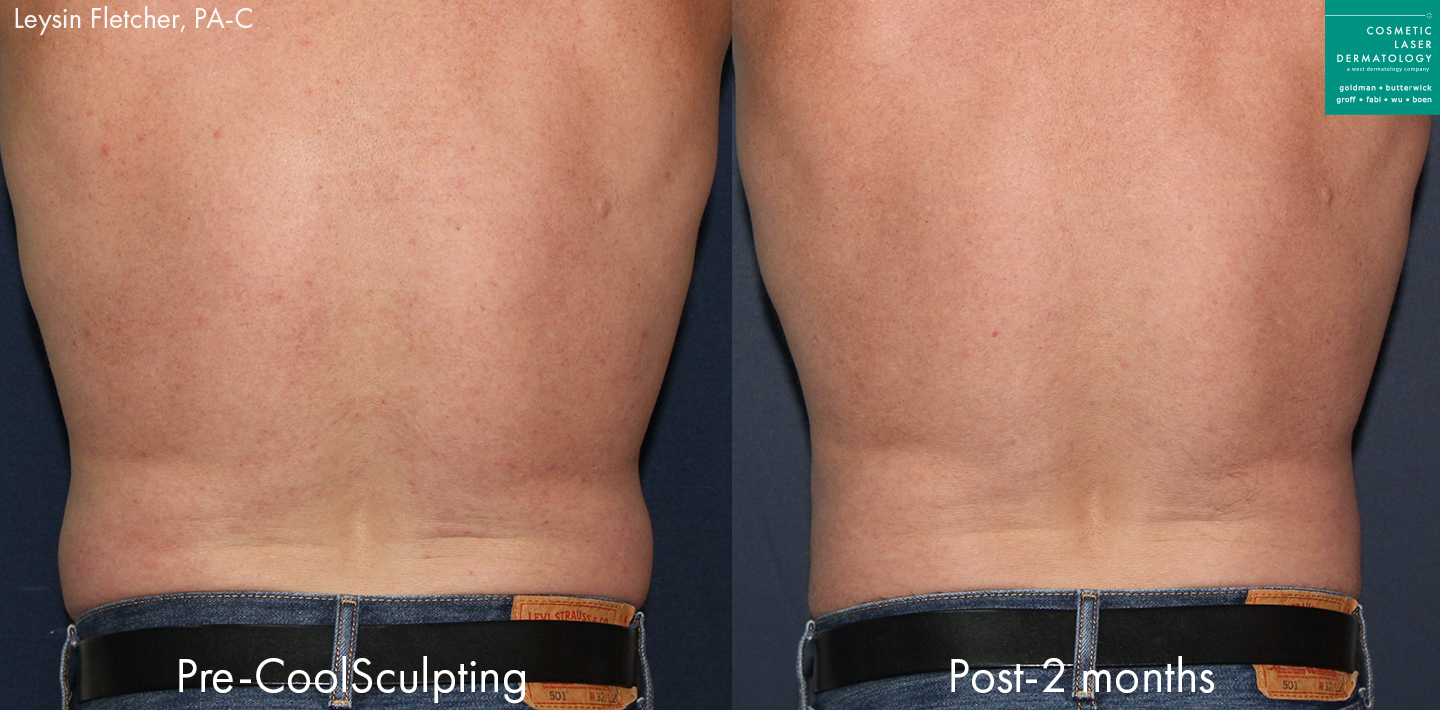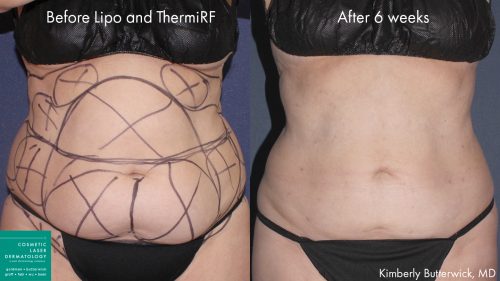 CoolSculpting Elite can be used on any area where stubborn fat has settled. Examples of these areas include:
Arms
Stomach
Abdomen
Muffin top
Love handles
Flanks
Neck
Double chin
Thighs
Back fat
Above the knee
Under the buttocks
Male breasts (gynecomastia)

What to Expect During Your Treatment Session
Step 1: Consultation
Discuss your concerns about stubborn fat and target areas with your dermatologist, who will develop a personalized plan of action for your treatment.
Step 2: CoolSculpting Treatment
A CoolSculpting Elite session typically takes one hour, during which you can comfortably spend your time as you please –you can read a book, listen to music, or use a tablet.
The treatment area is outlined with gel, then the device's cooling panels deliver the freezing temperatures to fat cells without damaging surrounding tissue. You may feel a slight pulling or tugging sensation. As the treatment continues, the treatment area will likely become numb.
We then use the Zimmer Acoustic Wave device to further breakdown the frozen fat cells immediately after.
For optimal results we then perform a CoolTone treatment to further enhance destruction of fat cells and simultaneously build up underlying muscles.
Step 3: What to Expect Immediately After Treatment
After the treatment, the skin may appear pinkish for a few minutes to a few hours due to the cold contact, but you may resume your normal activities after the procedure. Your treatment areas may feel tender for 24 hours and have mild bruising, which should subside within two weeks.
CoolSculpting Results and Timeline
Your body will naturally flush out the dead fat cells in the months following your CoolSculpting Elite procedure. You should see the treatment area become slimmer and more contoured as the cells are eliminated.
You can start to see results in as few as 3 weeks after your procedure, and between months 3 and 4, you'll see and feel the most dramatic results. Many patients need an additional treatment or two to get maximal results. It is not unusual for patients to request additional areas for treatment after seeing the wonderful results from their initial treatment.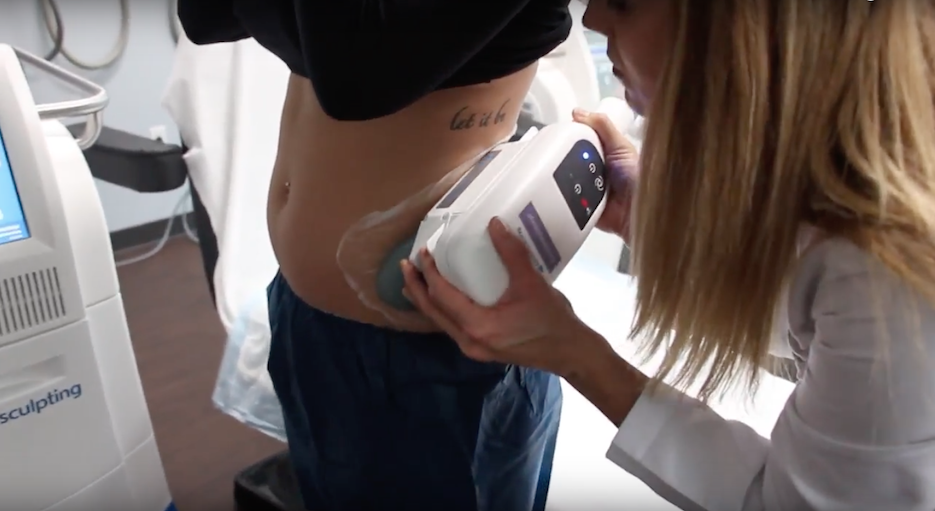 Tips for Maintaining Results
Eat a healthy, balanced diet
Exercise regularly
Stay hydrated
Get regular massages
Consider additional CoolSculpting Elite treatments

Here are tips to help you look and feel great long after your initial CoolSculpting Elite treatment:
Schedule Your Coolsculpting Consultation in San Diego, CA
With more than 60+ laser, light, and energy devices, including proprietary combination treatments that deliver excellent results, Cosmetic Laser Dermatology's board-certified dermatologists are ready to help you achieve your dream physique. To determine if CoolSculpting Elite is the right treatment for you, contact us to schedule a consultation.