Just like couples who bring out the best in each other, there are cosmetic procedures that are made for each other when it comes to producing the best outcome. Playing beauty matchmakers are the six board-certified dermatologists, dermatology physician assistant, and medical aesthetician at the #1 medical spa in San Diego CA, Cosmetic Laser Dermatology. With over 100,000+ satisfied patients, 50+ laser, light, and energy devices, 100+ years of combined experience, and an in-house dermatology research center, our skin care clinic offer patients customized care by pairing innovative laser, injectable, and body sculpting aesthetic treatments you have probably not considered to create the ultimate in rejuvenation.
Why Should I Combine Treatments?
When it comes to skincare, there is no one-size-fits-all solution. Every patient's skin type, needs, conditions, and goals are different. There is also no single treatment that will solve all your skin issues. For instance, Botox® Cosmetic will do an excellent job at minimizing forehead wrinkles, but a laser treatment will be more effective in evening out skin tone. By pairing complementing aesthetic treatments, patients will get a more comprehensive and personal approach to treating the skin, targeting several skin issues at once. Maximizing the benefits of each treatment means healthier, more beautiful skin that will require less maintenance and fewer office visits. Especially when you are aiming for a complete transformation, these paired procedures can give you quick and dramatic results that are impossible to achieve with a stand-alone treatment. In addition, combining a neuromodulator like Botox, Dysport, Xeomin, or Jeveau with a laser treatment may actually improve the results of the laser treatment!
Complimentary Combos
At Cosmetic Laser Dermatology, we take pride in our approach to skincare. When you come to our skin care clinic in San Diego, we will customize a treatment plan to help you achieve superior results. We have a multitude of innovative combination treatment options including lasers, injectables, topical skincare products, and body-shaping procedures. And since we are committed to discovering major cosmetic breakthroughs in science and medicine to provide patients with the best possible results, we have meticulously designed our own proprietary combination techniques that promise to deliver impressive results. These are some of our in-office treatment pairings that can help you achieve healthy and beautiful skin at any age.
Take 10
Our exclusive Take 10 technique combines multiple lasers and injectables to take 10+ years off your appearance in one treatment without surgery. By combining the use of laser resurfacing with advanced injectable fillers and Botox, our doctors are able to dramatically reduce the signs of aging by treating age spots, wrinkles, skin imperfections, loose skin, and sun damage on a patient's face, neck, and chest. Our doctors at Cosmetic Laser Dermatology developed this gold-standard anti-aging treatment as a non-surgical alternative to a facelift. This technique is so successful for our patients because we are able to tailor it precisely to their needs.
Cool3
The Cool³ combination is a powerful body sculpting technique. It combines popular body contouring methods CoolSculpting Elite, CoolTone, and Zimmer Z-Wave Acoustic Therapy to achieve optimal fat removal and body shaping results. Coolsculpting utilizes cryolipolysis (precisely controlled cooling) to freeze and destroy fat cells, while CoolTone reduces deep fat and strengthens muscles by using electromagnetic muscle stimulation to tone, firm, and strengthen the muscle. The Zimmer Z-Wave replaces manual massage, resulting in less bruising, less discomfort, and enhances results by up to 50%. 
TotalTat3
Since we have multiple lasers for tattoo removal, we can effectively remove or fade ink of almost every color from black to red to green to blue. The type of laser used depends on the color of the ink. Our lasers work by directing energy at the art, passing harmlessly through the outer layers of the skin and directly targeting the ink. The ink is disrupted, allowing your body to absorb it, break it down naturally, and remove the tattoo. When we use a combination of different lasers, we can often eliminate the ink even faster and more thoroughly than using a single device.
Skincare Trifecta
Three is never a crowd when it comes to skin rejuvenation treatments. Farzaneh Momeni-Salami, our professional medical aesthetician with over 30 years of experience, can give you your best skin yet with the combination of three aesthetic treatments. The first is Dermaplaning, a manual exfoliation technique that can diminish the appearance of lines and wrinkles to create a more radiant look, increase the absorption of skincare products, and prime the skin for chemical peels. A chemical peel can remove dead skin cells to allow the next layer of skin to develop and replace the old layer. The result is tightened, clearer skin with reduced wrinkles. Completing the trifecta is the HydraFacial and JetPeel. These non-invasive skin rejuvenating treatments can smooth and soften your skin. Its innovative multi-step technology involves deep-cleansing of the skin, exfoliation through an acid peel, painless, automated extractions to clean out pores, and the application of hyaluronic acid and antioxidants to renew and protect the skin.
Ideal Matches That Might Surprise You
What sets Cosmetic Laser Surgery apart from other practices is our technique, experience, and proactive approach to offering customized treatments to our patients. By blending together dermatology treatments and technologies–some of which are more compatible than you might think–we can provide you with natural and beautiful results without the need for surgery.
Clear & Brilliant + Botox + Skincare = Comprehensive Facial Rejuvenation
For quick and comprehensive facial rejuvenation, Clear + Brilliant and Botox make the perfect twosome. Clear + Brilliant is a non-invasive treatment that can leave your skin feeling smoother, younger-looking, and leave you with a radiant glow. It works by creating hundreds of thousands of microscopic treatment zones in the upper layers of the skin, replacing damaged skin with healthy-looking tissue and effectively treating uneven pigmentation, sun damage, brown spots, and large pores. And what better way to complement your glowing complexion than by eliminating wrinkles! This is where Botox, the popular wrinkle-relaxing procedure, comes in. By blocking the nerve impulses responsible for muscle contraction, Botox (or Dysport, Xeomin, or Jeveau) causes these targeted muscles to relax, thereby softening the appearance of lines and wrinkles, giving you a more youthful appearance.
By adding specialized skincare products from SkinCeuticals, SkinMedica, and Calecim, we can enhance results by further normalization of skin color and by enhancing collagen formation. These skincare products contain potent antioxidants, growth factors and pigment correctors.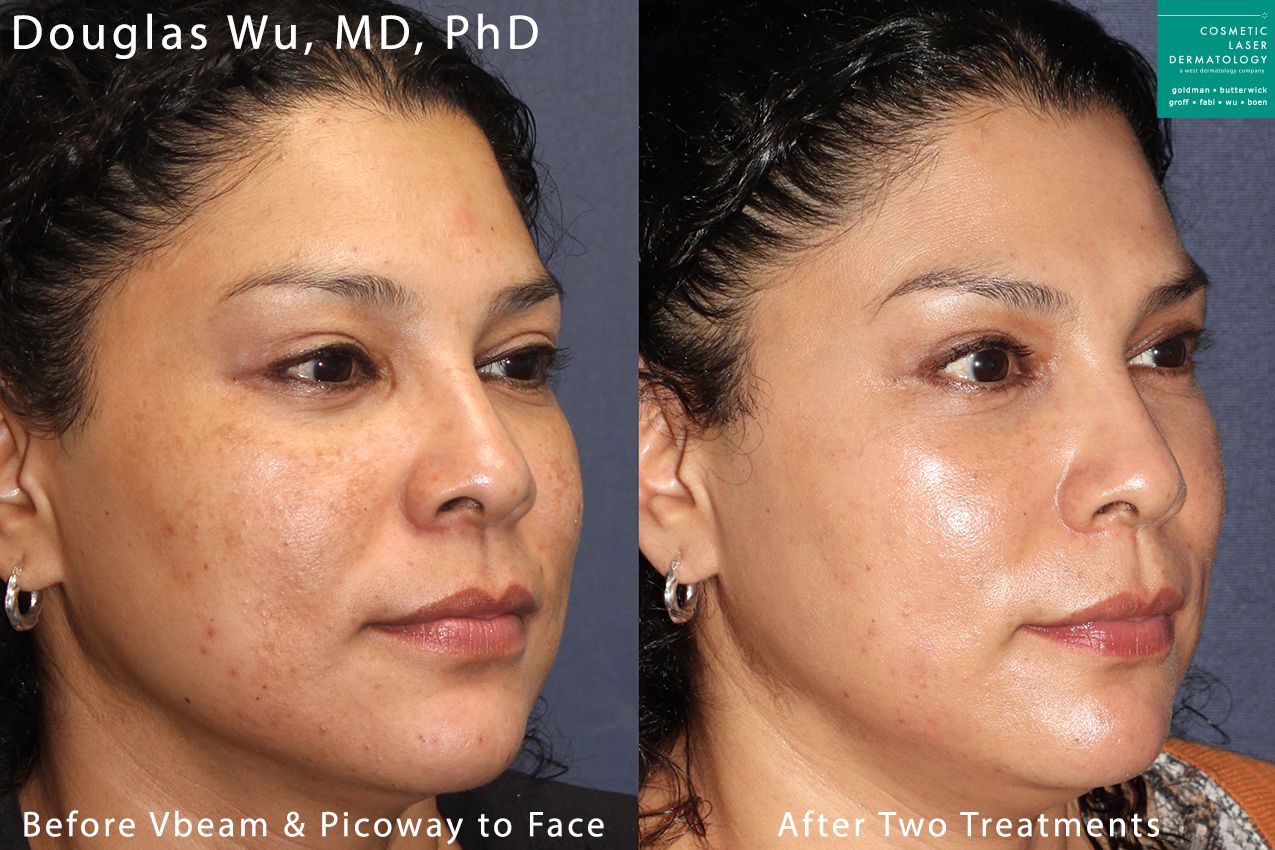 Vbeam Perfecta/Cynergy Pulse Dye Laser + PicoSure/Picoway = Sun Damage Therapy
The ultimate power couple when it comes to providing a comprehensive sun damage treatment that would effectively target brown and red spots would be a pulsed-dye laser and a picosecond laser. The Vbeam Perfecta and Cynergy Laser are pulsed-dye lasers that work to target blood vessels deep within the skin, ultimately leading to the reabsorption of the damaged skin vessels by the body and effectively treating pigmented lesions, vascular problems, and several other skin conditions. Then the PicoSure and Picoway can deliver high-intensity laser pulses for a very short time (a picosecond) to gently disrupt pigment responsible for skin discoloration. They also create photoacoustic pressure waves in the skin's dermal layers to signal the cells to start repairing the skin naturally. As new collagen and elastin form, the skin will also tighten.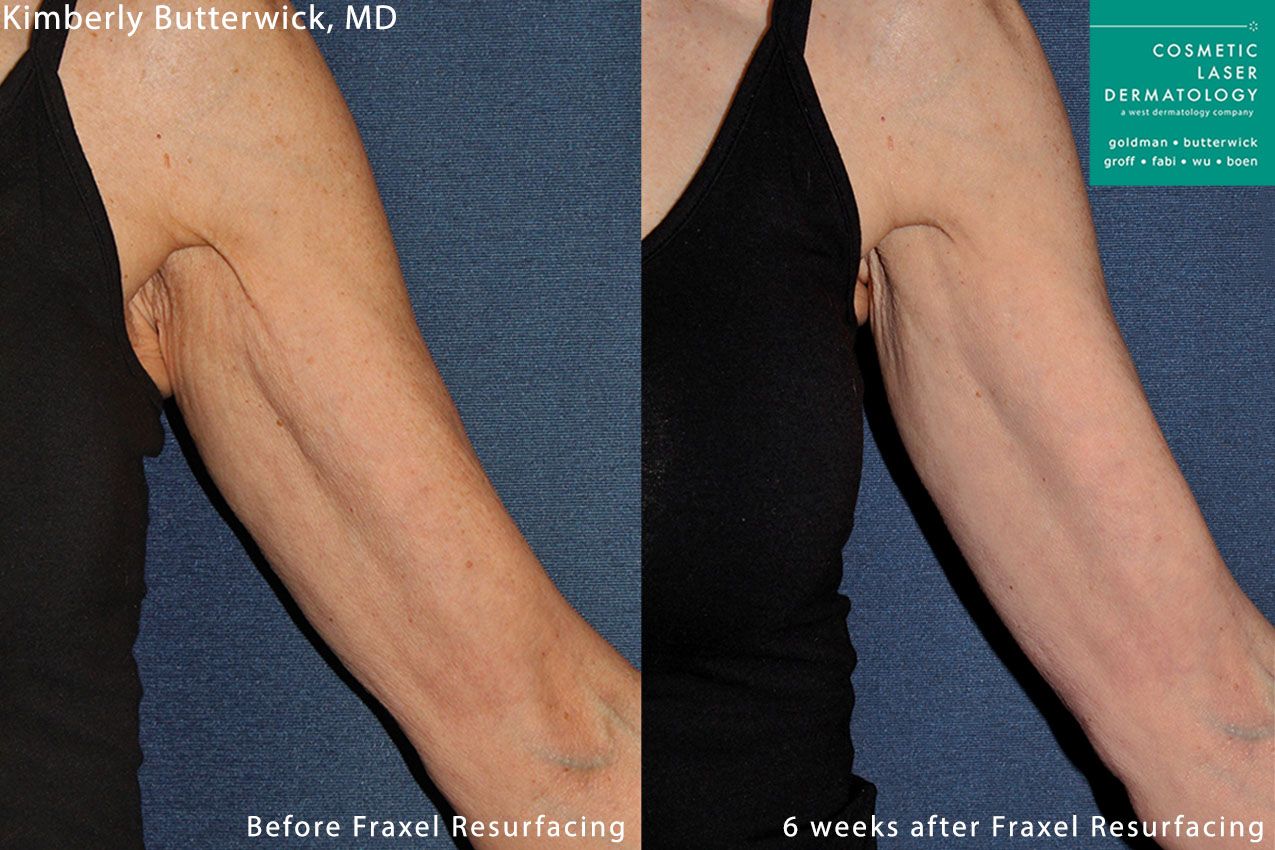 Fraxel Repair + Radiesse = Upper Arm Rejuvenation
If you want to get amazing arm rejuvenation results, you can turn to the dynamic duo of a Fraxel laser treatment and Radiesse®. Fraxel Re:pair treats the skin from the inside out. Zone by zone, the laser penetrates the dermis and resurfaces the uppermost layers of the skin to stimulate collagen and elastin production, for smoother, tighter, and firmer arm skin. Radiesse can help with the finishing touches on your rejuvenated arms by adding volume and softening the appearance of wrinkles and veins by plumping up areas of the arms and hands that appear sunken and wrinkled. And since it's a collagen stimulator, Radiesse can help set the skin back to a better, healthier structure.
Pulse Dye Laser + Intense Pulsed Light + PDT = Complete Acne Treatment
If the goal is to battle acne, nothing beats the tandem of a pulse dye laser, intense pulsed light (IPL), and PDT. The pulse dye laser minimizes redness from the acne lesions as well as stimulates the effects of the PDT, calming the inflammation while the IPL further normalizes the pigmentation and redness. PDT (or photodynamic therapy) can then activate topical photosensitizing agents Amaleuz and Levulan. The procedure causes acne-promoting bacteria to die and shrinks the skin's oil glands. This reduces the amount of oil production within the pores, thereby reducing comedones (whiteheads). This means improved overall skin texture and appearance.
Lasers + Sculptra = Facial Anti-Aging
Lasers combined with dermal biostimulatory agents are a match made in beauty heaven. While laser resurfacing treatments can target common skin conditions such as sunspots, age spots, wrinkles, and acne scars, with its collagen-boosting effects, the dermal biostimulatory Sculptra® can further enhance results by restoring lost volume in the face. As a collagen stimulator, Sculptra reinforces the skin's foundation while restoring the look of fullness that has depleted over time. The result is the gradual and subtle correction of wrinkles and hollowing areas, giving you a refined, more youthful-looking appearance.
Liposculpture + Thermi = Perfect Jaw Sculpt
An advanced technique available for permanently removing excess fat deposits in areas resistant to diet and exercise, liposculpture (a.k.a. awake lipo) uses extremely small suction cannulas to precisely reduce unwanted fat in the neck and jowl area and tighten loose skin. To further enhance chin sculpting, we add a Thermi treatment to tighten overlying skin for a beautiful contour from the chin to the neck.
Why Choose CLDerm for Your Combination Treatments
Cosmetic Laser Dermatology is pleased to house more than 50 lasers, light, and energy devices to treat many skin conditions. These systems are the most advanced technologies available, allowing us to provide patients with superior results in fewer treatments. By customizing treatment plans, we can better address your skin issues and give you skin that looks and feels healthier. Our board-certified dermatologists are anti-aging and body-sculpting experts who continually participate in clinical trials and research programs in order to remain at the forefront of cutting-edge procedures. We have actually helped develop many of the procedures available today including tattoo removal lasers, intense pulsed light technology, and skin tightening procedures. We can say with confidence that you can trust your skin in our hands.
Couple Up Treatments in San Diego
Treating the skin is no simple process, especially when you have multiple skin issues that require attention. Comprehensive treatment plans in the form of combination procedures is your best form of defense against wrinkles, spots, acne, and unwanted fat. To learn more about how you can achieve the best results in a quick and safe manner. We hope to see you at the #1 medical spa in San Diego, contact Cosmetic Laser Dermatology to schedule a consultation.