Z Wave Overview
Cosmetic Laser Dermatology remains at the forefront of laser and cosmetic surgery research and is on the cutting edge of all the latest skin-tightening and cellulite-reducing technologies. We offer effective techniques for tightening the skin after fat reduction treatments like Cool³ Body Sculpting so you can leave our office with a complete transformation. Z Wave can help firm the skin surrounding areas where fat has been removed so you won't be left with sagging skin. This device can also reduce the appearance of dimples and "cottage cheese" skin.
The board-certified dermatologists at Cosmetic Laser Dermatology consistently adapt to new technologies and incorporate them into their treatment plans in our San Diego office. Developed by Zimmer Aesthetics, Z Wave is one of these new technologies that has proven to help our patients reach their aesthetic goals and achieve smoother, firmer, and more youthful-looking skin without any downtime.
Benefits of Z Wave
Non-invasive treatment (part of our

Cool³ Body Sculpting

technique)

Simple application

Gentle and comfortable

No downtime

Quick and easy recovery

Visible results

Minimizes the occurrence of side effects

Versatile (works in combination with other treatments, mostly fat reduction methods)

Enhances body contouring results (e.g., fat reduction after

CoolSculpting

is enhanced)
Schedule A Consultation in San Diego Today
Ready to reach your aesthetic goals? Schedule a consultation with a board-certified dermatologist at Cosmetic Laser Dermatology today.
What To Expect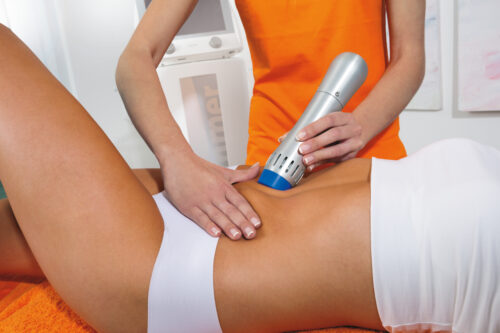 The Z Wave procedure can take anywhere between 10-20 minutes to complete, depending on the size and number of the treatment areas. A handheld 39 mm application head wand is glided across the treatment area as it precisely transmits the radial waves into the tissue. Since it is a non-invasive treatment, it tends to be a quite comfortable experience. Most patients have even associated the Z Wave with a relaxing massage session.
There is no downtime, and you can return to your normal activities following a session. Your skin may be a bit red and warm to touch, but side effects are rare. As a non-invasive treatment, Z Wave is considered to be very low-risk.
Our physicians offer a Z Wave treatment in place of a manual massage after a CoolSculpting procedure at no extra cost. By replacing a manual massage with this treatment, you can experience:
Less bruising

Less discomfort

Enhanced results by up to 50%
This combination treatment is part of our proprietary Cool³ Body Sculpting technique. Cool³ utilizes the latest technology in body contouring so our patients can achieve their aesthetic goals without invasive procedures or surgery. Our doctors can create a custom treatment plan using many techniques and devices that suit your specific goals. Cool³ can be used to treat:
Neck

Chest and Arms

Stomach and Abs

Love Handles

Bra fat

Back fat

Thighs 

Knees
How Z Wave Works to Treat Cellulite
Z Wave gets its name from its ability to create mild, consistent waves of rapid energy pulses or Radial Pulse Therapy (RPT) that spreads out on treatment areas radially (picture the waves created when you drop a pebble into a still body of water), effectively treating mild to moderate cellulite. It can treat many areas with lumpy skin, including the upper arms, abdomen, hips, thighs, and buttocks. 
The technology works by using an electromagnetic applicator to trigger your skin's production of collagen and improve skin elasticity. The acoustic wave therapy quickly and harmlessly creates radial pulses of sound waves to break up the fat, tissues, and gas bubbles around the cellulite which re-expand after a treatment. This ensures a destabilization of the fat structures. In effect, collagen production is stimulated, connective tissues are strengthened, and cell rejuvenation is initiated. In fact, many currently accepted cellulite therapies target deficiencies in lymphatic drainage and microvascular circulation. Z Wave works well in improving metabolic activity and blood flow. To learn more about laser, light, and energy devices for cellulite treatment and lipodystrophy, visit pubmed.org. 
You may notice visible results after your first 2-3 sessions when using Z Wave for cellulite therapy. But depending on your specific cellulite concerns, we recommend multiple Z Wave treatments in order to see the best results. Most patients can expect to have 8 treatments, with 2 treatments scheduled weekly. Maintenance sessions after the initial 8 treatments along with exercise and a balanced diet will keep visible cellulite to a minimum and may provide you with long-term results.
FAQs
Q: What can Z Wave do after a Coolsculpting treatment?
A:
Coolsculpting freezes fat, which your body then naturally eliminates. Coolsculpting can also tighten the skin, enhancing your overall results. The Z Wave accelerates the removal of frozen-damaged fat.
Q: How much does Z Wave cost?
A:
Our doctors offer Z Wave at no extra cost when used after a CoolSculpting treatment. The cost of Z Wave treatments for cellulite depends on the size of the area being treated and the severity of the cellulite. We will let you know what cost to expect at your consultation.
Q: What is the best cellulite treatment?
A:
Every person's goals and physical traits are different, so what is best for one person might not be the best for another. We at Cosmetic Laser Dermatology will work within your budget as much as possible and find out what's most important to you as you choose a treatment option.
Other Options
We offer other great alternatives for the treatment of skin laxity and cellulite in San Diego, CA. Our board-certified dermatologists are body sculpting experts and can help you achieve smoother skin and a higher level of confidence. Alternative treatments include:
Cool³ Body Sculpting
Cool³ Body Sculpting uses the combination of not just CoolSculpting and Z Wave but also liposculpture and ThermiSculpt/ThermiTight. Both combinations can achieve optimal fat removal and body shaping results. During your consultation, we will help you select the best treatment plan for your needs and goals.
Cellfina
Cellfina is an FDA-cleared procedure for reducing the appearance of cellulite. It treats the underlying structural causes of cellulite through an automated subcision process. A small needle-sized device cuts the connective bands that create dimpling by encouraging them to fray then release (like a rubber band under tension). The skin will spring back to a smoother, tighter-looking appearance.
Sculptra
Sculptra is an injectable filler and functions as a collagen stimulator. As it is injected deep into the skin, it accelerates collagen production and in effect, improves skin laxity and restores volume. Sculptra can therefore reduce the appearance of cellulite by filling up the dimples with new collagen to make the skin smoother.
Qwo
Qwo is the first FDA-approved injectable treatment for cellulite. It was researched at Cosmetic Laser Dermatology over the past 10 years, making our dermatologists experts in its use. Qwo works by releasing the fibrous bands that cause cellulite to appear. It will be available in early 2021.
Promotions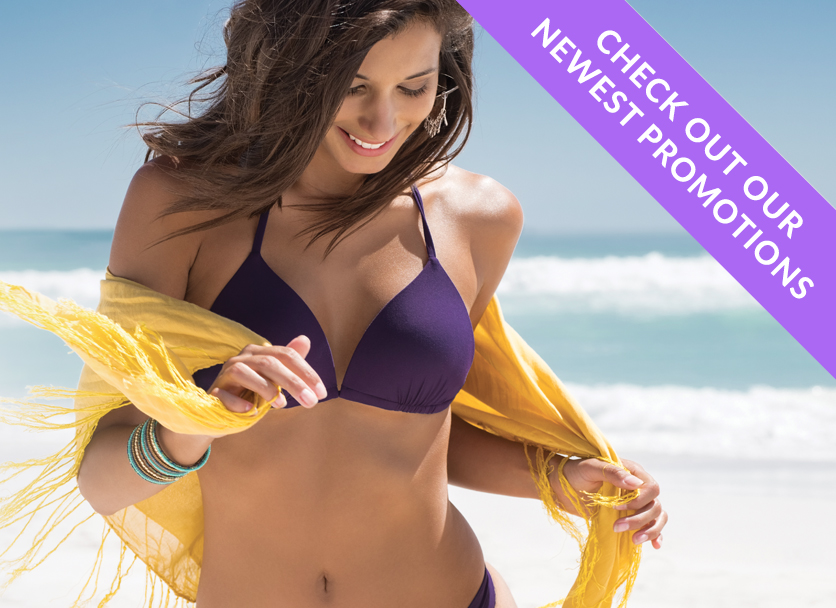 For more information about the monthly specials offered at Cosmetic Laser Dermatology in San Diego, visit our Promotions page.