Let's face it: the "Quarantine 15" just might be catching up with all of us. From having to remain indoors and adapting to a less active and more sedentary lifestyle, to having fewer dining options, weight gain during quarantine is inevitable.
While some may be worried about the weight gain, Cosmetic Laser Dermatology has options for hiding unwanted and stubborn fat deposits. With treatments such as Liposculpture, our proprietary Cool3 technique, CoolSculpting, and other body contouring options, you have the opportunity to make your "Quarantine 15" seemingly disappear.
At Cosmetic Laser Dermatology, we have more than 50 lasers and devices expertly used by our renowned, board-certified dermatologists to help you achieve your desired results. Entrust hiding weight gain during this quarantine to the many treatment modalities we have to offer.
Cool 3
Cool3 is one of the most popular treatments offered at Cosmetic Laser Dermatology. A proprietary technique, The Cool³ combination procedure is a powerful, non-surgical technique for body sculpting. 
It involves combining popular body contouring methods such as CoolSculpting, CoolTone, Zimmer Z-Wave Acoustic Therapy, as well as liposculpture and ThermiSculpt/ThermiTight to achieve optimal fat removal and body shaping results.
A treatment plan for the Cool3 technique typically follows this process:
CoolSculpting is performed first 

Zimmer Z-Wave is then utilized 

CoolTone is performed immediately after 
The Zimmer Z-Wave is a device that uses radial pulse therapy to replace a manual massage. Performed after CoolSculpting, this allows for less bruising and discomfort, and it enhances results up to 50%. This, combined with CoolSculpting and Cooltone, and at times even Thermi, will likely have you loving your body after just one treatment.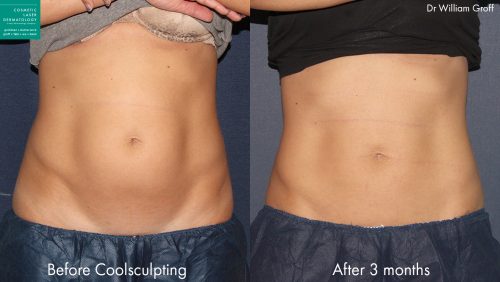 CoolSculpting
CoolSculpting is a well known treatment for body contouring. Remaining one of the most popular treatment modalities at our practice, CoolSculpting uses cryolipolysis (precisely controlled cooling) to reduce fat and sculpt targeted areas of the body. 
The main treatment areas are: 
Neck 

Chest and Arms 

Stomach and Abs 

Thighs 

Knees 

Love Handles 

Male Breasts (gynecomastia) 

Under the chin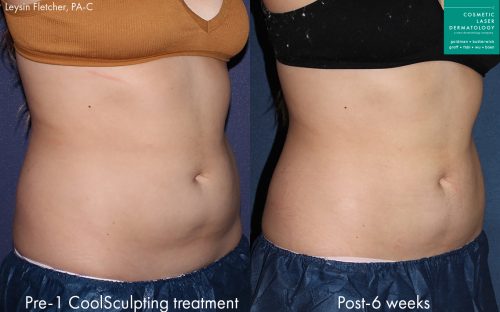 Cosmetic Laser Dermatology delivers exceptional results with our Master Coolsculpting Specialist, Physician Assistant Leysin Fletcher. She is one of only two Master Coolsculpting Specialists in San Diego. This is not the only differentiator that sets our practice apart from others. When coming in for treatment, our physicians perform DualSculpting, which utilizes two machines to treat one targeted area. This results in completion of treatment twice as fast. 
DualSculpting allows for fat to be frozen in half the amount of time, making this the ideal form of treatment for patients who want to target more than one area of stubborn fat. Additionally, at Cosmetic Laser Dermatology, we take advantage of CoolAdvantage applicators. 
These applicators allow our esteemed team to cut down treatment time even further. Aimed to provide exceptional results for inner thigh sculpting and contours along the abdomen and flanks, you can create an ideal beach body in the fewest amount of appointments.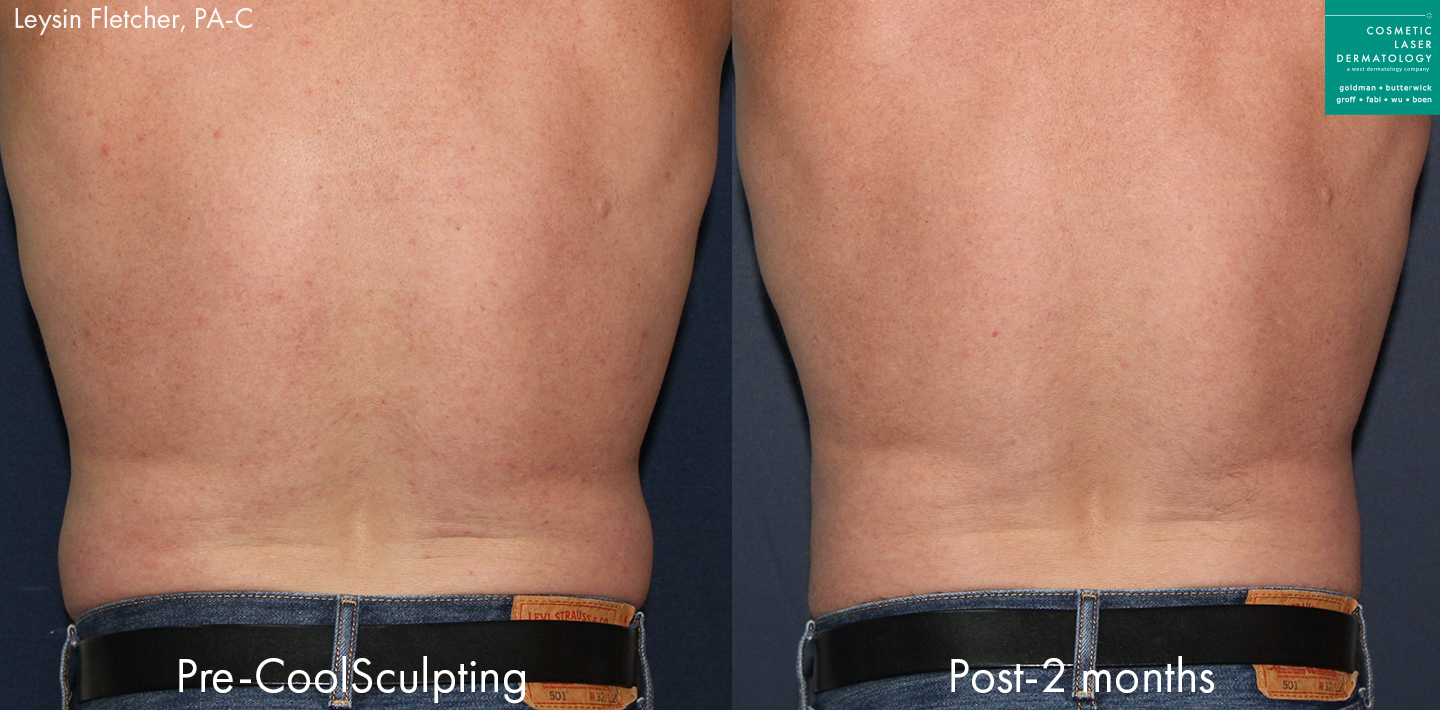 The benefits of CoolSculpting are extensive, but the top ones are:
Non-invasive 

Minimal to no downtime 

Quick and efficient procedure 

Safe and nearly painless 

Noticeable results in as little as 3 weeks 

Optimal results within 2-4 months 

Ideal for men

as well as women
Cooltone 
CoolTone is new to the Allergan portfolio and promises outstanding results with similar benefits to CoolSculpting. CoolTone uses electromagnetic muscle stimulation to tone, firm, and strengthen the underlying muscles of targeted areas. 
The target areas include: 
Ideal for giving your body that much needed boost of support, CoolTone remains best as a supplement to a healthy and active lifestyle. Clean eating and regular exercise is still recommended for optimal results.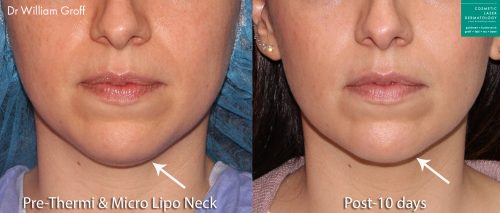 Thermi
A non-invasive skin-tightening therapy, Thermi is primarily used as a means to address issues of sagging skin. However, at the hands of our talented physicians at Cosmetic Laser Dermatology, Thermi can also be used to address stubborn fat deposits in body sculpting procedures. 
During treatment, a small cannula is placed under the skin to access the unwanted fat cells. After delivering radiofrequency energy that heats the fat tissue, the fat cells begin to melt. Naturally and gradually, your body then begins to dispose of the cells, and over time, your body is shaped to the way you want it to be. The heat that's generated to destroy fat cells is also directed to the skin, causing tightening.
The process follows three simple steps: 
ThermiLift addresses the sagging skin and is used to tighten the skin 

Liposculpture or Kybella is then used to eliminate excess fat 

ThermiLift is brought back to tighten the remaining skin 
Thermisculpt is a new and innovative procedure performed exclusively at Cosmetic Laser Dermatology that combines Thermi and liposuction, creating the most advanced body tightening procedure on the market today. With this technique, you won't be left with sagging skin where fat has been removed. 
Liposculpture
Liposculpture is a minimally invasive procedure that can help shape any type of body into an ideal body type, making this treatment a perfect option for hiding those quarantine pounds. Cosmetic Laser Dermatology dermatologists are ideal professionals to perform this treatment, with their years of experience and considering the number of peer-reviewed medical journals they've appeared in and their numerous presentations at medical conferences on the topic of fat removal.
Tumescent liposculpture, known as "Awake Lipo," permanently removes excess fat deposits in areas that are resistant to diet and exercise, such as: 
Abdomen

Love handles

Hips 

Thighs – inner thighs, outer thighs (saddlebags), anterior thighs (front of thighs) 

Buttocks 

Neck and Jowls 

Upper arms 

Back (mid and lower) 

Calves 

Ankles 

Breasts (male and females) 

Above the knee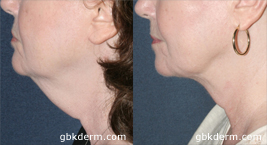 CoolLipo
Brought to you by CoolTouch, CoolLipo provides patients with a lifted, younger-looking neck, perfect for those who have carried the "Quarantine 15" around their neck and face. Using a 1320nm laser that treats small areas often missed by traditional liposuction procedures, CoolLipo is commonly utilized for the neck, jowls, chin, and underside of the arms. 
CoolLipo painlessly liquefies the unwanted fat in targeted areas so it can be removed without damaging the surrounding areas. Once the fat is removed, the laser tightens and contours the surrounding skin. With minimal side effects and nearly zero downtime, CoolLipo still remains less invasive than a surgical neck or facelift, but provides similar, desirable results.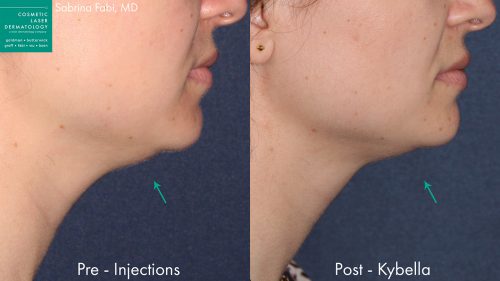 Kybella
Kybella is also ideal for addressing a stubborn double chin that's appeared during quarantine. The introduction of Kybella has made correcting double-chins much easier; previously this correction was only made with liposuction.
Kybella is formulated with deoxycholic acid. After being injected, it works its way through submental fat cells under the chin, breaking them down. The fat cells are then destroyed and naturally eliminated from the body. More advanced techniques use Kybella in other stubborn areas. In addition, our physicians use a special formula combining an anti-inflammatory agent and anesthetic with Kybella to allow you to achieve the best results possible without pain or excessive swelling.
Schedule A Treatment with Cosmetic Laser Dermatology Today
No matter where you've gained your "Quarantine 15," our dermatologists can help reshape your body and face. Contact our San Diego office to schedule your body contouring procedures.