Laser treatments improve skin quality, effectively reversing damage caused by sun exposure, the aging process, and a host of other factors. Laser resurfacing is a versatile treatment that can be customized to your unique goals. It can reduce lines, wrinkles, and acne scarring; improve skin texture and tone; and promote radiant, healthier-looking skin.
What is Laser Resurfacing?
Laser skin resurfacing uses laser devices that deliver a precise wavelength of light to treat the skin. These procedures remove damaged outer dermal layers in a controlled manner while stimulating the production of new collagen below to support skin from the inside out. 
Depending on your skin concerns, different lasers may be used for your treatment:
What is an ablative laser?
Ablative lasers, such as the CO2 or Erbium laser, work by removing the top layer of skin.
Depending on the depth of the treatment, ablative procedures can reduce the appearance of superficial imperfections while boosting collagen production for fresher, tighter skin.  
What is a non-ablative laser?
Non-ablative lasers, such as the ResurFX and Fraxel Restore, work by heating deeper skin layers to trigger the body to produce new collagen.
Non-ablative resurfacing lasers are frequently used for treating acne scars.
What is a fractional laser?
Fractional lasers create micro-channels in the skin that stimulate the body to produce more collagen. The depth of the treatment can vary based on the specific needs and goals of each patient.
Fractional lasers are a good choice for pigmentation irregularities, wrinkles, and scarring. 
Introducing Our Medical Spa's Proprietary Take10 Procedure
Cosmetic Laser Dermatology offers a proprietary treatment called Take10, which was developed as a non-surgical alternative to a facelift.
By combining the use of multiple lasers along with injectable fillers and Botox®, our doctors can dramatically reduce the signs of aging on a patient's face, neck, and chest.
This technique provides patients with results that take 10+ years off their appearance.
Multiple lasers can be used at the same time in order to effectively target each skin concern. 
Examples of lasers we use for Take10 include:
Fraxel Re:pair for collagen remodeling
Ultra Pulse CO2 for fine lines and wrinkles
Alexandrite TriVantage for brown spots
Vbeam Perfecta laser or Intense Pulsed Light for blood vessels on the face, neck, and chest
Nd:YAG lasers for facial veins and capillaries around the eyes and temples
Active/Deep FX lasers for fractional CO2 resurfacing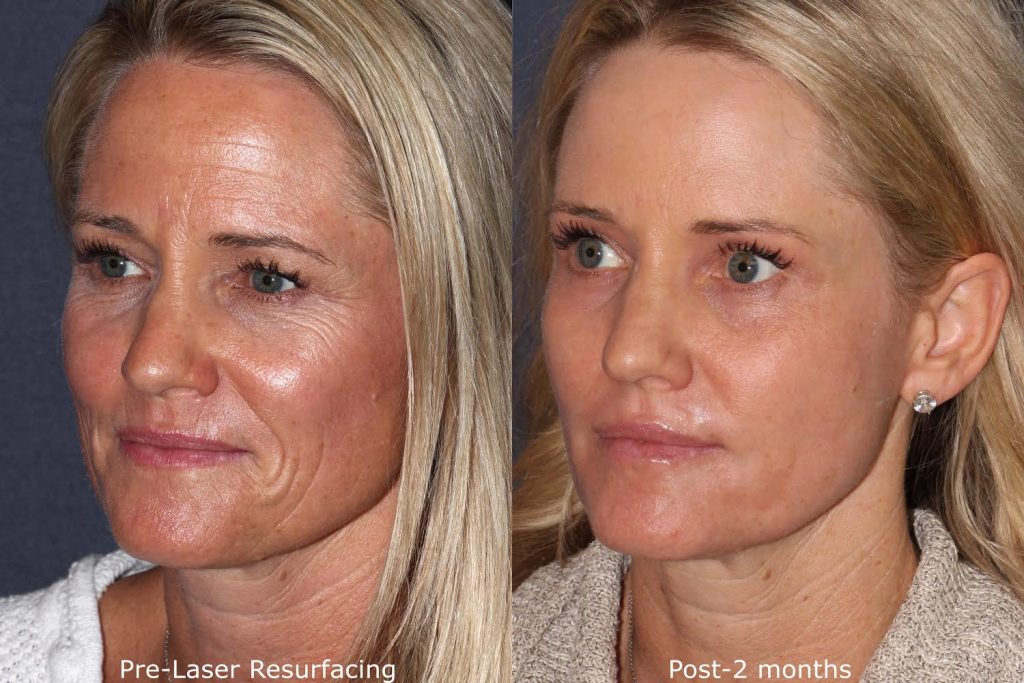 Is Laser Resurfacing Painful?
Laser treatments are well-tolerated by patients. To minimize any discomfort or pain, a topical anesthetic is applied prior to the procedure. Our medical spa also offers Pronox, also known as laughing gas, for patients nervous about the treatment.
More extensive laser procedures, such as the Take10, may be done using oral anesthesia or IV sedation.
Side effects after a laser treatment might include redness and swelling. Patients may also experience some crusting or flaking within days afterward, as the outer layer of skin sheds to reveal softer, smoother skin underneath.
How Many Laser Resurfacing Treatments Are Needed?
Patients may need a series of laser treatments in order to see the best results.
Depending on the type of condition being treated and the amount of "down-time" you can take, our doctors will usually recommend 3-5 laser treatments, every 3-8 weeks, depending on the laser used, patient's skin type and tone, and the concerns to be addressed.
For Fraxel Re:pair,  Active/Deep FX and Er:YAG, you will only need 1-2 sessions to experience maximum results.
Take10 can also be a one-and-done procedure that effectively reduces signs of aging and sun damage while tightening the skin.
Patients will have some recovery time after the session, but results are dramatic and can last for many years.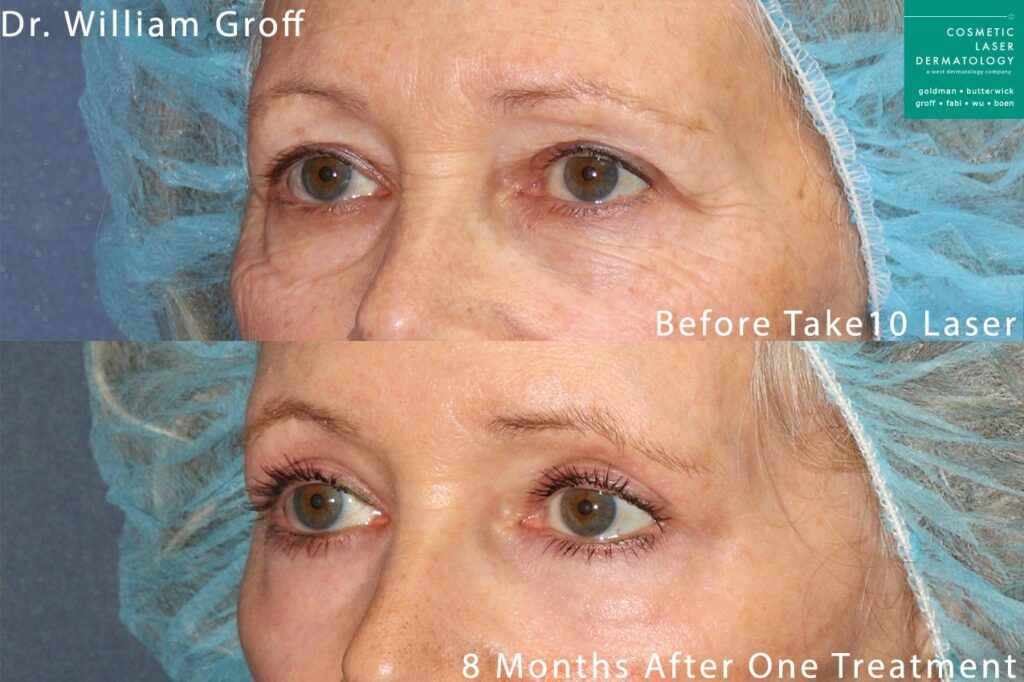 How Long Does Laser Resurfacing Last?
Laser resurfacing results are long-lasting, but not permanent. Medical-grade skincare and daily sun protection will prolong the results. Many patients come back in 5-10 years (when they are 5-10 years older) for additional treatments.
Our board-certified dermatologists will create a customized treatment plan for you to maintain your results indefinitely. 
How Much Does Laser Resurfacing Cost?
The cost varies depending on the lasers used, the number of treatments needed, and the size of the treatment area. We would be more than happy to give you a personalized treatment plan and cost estimate during a consultation at our San Diego office.
Schedule a Fractional Resurfacing Consultation in San Diego
Laser resurfacing is an excellent treatment choice for combatting the cumulative effects of sun damage, environmental factors, and lifestyle choices that take their toll on your skin as you age. Cosmetic Laser Dermatology has over 50+ lasers that are used for an array of skincare treatments.
By combining multiple dermatology treatments and technologies, it's possible to provide you with natural and beautiful anti-aging results without the risk and extended downtime of more invasive surgical procedures.
To learn more about how our innovative lasers can benefit your skin, as well as our exclusive promotions, contact our San Diego medical spa today.