Dermal fillers have become an incredibly popular way to enhance your appearance by reducing wrinkles and restoring volume to the face. Social media is filled with photos of patients who have successfully undergone filler treatments – and some that were not quite so lucky with their procedures. If you see examples of filler migration – where filler moves beyond the targeted treatment area – you might wonder if dermal fillers are really a good idea.
Unfortunately, #fillermigration has attracted millions of views on platforms like TikTok, giving the impression this complication occurs often. Although filler migration can lead to an undesirable aesthetic result, the good news is this side effect doesn't happen as often as it seems and it can be minimized by taking a few simple steps before scheduling your filler appointment.
How Often Do Fillers Migrate?
Dermal filler migration can occur, particularly when the procedure is performed by an unqualified, inexperienced injector. The probability can increase even more if the injector does not use an appropriate FDA-approved filler for the job. When a board-certified dermatologist performs the procedure, the risk of migration is extremely low, however.
Where Does Filler Migration Occur?
These substances cannot migrate more than a few millimeters away from the injection site. They will not leave the treatment area, so if you received an injection in your cheek, there is no way it is going to end up in your forehead. Still, this side effect can be noticeable and have a negative impact on a person's appearance, especially with more delicate treatments like lip injections.
There are two main places where filler migration occurs most often: under the eyes and in the lips. Both can be noticeable and yield undesirable results if the fillers end up out of place.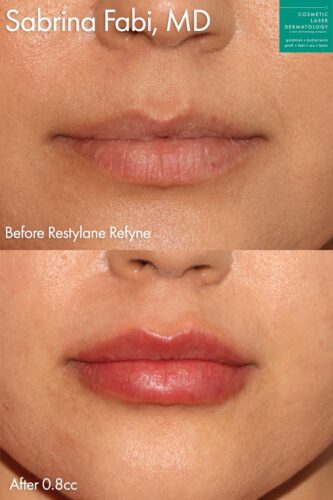 Why Does Filler Migration Happen?
There are different reasons why filler migration might occur. The top cause is allowing an unqualified, inexperienced injector to perform your treatment.
Migration may be due to injecting too much filler in a single location, which could lead to the filler extending beyond the immediate treatment area. It can also occur if the wrong filler is injected in a treatment area that requires a different type of formulation. For example, using a filler primarily designed for adding volume to larger treatment areas to augment a smaller area like the lips could result in migration.
Fillers need to be injected at different depths based on the correction needed and the results you hope to achieve. Injecting at the wrong depth can lead to migrated filler and an undesirable outcome to your treatment.
In rare cases, unrelated illnesses can cause an inflammatory response to hyaluronic acid fillers and cause them to expand, leading to migration. This is extremely unlikely and is not one of the leading causes of this side effect. Experienced injectors know how to evaluate a patient before treatment to ensure the fillers will be a safe option.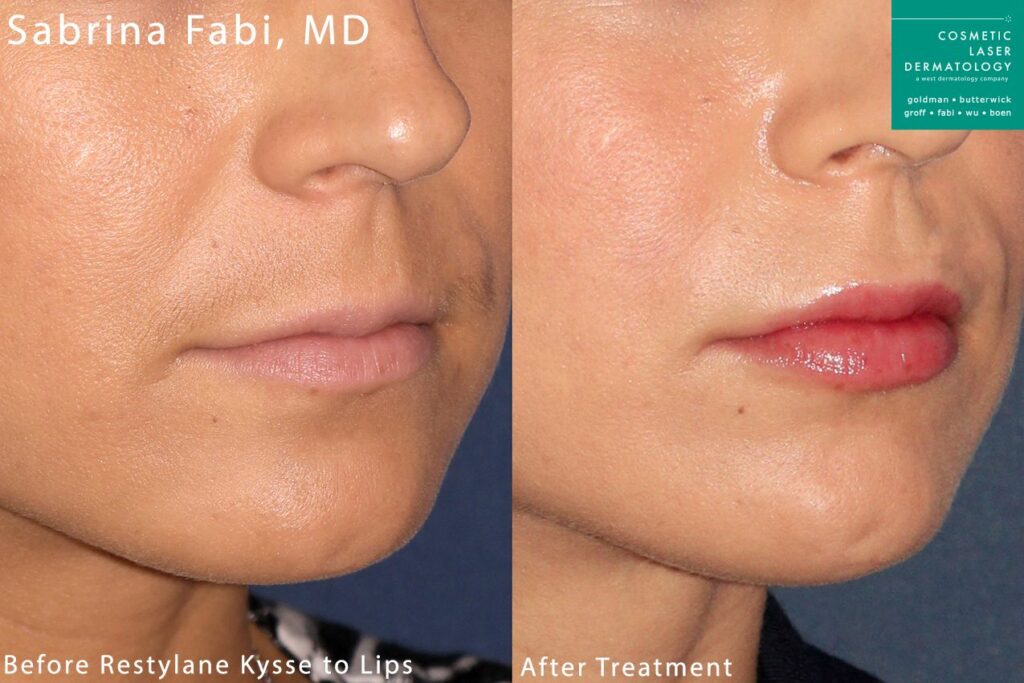 Finally, migration can occur if a patient does not follow post-treatment protocol and massages the treatment area excessively after receiving injections. Following your dermatologist's instructions after treatment can limit the chances of this happening to you.
How Can You Prevent Fillers from Migrating?
The best way to prevent migration is to rely on a board-certified dermatologist to handle your injections. They have the expertise and capability to provide you with the right dermal fillers in the correct amounts and in the best treatment areas. Board-certified dermatologists know how to minimize your risk of side effects like filler migration. 
If you do experience some filler migration, injections of the enzyme hyaluronidase can quickly dissolve unwanted filler to improve your results.
Trust Cosmetic Laser Dermatology with Your Filler Injections
Cosmetic Laser Dermatology is proud to be San Diego's #1 destination for beautiful skin for over 35 years. Our unique in-house research center has participated in over 300 clinical studies, ensuring our patients receive the most innovative treatment options and superior outcomes.
With 80+ treatment options, 60+ laser and light devices and 5+ proprietary procedures, our board-certified dermatologists can provide natural-looking results for every skin type and concern using treatments backed by science.
We're here to help you receive the best dermal filler treatment possible, tailored to your specific needs to get you the aesthetic results you're looking for. You can trust us to meet or exceed your expectations and provide safe injections that significantly reduce the chances of migration.
Reach out to us to schedule an appointment with one of our board-certified dermatologists today.