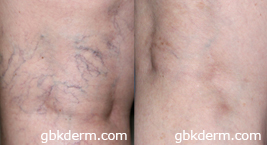 Dark bulging leg veins are irritating and a potentially threatening to your health, especially in the summer months when showing more skin or if vacationing and taking long flights.   Rather than hide your legs throughout the warm seasons or risk a blood clot due to an extended flight, seek out leg vein treatments to have your legs look their best.
Luckily, there are several recommended and highly effective vein treatments that are capable of ridding this undesirable leg attribute.  With a minimally invasive procedure, your doctor can have your legs looking vein free!  Contact the experienced and board-certified dermatologists at Cosmetic Laser Dermatology to hear about expert and innovative leg vein treatments offered in San Diego!
Bulging Leg Veins
Patients who have visible blue, threadlike veins on their legs that look "spidery" are at risk for health issues, like blood clots, as well as physical uneasiness from low confidence in their appearance.  The bulging leg veins, also known as varicose veins, are superficial veins that are subjected to high pressure when standing or constricted.   Though these veins are initially a cosmetic problem, they can become painful and itchy, as well as put you at a risk for a circulatory issue.
Tips and Leg Vein Treatment
Bulging veins are a genetic issue.  If your family members have visible bumpy or blue veins in their legs, you have a 50% more chance of also having these varicose veins as you grow older.  Patients are also at a higher risk for bulging legs veins if they have not retained a healthy weight, ate a poor diet that is low in fiber or have a job where they sit for long periods of time and lack exercise.  If you would like to avoid or prevent further leg vein issues, stay active, eat a balanced fibrous diet and incorporate frequent short breaks at your work throughout the day.
Clinical and surgical treatments available for leg vein treatment include sclerotherapy and a phlebectomy.  The sclerotherapy is often the first procedure doctors and dermatologists choose for patients with bulging veins in their legs.  With a very thin needle, unwanted leg veins are injected with a sclerosing agent causing the vein to shrink.  Within the following weeks after treatment, your vein will continue to minimize and dissolve as the body naturally absorbs the sclerosed vein.  The side effects from this treatment are minimal and patients are left with appealing and lasting results.
A phlebectomy is the surgical removal of leg veins.  This procedure is necessary when varicose leg veins are larger than a finger.  While under a local anesthetic, incisions are made in the leg and your bulging vein is removed.  There is no downtime after this procedure and patients are able to walk out of the office that day.  A compressing stocking will be worn after the procedure and you may notice swelling or bruising. To learn more about phlebectomy visit ncbi.nlm.nih.gov
Schedule A Consultation Today
Don't let unwanted bulging leg veins prevent you from looking and feeling your best this summer!  Contact one of the expert San Diego dermatologists at Cosmetic Laser Dermatology at (858) 943-2113 to schedule a consult for bulging leg vein treatment today!
Next, read about how to Eliminate Leg Veins.