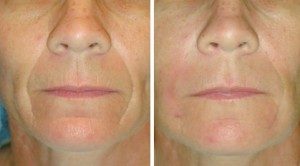 When wrinkles and other signs of aging start to appear on our faces, one of the first two cosmetic treatments that might come to your mind to fix the problem is Botox or facial fillers like Juvederm, Restylane, and Perlane. However, our dermatologists at Cosmetic Laser Dermatology in San Diego, CA want you to know about a treatment that can last up to twice as long  (or longer) while helping to decrease the look of fine lines and folds occurring as a result of collagen loss—facial fat grafting!
What Is Fat Grafting?
Fat grafting works to correct volume loss on your face in the exact same way that facial fillers do. However, instead of using manufactured products, your own fat is taken from different areas of your body, most often the stomach via minimally invasive liposuction, and injected into the problematic sunken areas of your face.
Because your fat is 100% you, the risk of an allergic reaction is removed since the fat used is all natural. One of the best parts about facial fat grafting (also known as fat transfer or multilevel fat grafting—FAMI) is that the results can last up to three years, more than two times the average length of other dermal fillers! Facial fat grafting has the ability to rejuvenate the following areas of the face, including but not limited to:
Sunken Undereyes
Jaw Line
Marionette Lines
Lips
Deep Forehead Wrinkles
Temples
Cheeks
Asymmetrical Face
To decide if you're a good candidate to undergo fat grafting, our doctors encourage you to schedule an initial consultation where we can assess your unique goals to determine the best treatment plan for you.
Fat Grafting VS. Dermal Fillers
A lot of times, people can become deterred from fat grafting due to the fact that an extra step is required before the procedure can be completed—minimally invasive liposuction.  Though both types of treatments are wonderful for the right person, fat grafting has several benefits including being cost effective in the long run due to the longer lasting results, and the much-lowered risk for infection, bodily rejection, or allergies which, all make the procedure very safe. To learn more about fat grafting, visit plasticsurgery.org
Find Out If Fat Grafting Is Right For You
If you've ever wondered whether or not you'd be a good candidate for facial rejuvenation by fat grafting, our dermatologists can help select the perfect procedure for you during your initial consultation. With the ability to help everyone overcome the various signs and stages of aging, our team of world-renowned dermatologists have the ability to address your each and every concern while developing a customized treatment unique to you.
To schedule your first appointment at Cosmetic Laser Dermatology in San Diego today, please call (858) 943-2113.
Next, learn about another method of removing unwanted fat, CoolSculpting.