Juvederm® fillers offer a myriad of benefits, from turning back the clock on aging symptoms to enhancing facial contours and correcting asymmetries. These treatments offer quick results without incisions, anesthesia, or downtime afterward. 
Millions of Americans notice slight facial changes each year and seek quality treatments for youthful skin. Injectable fillers like Juvederm® are a one-step solution for many men and women looking to improve skin health and target mild to severe signs of aging. Juvederm fillers have many beauty benefits that can impact your outlook on life.
What is Juvederm?
Juvederm is an FDA-approved injectable filler with a smooth gel consistency. The main ingredient in Juvederm fillers is hyaluronic acid (HA), a naturally occurring substance in the body that keeps the skin volumized and hydrated. Hyaluronic acid has water-bonding properties that help skin stay hydrated and appear youthful. As we age, our skin and joints lose moisture and volume that Juvederm injections can restore. The injectable compensates for collagen depletion and helps shape the face, forming new contouring that provides natural results with minimal downtime and recovery.
Juvederm is the mother brand of many injectable fillers that treat skin conditions and signs of aging. The Juvederm brand includes:
Voluma®: Restores lost volume to the mid-face, cheeks, and chin
Vollure® XC: Targets severe facial wrinkles around the nose and mouth
Volbella®: Absorbs less water for reduced swelling and a soft finish perfect for under-eyes and lips
Volux ® is used for deep injections specifically approved to improve moderate to severe loss of jawline.
Ultra: Reduces fine lines and wrinkles on the face and outer eye
Ultra Plus: Treats more severe wrinkles and plumps sunken cheeks
Voluma XC: Targets volume loss in the cheeks and other areas of the face
Click here to learn more about Juvederm.
Juvederm Can Treat Multiple Areas
Juvederm injectables can treat multiple areas on the face, including:
Marionette lines
Corners of the mouth
Forehead lines
Lip volume
Lip borders and vertical lip lines
Nasolabial folds, also called smile lines
Hollowing and discoloration under the eyes
Recessed chin
Loss of jawline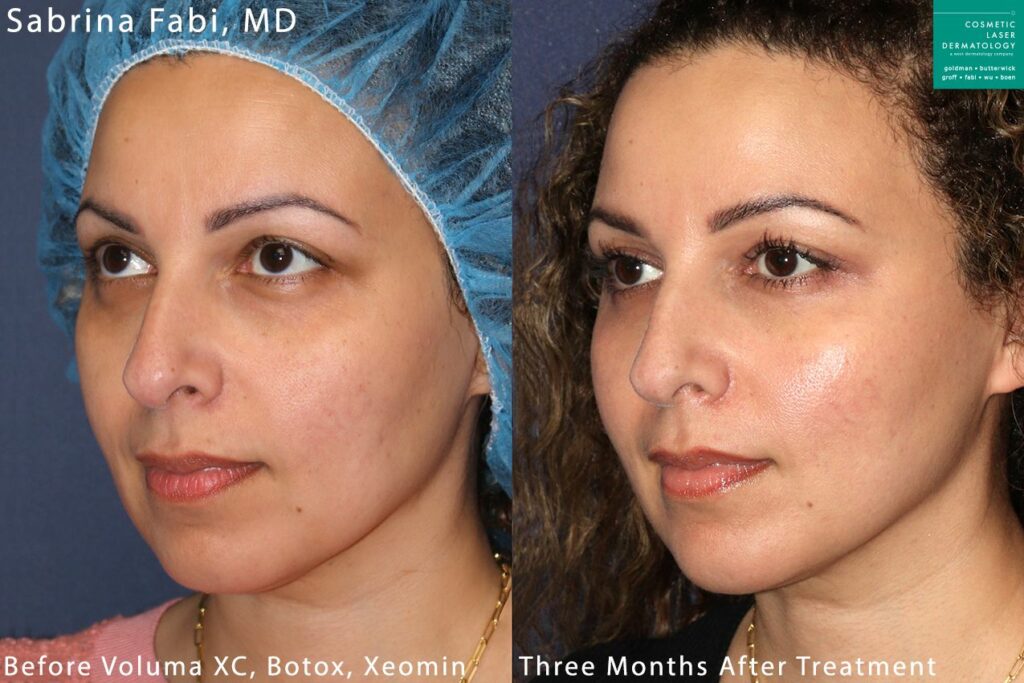 The fillers create natural results and greatly enhance the face's overall appearance with one treatment. Common uses for these fillers include:
Lip augmentation: Juvederm can treat flat, drooping, or asymmetrical lips without surgery. The HA is a smooth, natural substance that makes the lips appear full and naturally symmetrical.
Under-eye treatment: This area is very sensitive and delicate, but Juvederm injections, add subtle volume under the eye for more volume, less discoloration, and a refreshed appearance.
Jawline contouring and chin augmentation: Juvederm fillers contour the lower face to reduce early jowl formation and produce a stronger jawline and more proportionate chin.
Facial contouring: Hollowing forms over time in areas like the temples and midface.  Juvederm restores volume in these locations to create a younger face shape.
Non-surgical nose job: Juvederm injections can be placed on and around the nose to reduce bumps and improve the overall shape for a transformed nose and profile.
Juvederm Treatments Are Non-Surgical
Juvederm treatments are non-surgical, which means no anesthesia, no downtime, no recovery, and instant results. A small needle or microcannula is used to deliver the filler into the skin's lower dermal layers. A topical numbing cream and/or ice may be applied before the procedure to ensure a comfortable treatment experience. Juvederm formulas also include the anesthetic lidocaine to reduce pain or discomfort.
The advantage of a non-surgical treatment like Juvederm is that patients can immediately return to normal daily activities after their appointment. Some patients may experience swelling, tenderness, redness, or bruising around the injection site and treatment area, but side effects should subside within one to two days.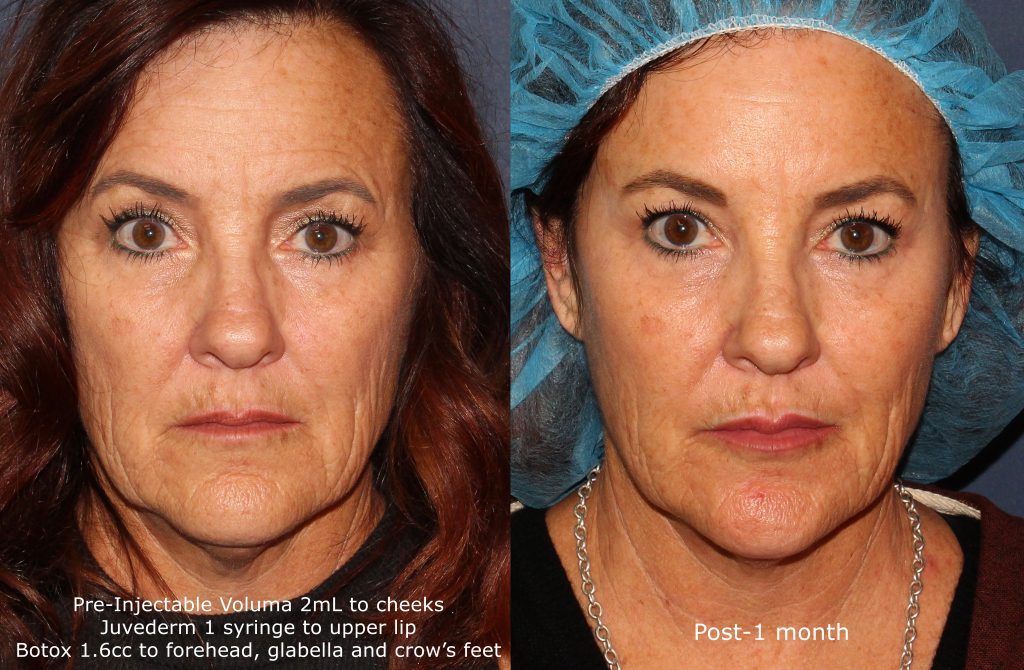 Juvederm Results Last a Long Time
Juvederm provides patients with natural and long-lasting results. One injection can last for 6-18 months. Results are not permanent but can be maintained with regularly scheduled treatment sessions determined by your expert dermatologist.
Juvederm Treatments Are Quick
Juvederm treatments are quick, lasting about 5-30 minutes depending on how many areas are being treated. The outpatient procedure is convenient for many patients who can complete their treatment on a lunch break without skipping a beat.
Schedule Your Juvederm Filler Treatment at Our Medical Clinic in San Diego
When performed by board-certified dermatologists, Juvederm fillers are a safe and effective non-surgical treatment option for sunken skin, wrinkles, and facial contouring. Cosmetic Laser Dermatology has a world-class reputation for innovative combination treatments that provide natural and beautiful results. Our board-certified dermatologists are experts in dermatological treatments like injectable fillers. With more than 50 lasers and devices, our patients can count on our team of experts for seamless treatments and unmatched results. We can help you achieve younger, healthier skin today!
Contact us to schedule a consultation and learn more about Juvederm and other injectable fillers.