Aging is a process everyone experiences, but if you are not happy with how your face is aging, keep your chin up. Don't avoid the process of aging – embrace it and take charge by visiting Cosmetic Laser Dermatology to learn about the different options to contour your chin and jawline. 
Cosmetic Laser Dermatology has been serving patients in San Diego, La Jolla, North County, and Del Mar for over 30 years. The dermatology experts at CLDerm combine over 100 years of dermatologic experience to provide you with cutting edge treatments and technology. Our medical spa has over 50 laser, light, and energy devices to treat all types of skin conditions.  If you're interested in treating your sagging chin or jowls, the board-certified dermatologists at CLDerm can help you choose the right procedure to meet your needs.
Chin Sagging and Jowls
When you look in the mirror every day, you have a front row seat to analyze every wrinkle or sagging area. Our dermatologists can give you expert advice on whether or not a procedure to correct your sagging chin or jowls will give you the look you desire. We have even developed our proprietary ThermiSculpt³, a combination treatment designed to produce superior jaw contouring without surgery. 
There are several causes of a sagging chin or jowls on the jawline, and one of the most common causes is the aging process. Your skin will begin to lose the ability to retain a firm appearance, but our expert dermatologists offer a variety of treatments to restore definition and youth to the jawline so you can smile with confidence once again.
1. Say Goodbye to Early Jowl Formation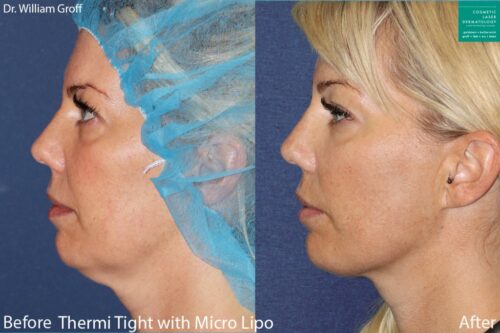 If you look at a picture of your face from 20 years ago, you may see a difference in the appearance of your cheeks or jawline. Compare that picture with how you look now – you may see some sagging at the jawline or under your chin. There are several procedures that may reverse the early formation of jowls and take you back a few years.
Thermi™
Thermi  is an innovative technology that uses radiofrequency to reduce the appearance of wrinkles in different areas of your body, to include your face, neck, and even your knees. You may see results in as little as one visit, but your actual results may vary based on the condition of your skin. The radiofrequency energy in the Thermi system tightens your skin and smooths wrinkles by triggering the production of collagen. If you are looking for a non-surgical method of correcting your problem areas, Thermi might be the right choice for you. 
Kybella®
Kybella is an FDA-approved injectable treatment designed to destroy the fat cells under your chin that create the appearance of a double chin. Our board-certified dermatologists were involved in the FDA clinical trials resulting in Kybella's approval and also know how to use Kybella to address early jowl formation. By injecting Kybella in targeted areas along the jawline, they can eliminate small, isolated areas of fat and create a more defined jawline. In some cases, they can combine this procedure with a skin tightening treatment to enhance your positive results. 
Ultherapy®/Thermage FLX®
If you are looking for a non-surgical solution to sagging skin in the neck and chin area, schedule a consultation with Cosmetic Laser Dermatology in San Diego, California to learn about Ultherapy and Thermage FLX. These treatments use ultrasound waves or radiofrequency to deliver heat to targeted areas and stimulate collagen production, without downtime. You may see the appearance of skin tightening right away, but with regular treatments you may see a gradual improvement over the course of several months. This is the perfect solution for a busy person who wants a fresh, revived, younger look. 
2. No More Chin Fat
When you get in front of a camera, do you adjust your head to get rid of your double chin? You can refresh your look with one of these procedures at Cosmetic Laser Dermatology.Our team of board-certified dermatologists is ready to sculpt your jawline by reducing the fat under your chin.
Facial/Neck LipoSculpture
Liposuction is one of the most popular procedures for body sculpting, but the face is a delicate area that needs a special touch to get the right look. Facial liposculpture is an excellent method for getting rid of that nagging sag under your chin. Performed in the offices of Cosmetic Laser Dermatology, the board-certified dermatologists give you a customized, contoured look that tightens your skin without invasive surgery. 
CoolMini™
CoolMini is an innovative process to get rid of small areas of stubborn fat, so it's perfect for under the chin. CoolMini uses cryolipolysis to focus on targeted areas and break down fat cells to smooth the skin and deliver a younger, more contoured jawline. No needles, no incisions, no downtime – and beautiful results. 
ThermiTight®
ThermiTight is part of the Thermi  system that combines with other body sculpting procedures to tighten up loose skin in problem areas such as your chin. The minimal downtime with ThermiTight as a combination treatment is appealing for those with a busy lifestyle, and you will be pleased to see the results that tighten the skin under your chin. Our ThermiSculpt³ combines liposculpture, ThermiTight, and chin augmentation using an injectable filler to create comprehensive improvement without significant downtime or visible post-treatment scarring. 
3. Go Wrinkle Free
Cosmetic Laser Dermatology uses a wide range of dermal fillers to smooth out different types of wrinkles. HA (hyaluronic acid) fillers like Restylane® and Juvederm® address lines in the face due to collagen loss. RHA (Resilient Hyaluronic Acid) dermal fillers work with the dynamic nature of your face to reduce the appearance of wrinkles while maintaining natural facial movement. 
Neuromodulators, such as Botox®, Dysport®, Jeaveau® or Xeomin®, serve a different purpose as they relax wrinkle lines by addressing the facial muscles that cause them. If your chin has dimples that need to disappear, neuromodulators might be an excellent choice for you. Our physicians have the experience, precision, and skill to produce natural, beautiful results no matter which injectable treatment you choose. 
4. Define the Chin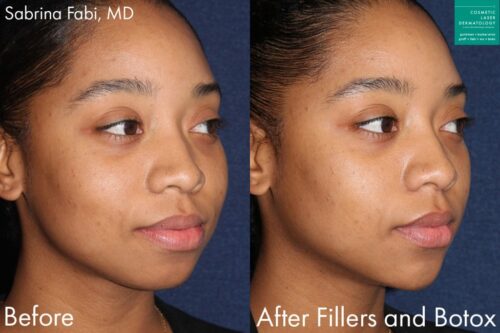 If you need to create a more defined look to your chin, turn up the volume with a dermal filler like Juvéderm Voluma® XC to help in adding more projection to an otherwise recessed or less-defined chin. This procedure offers quick results that can last up to two years without incisions or post-treatment scarring left behind by surgical chin augmentation. 
5. Don't Stop at the Chin
When it comes to rejuvenation, you don't have to stop at the chin. If you want a consistent, smooth look for your neck as well, ask about an approach that combines the use of laser treatment, Ultherapy, Thermage, ThermiTight, Botox Cosmetic, and dermal fillers. Your new look will give you the confidence you need to smile all day. Our cosmetic dermatologic surgeons at Cosmetic Laser Dermatology can rejuvenate your smile and youthful appearance when you trust your skin to the hands of our experts.
Schedule an Appointment at Our San Diego Medical Spa Today
The dermatologists at Cosmetic Laser Dermatology are dedicated to making your procedure a success. Call our medical spa today to schedule your appointment. Complimentary consultations are available with Dr. Loyal. Don't forget to ask about our current promotions to help you save on your next appointment.