The aging process causes changes in the female face that can create a more masculine appearance. In men, age-related changes can make the face more amorphous, losing its character and definition.
In a recent webinar, board-certified dermatologist Sabrina Fabi, MD, from Cosmetic Laser Dermatology in San Diego, explained how patients can achieve natural-looking results and maintain their feminine charm or masculinity with aesthetically correct anti-aging treatments.
Youth vs. Attractiveness: What's the Goal?
Everyone wants to look healthy, happy, and youthful, and injectable treatments and other minimally invasive procedures can help people achieve that goal. But when people try too aggressively to turn back the clock, the results can be less than ideal.
Dr. Fabi asserts that for natural-looking results and the best outcomes, the first goal of cosmetic treatment should be to enhance attractiveness, with anti-aging the secondary focus.
When approaching cosmetic treatments, the differences in aesthetic ideals between women and men must be considered. Since aesthetic standards differ for men and women, so should the approach to cosmetic procedures. A one-size-fits-all approach simply doesn't work.
Start with the Eyes
Because the eyes are the primary focal point of the face, Dr. Fabi works from the upper face down. Studies have shown that the first place people look is at your eyes. It's understandable then that people are concerned with the appearance of crow's feet, brows, and hollows or veins under the eyes.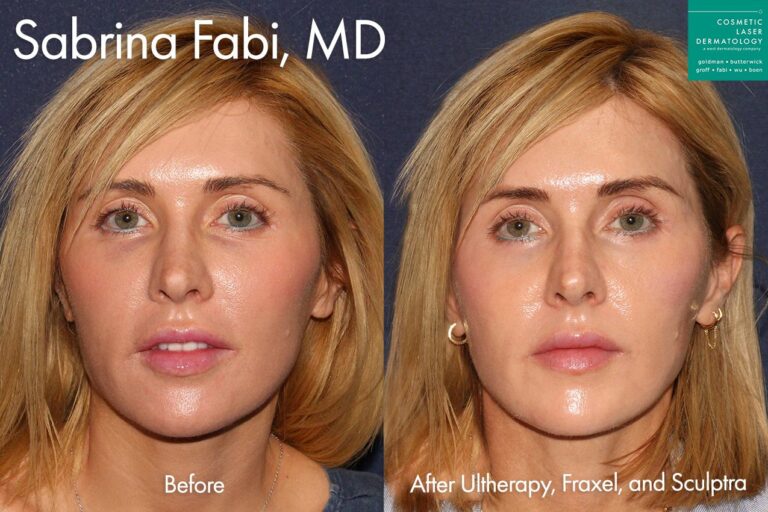 Ultherapy
Ultherapy—an ultrasound modality that takes about fifteen minutes to perform—can be an excellent option to improve the appearance of brow position which can shift with age and is shaped differently in men compared to women. With no downtime, no incisions, it is cleared to non-surgically lift the brow, and is left with no scars, it's a popular procedure for male and female patients alike.
Ultrasound energy essentially causes microscopic wounds at the muscle and fascia level, which generates additional collagen production by the body. As levels of this essential protein increase, the result is smoother, more supple skin and an uplifted appearance.
Neuromodulators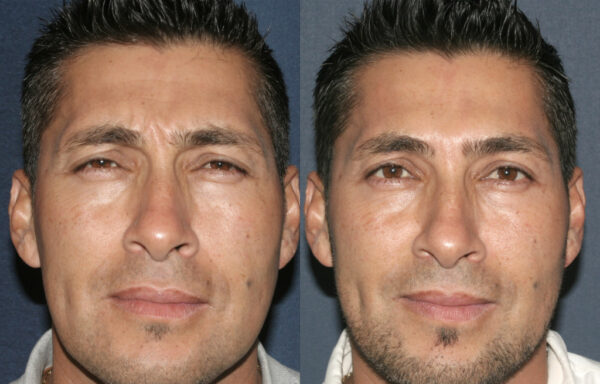 Botox Cosmetic is a member of the injectable neuromodulator family, created to reduce fine lines and wrinkles by relaxing facial muscles that often cause them.
Botox® and other neuromodulators prevent nerve impulses from entering the muscle, thereby reducing its activity. Crow's feet, frown lines, and other dynamic wrinkles will smooth out as the muscle relaxes.
Neuromodulators can also be used to treat muscles that have become more active to make the face appear more welcoming in both men and women by relaxing the muscles that make us appear angrier and upset, as well as opening the eyes, which appear squintier as we age.
It can also help reshape the face in a woman, by restoring a more ovoid shape, and help define the jawline of both men and women alike, with the nefertiti lift.
To learn more about neuromodulators for aging skin, please visit asds.net.
Under-Eye Filler
Under-eye circles or hollows can have an aging effect for both male and female faces.
Dermal fillers can be used to restore support to the bony structure that is lost with age, which in turn reduces the appearance of dark circles under the eyes.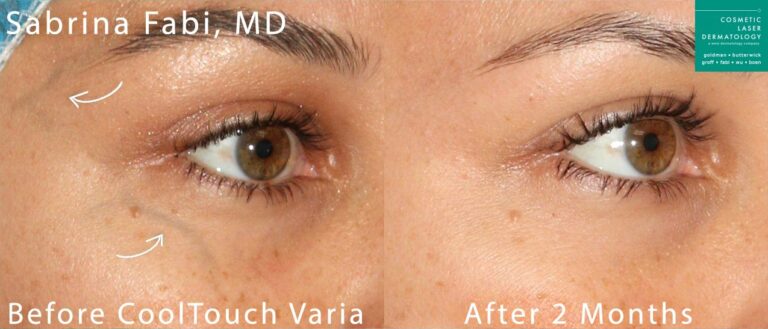 Periocular Vein Treatments
Not all under-eye darkness or hollows are caused by volume loss. Veins under the eyes can also contribute to that appearance. However, many practices rely on fillers alone when lasers would be the most effective course of treatment. As an innovator in cosmetic laser procedures, our San Diego medical spa has over 50 lasers and devices available to treat periocular veins effectively, without damaging surrounding skin and tissue.
Rejuvenate the Lower Face
Reduce Fat in the Jawline
ThermiSculpt3 is a proprietary treatment available only at our medical spa. Our board-certified dermatologists use this combination approach to dramatically reshape and tighten the neck and jawline without surgery for a balanced, proportionate appearance.
This ground-breaking procedure combines three highly effective treatments: facial liposculpture, ThermiTight, and injectable dermal fillers to eliminate submental fat, tighten loose skin, and define the chin and jawline.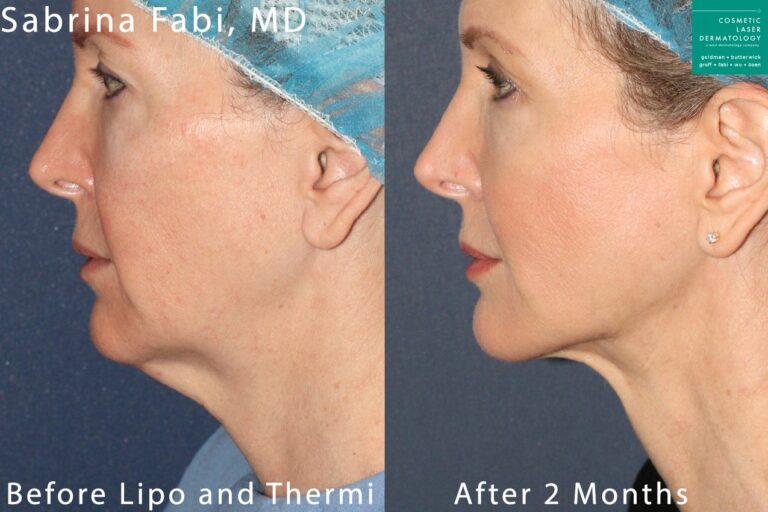 Restore Jaw Definition
With age, the face typically becomes more bottom-heavy. This has a masculinizing effect for women and lends itself to an amorphous appearance in men.
Before Dr. Fabi uses filler to restore jaw definition, she first addresses any fat that may be obscuring the jawline. If filler is used before fat deposits are addressed, the result can be a heavier appearance. By eliminating the fat first, Dr. Fabi knows precisely where to add filler to create a more youthful facial contour.
Evaluate Facial Proportions
The face must be assessed from a three-dimensional point of view when cosmetic treatments are being performed. While you see yourself most often from a straight-on angle only, everyone else sees you from all angles.
Add Cheek Volume
In the female aesthetic ideal, the cheeks are the widest point of the face. This isn't true of the male aesthetic, however. To achieve the desired results, it's essential to customize treatment when using fillers in the cheek area.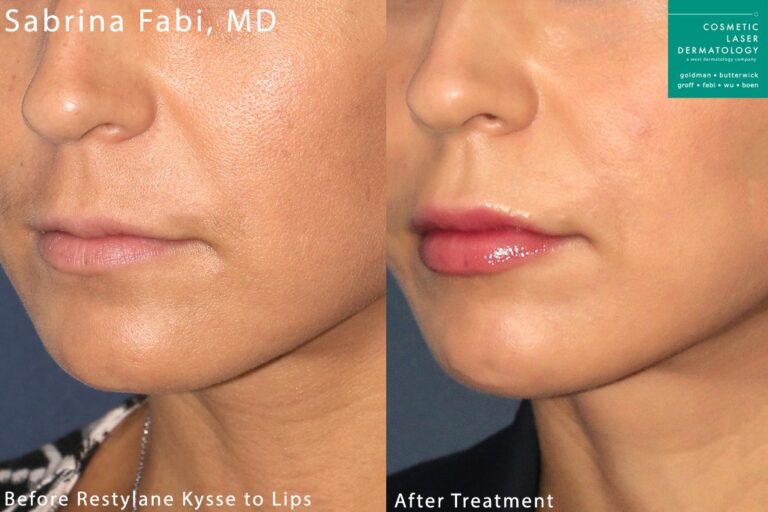 Plump Up the Lips – and Eliminate Perioral Lines
Thinning lips are a symptom of aging and can have a masculinizing effect on the female face.
When augmenting the lips, it's important to consider the size of the chin and other facial features to create a balanced appearance, achieve symmetrical fullness and projection, and avoid the "duck lips" look.
Dermal fillers effectively treat perioral lines, but there are limits to what they can achieve. Laser resurfacing is the perfect complement to dermal filler treatment for effectively smoothing away perioral lines for a younger mouth and lips.
Address Specific Concerns
Relax Wrinkles
The aesthetically ideal male face has more texture and lines than the female face. To maintain a masculine appearance, it's important not to aim for a perfectly smooth, unlined, glowing look by overdoing Botox or dermal fillers.
Women generally seek a smooth, uncreased look and a glowing complexion to enhance their feminine appearance. This can be achieved with a more liberal use of injectables at the hands of a skilled dermatologist.
Reduce Acne and Acne Scarring
Eliminating acne and acne scars enhances attractiveness in female and male patients alike.
Because acne scars are difficult to improve, Dr. Fabi suggests being aggressive in acne treatment by performing photodynamic therapy to address the acne.
For treating acne scars, laser skin resurfacing is an excellent option. The younger you are when you seek treatment for acne scars, the better your results are likely to be.
Remove Pigmentation
Women seek treatment for hyperpigmentation issues more often than men. Melasma, for example, is hormonally induced, incurable, and challenging to treat. The best approach is finding the right modality to control the condition, with laser or light treatments spaced about six months apart.
Men may also have issues with redness and hyperpigmentation, and laser treatment can help even out the skin for a healthier appearance.
Trust Your Skin to The Expert Dermatologists at Our Medical Spa
CLDerm leads the industry in innovation and expertise in anti-aging treatments, skin rejuvenation, skincare, and body contouring. Our board-certified dermatologists are committed to assisting patients in achieving their aesthetic goals and reclaiming their youthful appearance and self-esteem.
To learn more about the latest treatments or to schedule your consultation with a board-certified dermatologist, contact Cosmetic Laser Dermatology in San Diego today.