Sun exposure can damage the skin and cause premature signs of aging, such as wrinkles, sunspots, and hyperpigmentation. To repair sun damage, many patients turn to non-surgical procedures like non-ablative laser resurfacing to rejuvenate the skin with minimal downtime.
How Non-Ablative Laser Resurfacing Works to Repair Sun-Damaged Skin
Non-ablative laser resurfacing works by creating heat in the skin without damaging the skin's surface. Non-ablative lasers are often fractionated, so they deliver heat through thousands of tiny columns or microthermal zones in the deeper layers of the skin. The heat generated promotes collagen and elastic fiber production, which results in tighter, smoother, and healthier skin, reversing signs of sun damage like wrinkles and dark spots.
Fractional non-ablative laser skin resurfacing treats sun damage while allowing the skin to heal much faster than if the entire surface of the skin was also treated. This approach shortens the recovery period and lowers the risk for complications, making some non-ablative laser resurfacing safe even for darker skin types.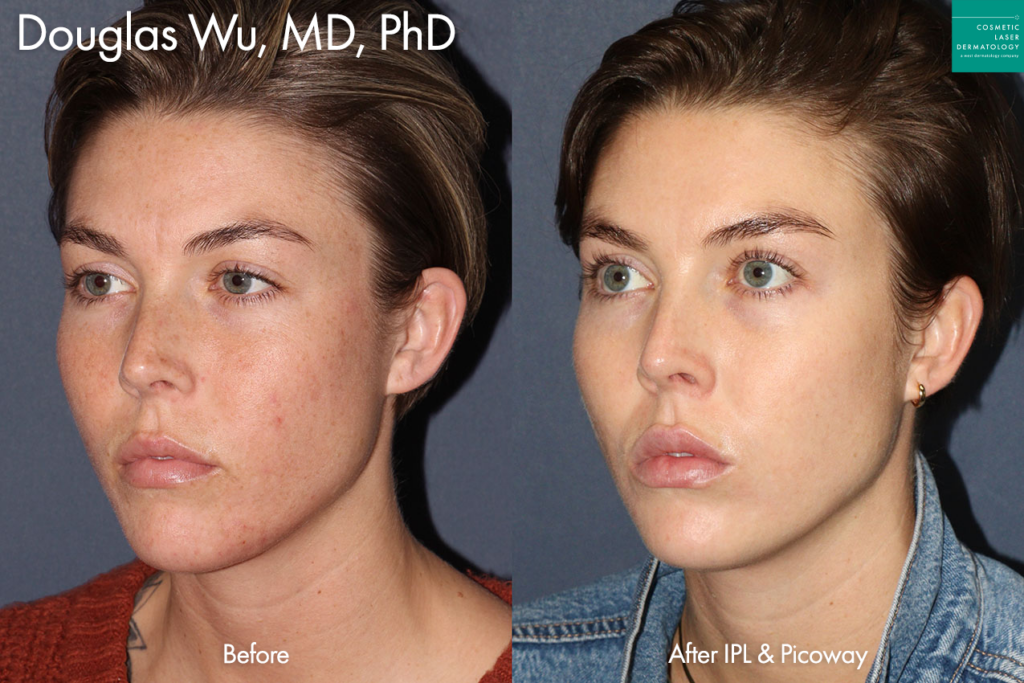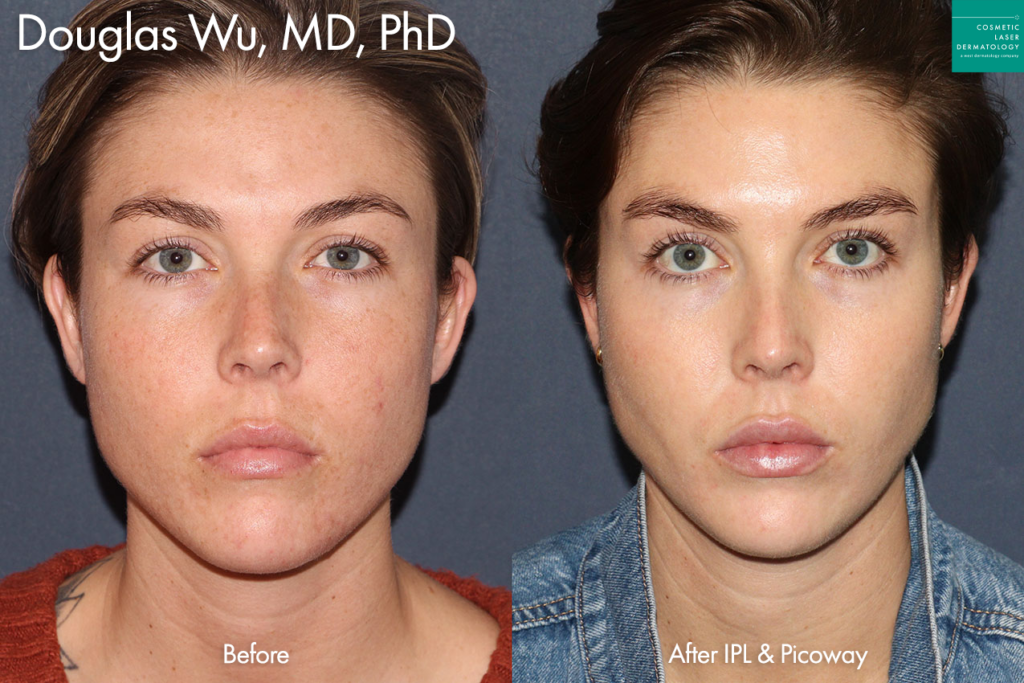 Benefits of Non-Ablative Laser Resurfacing for Sun Damage: Improved Texture, Tone, and Pigmentation
By restoring collagen and renewing the skin from the inside out, non-ablative fractional laser resurfacing can rejuvenate the skin in the following ways:
Improves skin texture: The healing process stimulated by the laser sheds dead skin cells and sebum build-up to create a smoother texture.
Creates more even skin tone: The laser targets hyperpigmentation to create clearer, more uniform skin.
Reduces the appearance of fine lines: As the skin becomes firmer and smoother due to collagen and elastic production, the appearance of fine lines is noticeably reduced as well.
What are your options for treating sun damage?
At Cosmetic Laser Dermatology in San Diego, our board-certified dermatologists use the following non-ablative devices for treating sun damage:
Clear + Brilliant
Clear + Brilliant® is a gentle fractional laser resurfacing treatment designed to rejuvenate skin by addressing early signs of facial aging, including mild sun damage. It creates millions of microscopic zones in the upper layers of the skin to remove dead cells and stimulate collagen renewal, resulting in refreshed, healthier-looking skin.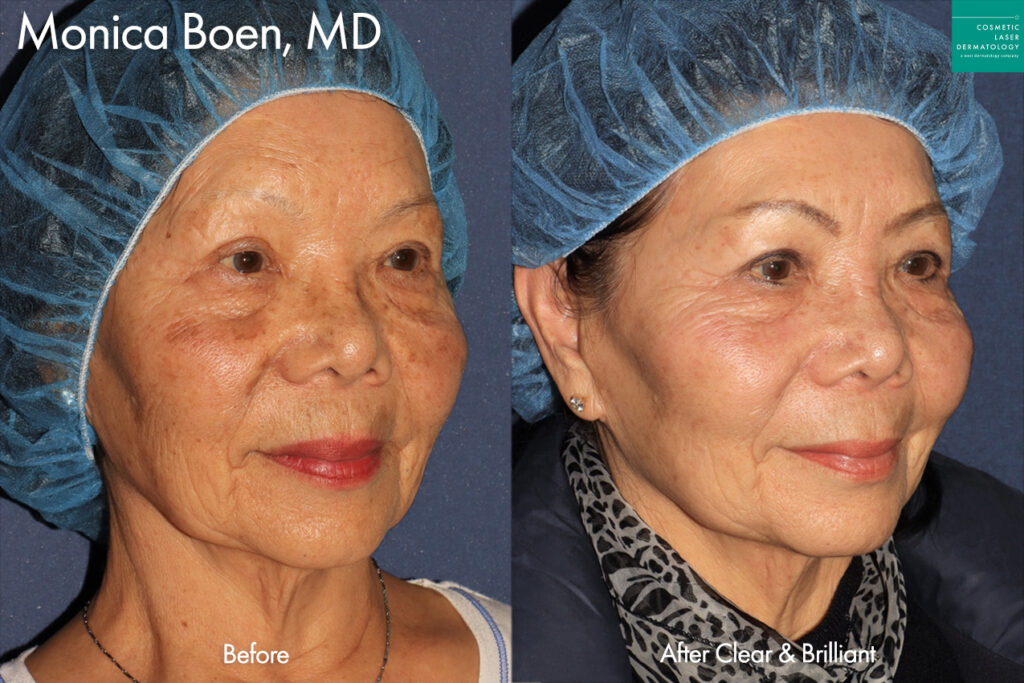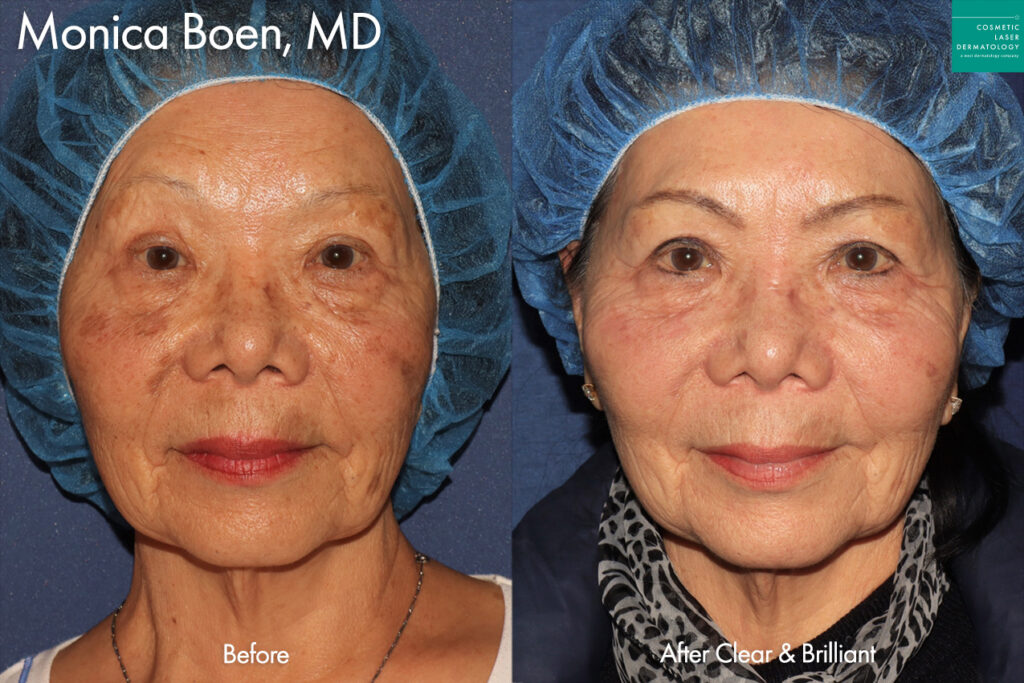 PicoWay Laser
The PicoWay® laser utilizes ultra-short picosecond energy pulses that create high-powered bursts of energy that help break up skin pigmentation. The treatment targets skin pigmentation and other irregularities caused by sun damage.
Fraxel Re:store Dual
Fraxel® Dual is a fractionated laser device that uses two different wavelengths for skin rejuvenation. The Erbium 1550 nm wavelength helps stimulate collagen and elastin production, while the Thulium laser with a 1927 nm wavelength allows for precise targeting of pigmented areas. The healing process results in clearer and smoother skin as sun damage and pigmentation irregularities are addressed.
Fraxel Re:store Dual is an excellent laser treatment for reducing the appearance of brown spots. Our board-certified dermatologists have performed more Fraxel Re:store Dual procedures than any other medical practice in the world.
A study our doctors participated in also shows how a non-ablative fractional erbium laser is an effective treatment for facial wrinkles with minimal downtime and no side effects.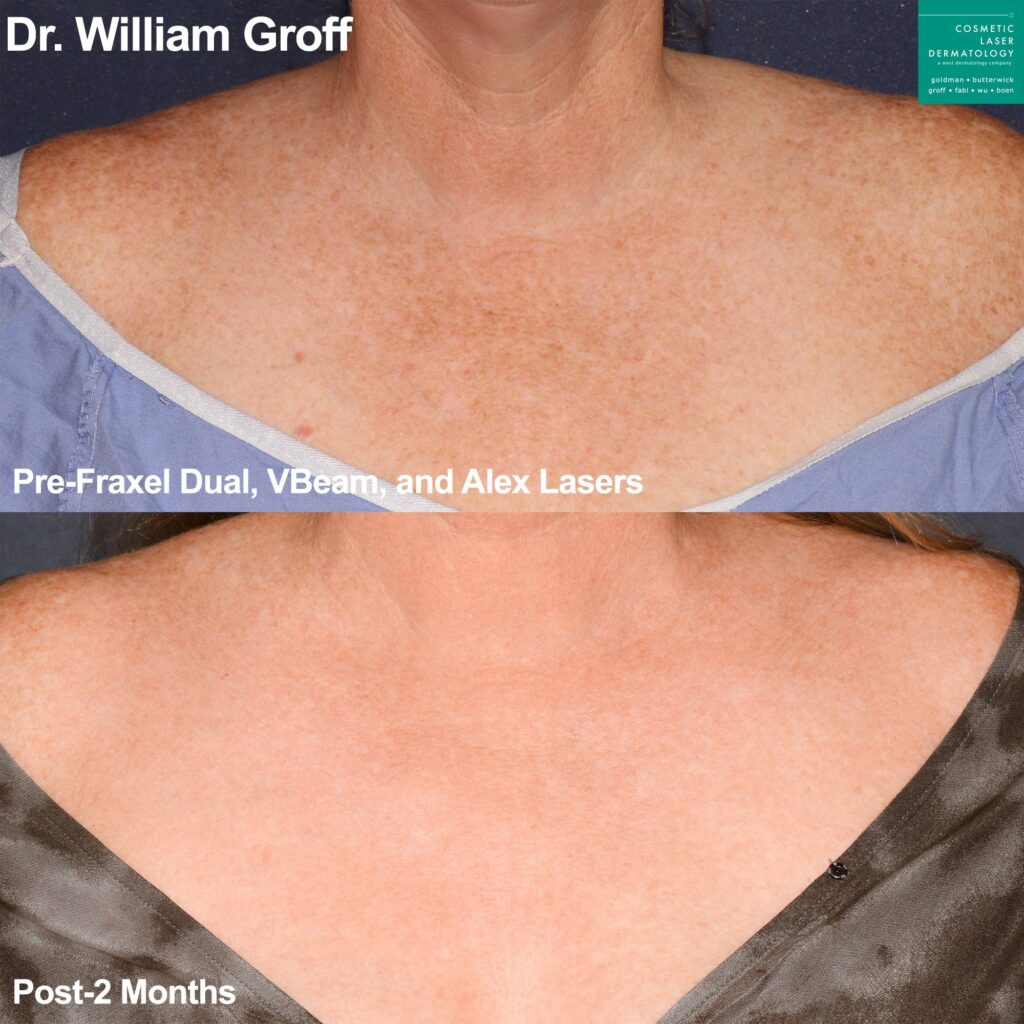 Potenza RF Microneedling
Potenza™ is a radiofrequency (RF) microneedling treatment designed to reduce fine lines and wrinkles, tighten the skin, and improve skin tone and texture. While technically not a laser, it is a non-ablative device that offers an effective treatment for sun damage.
Using ultrafine needles and four different RF modes, Potenza reaches the deeper layers of the skin to trigger a natural healing response and stimulate collagen and elastin production. By restoring these essential building blocks for the skin, the skin becomes firmer, smoother, and clearer.
Lumenis M22 IPL
Instead of delivering laser beams, an IPL treatment uses high-intensity light pulses to penetrate the skin and trigger the body's natural healing response to address sun damage and rejuvenate the skin. At Cosmetic Laser Dermatology, we offer the new Stellar M22™ and the original M22. An M22 photofacial can address common signs of sun damage, including fine lines and wrinkles, rough and dull skin texture, brown spots, diffuse skin redness, and visible blood vessels.
While Dr. Mitchel Goldman helped develop the first IPL (intense pulsed light) device, each of our seven dermatologists has been involved in numerous research studies involving IPL. These credentials give Cosmetic Laser Dermatology more experience performing IPL treatments than any other practice in the country.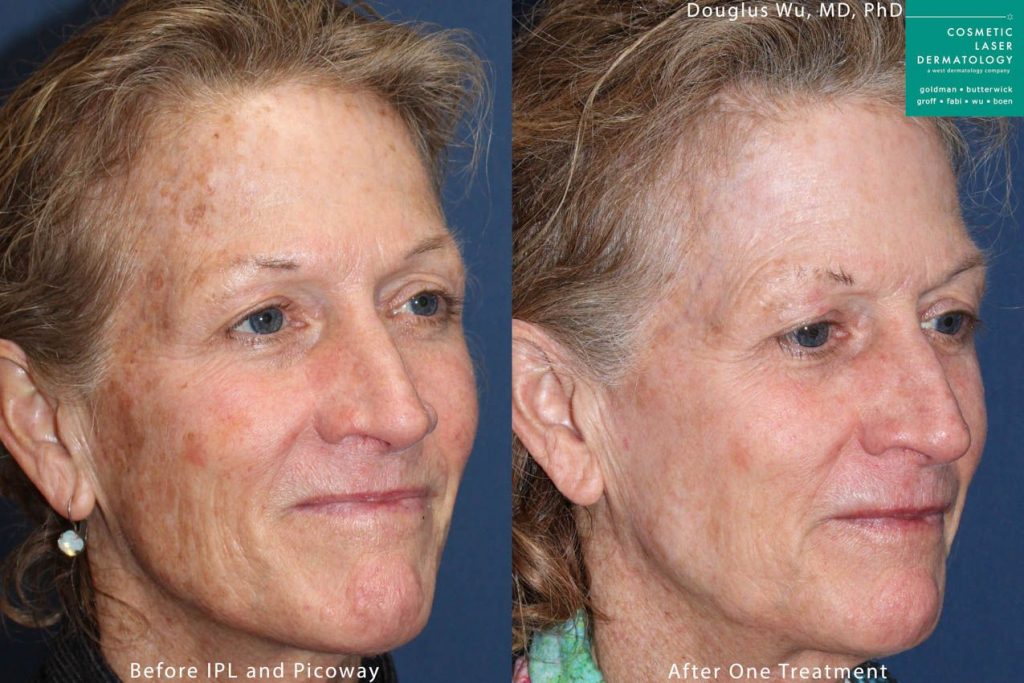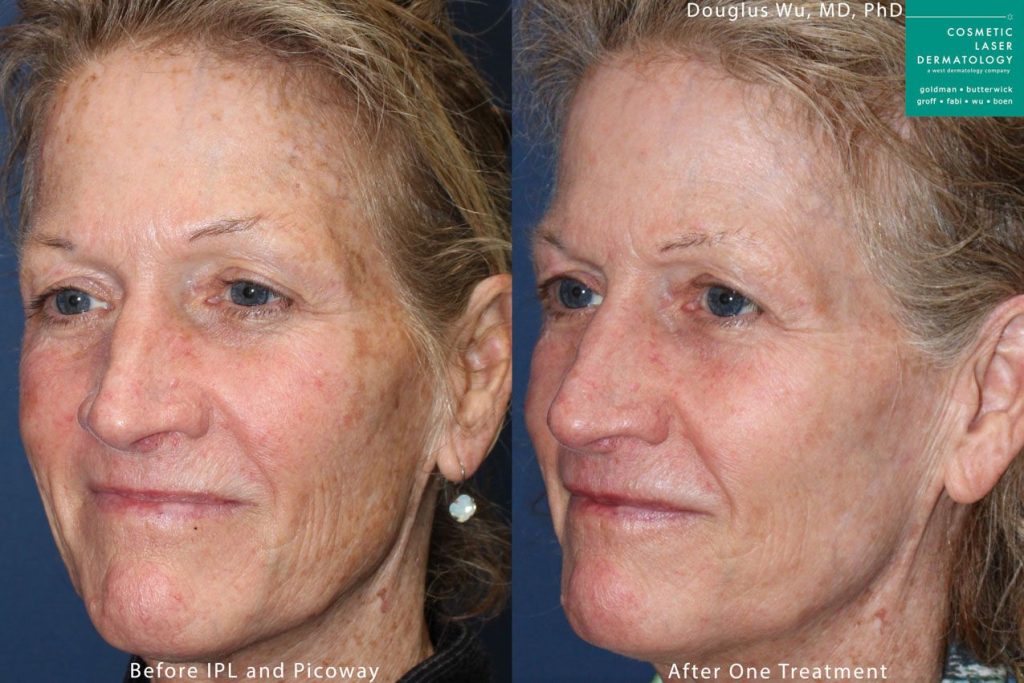 What to Expect During Your First Treatment
When you step into our San Diego office, you will experience a warm, relaxed, and friendly atmosphere. With every treatment session, expect to receive the highest level of patient care and top-notch personalized expertise.
Procedures involving laser, light, and RF microneedling devices should take no more than an hour to perform. During your procedure:
Topical numbing cream may be applied to the treatment area for 30-60 minutes before treatment. Depending on the case, your provider may also inject lidocaine into the skin for additional numbing.
You will be given eyewear to protect your eyes.
You may feel a brief sensation, similar to a mild sting or snap. Our patients usually find these treatments relatively comfortable.
Depending on the device and treatment, cold air may be applied directly to the skin while the treatment is being performed to increase comfort and protect the surface layer of your skin from the heat emitted from the device.
We also offer nitrous oxide to further limit any pain.
How Many Treatments Are Needed for Sun-Damaged Skin Repair?
Most patients achieve optimum results after multiple treatment sessions. The right treatment plan for you depends on the severity of your sun damage and your desired results. Improvement in your skin occurs after every treatment session in the weeks and months following your procedure.
Maintaining Your Skin After Non-Ablative Laser Resurfacing
Here's how to take the best possible care of your skin following a non-ablative laser skin resurfacing treatment and maintain its results:
Protect your skin from further sun damage by always wearing sunscreen
Maintain a healthy lifestyle (eat a healthy diet, exercise, do not smoke)
Drink sufficient water daily to stay hydrated
Maintain a comprehensive skincare regimen with medical-grade formulas
The Importance of Sun Protection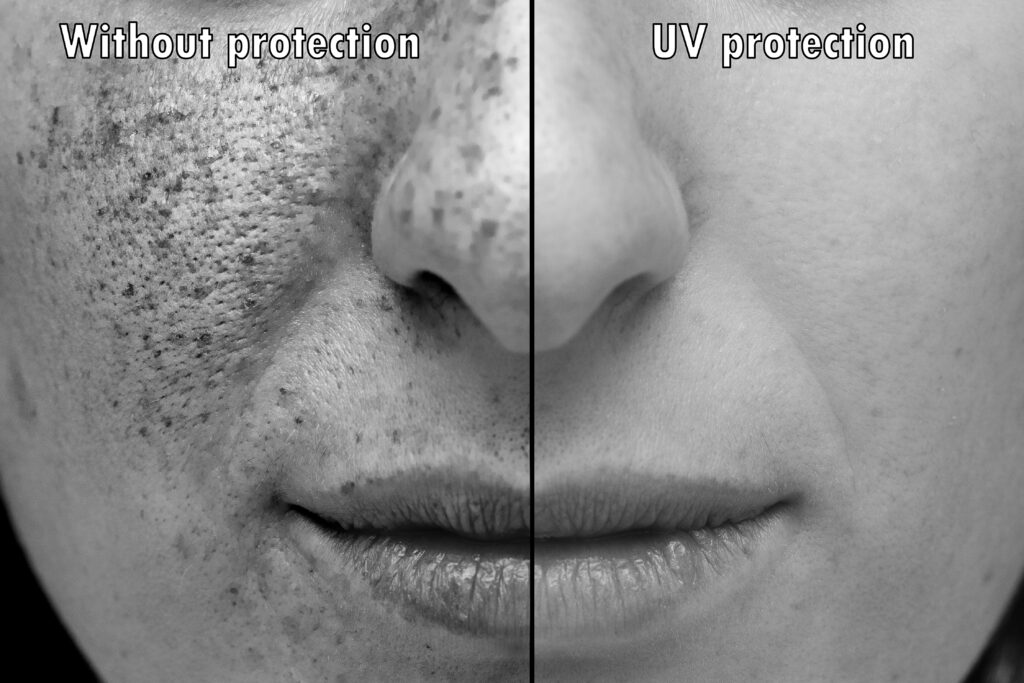 Always use sun protection, no matter the season or weather. Unprotected sun exposure can cause skin aging (e.g., lines, wrinkles, spots, and "leathery" skin), eye damage, and skin cancer –the most common cancer in the United States. Our skin becomes thinner and more delicate as we age, and frequent and prolonged sun exposure may make the skin even more susceptible to damage.
It is important to always protect the skin by wearing sunscreen, limiting sun exposure during peak sun hours (between 10 am and 2 pm), and wearing sun-protective clothing and accessories.
Schedule Your Non-Ablative Laser Resurfacing Consultation for Sun Damage Today
Cosmetic Laser Dermatology is a top cosmetic dermatology practice in San Diego with seven board-certified dermatologists, an in-house research center, and 60+ lasers featuring the latest technology.
Our dermatologists can provide natural-looking results for every skin type and concern using treatments backed by science. Contact us to schedule a consultation and learn more about sun protection and the best treatments for sun damage.