Wrinkles, large pores, facial redness, and brown spots – You might think it will take multiple devices and procedures to address all your skin concerns. Fortunately, the Intense Pulsed Light (IPL) photofacial can treat several skin concerns at one time with the added bonus of getting it done during your lunch break.
A powerful, multi-tasking device, IPL is a safe and effective skin rejuvenating procedure that produces a clearer, healthier, and more beautiful complexion.
At Cosmetic Laser Dermatology, located in San Diego, CA, our board-certified dermatologists offer a comprehensive variety of 50+ laser treatments, including the Lumenis Stellar M22 IPL photofacial device.
Our very own Dr. Mitchel Goldman helped develop the first intense pulsed light device for treating common skin issues, and each of our seven dermatologists have been involved in numerous IPL research projects.
Our team boasts extensive experience and expertise in using these light devices for a wide range of skin concerns.
What is an IPL Photofacial?
An IPL photofacial typically takes only 10-15 minutes to perform, involves minimal discomfort, and requires no significant downtime. It is often referred to as a "lunchtime laser procedure," since you can reap the laser skin rejuvenation benefits of IPL and immediately return to your normal activities after your session.
During an IPL procedure at our medical spa, we apply a cooling gel to the treatment area and provide you with protective eyewear. The handheld device of the Lumenis Stellar M22 is placed over the treatment area, where it delivers pulses of intense, broad-spectrum light that is precisely calibrated to treat your specific skin concerns.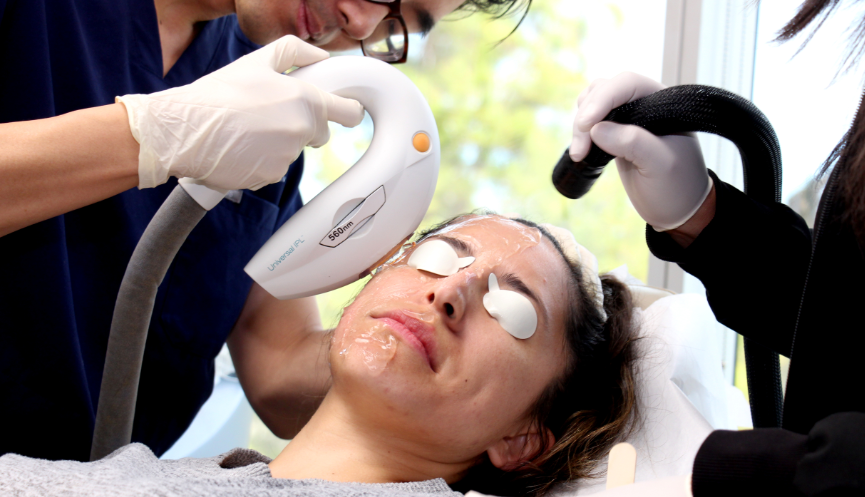 The pulses of light are absorbed by the skin, generating heat in the targeted lesions (brown and red spots) without damaging surrounding skin and tissue.
It is designed to activate the skin's natural healing process and boost the production of collagen, a protein that supports the underlying dermal structure.
As your skin repairs itself, the damaged outer layers of skin are replaced by new, healthier, and more radiant skin.
IPL also breaks down the melanin that creates brown spots on the skin, effectively treating age spots and other types of hyperpigmentation. During a single 15-minute session at our San Diego medical spa, our skilled dermatologists will target areas of noticeable sun damage or early signs of aging.
The treatment is fully customizable for different applications, skin types, and conditions. To learn more about IPL, please click here.
IPL vs. Lasers
It is important to note that IPL therapy uses multiple wavelengths (a broad spectrum) of light, while a laser device uses a single wavelength of light to treat the skin. Laser skin resurfacing is a separate and distinct skin rejuvenating treatment.
At your consultation, we will thoroughly assess your skin and your concerns to determine which treatment will meet your needs and goals best. Laser skin resurfacing may either be ablative (precisely removing the outermost layers of skin) or non-ablative (heating deep layers of skin without affecting the skin's surface).
At our San Diego, CA medspa, a popular fractional laser skin resurfacing treatment we offer is the Clear + Brilliant laser system. Seen as a less invasive and gentler alternative to traditional laser resurfacing, the Clear + Brilliant treatment is an innovative procedure that gives patients a fresh and rejuvenated appearance without significant downtime or side effects.
Full-Face and Body Rejuvenation
IPL photofacials using Lumenis Stellar M22 are not exclusively used to treat facial skin concerns. They also safely treat other parts of the body, including the hands, arms, neck, and chest.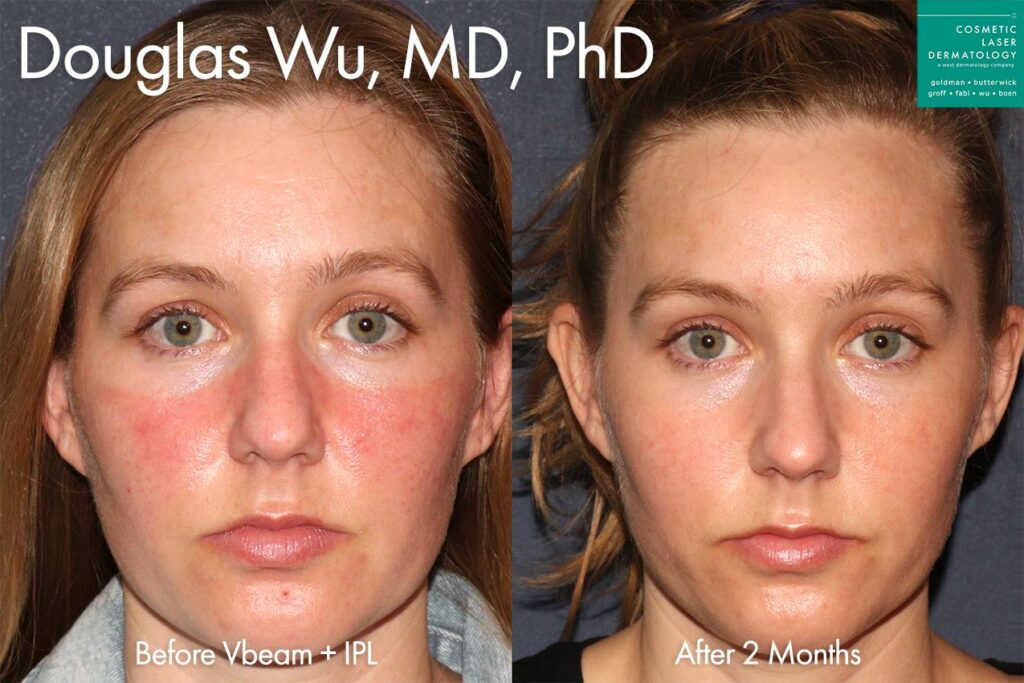 IPL is a versatile and effective procedure for treating a wide range of skin conditions, including:
Freckles
Melasma
Visible blood vessels
How Long Do IPL Results Last?
Before undergoing an IPL laser treatment, your skincare specialist will create a comprehensive treatment plan along with proper aftercare techniques to ensure the best possible results.
A simple rule of thumb is, the better you care for your skin, the longer your results will last. With professional skincare, regular sun protection, and a schedule of maintenance treatments, many of our patients have seen their results last for several years.
For optimal results, we suggest 2-3 treatments spaced 4-8 weeks apart at our office, followed by 1-2 yearly sessions for maintenance and upkeep.
Are There Side Effects?
Just like any other skin rejuvenating procedure, there are minimal side effects associated with an IPL laser. The most common ones include mild swelling, soreness, tenderness, redness, or irritation, similar to those we experience with a sunburn.
Side effects are usually only temporary (lasting about 24-48 hours), and you can return to your normal activities after your procedure.
Restore Your Youth in 10-15 Minutes With an IPL Treatment at our Medical Spa
Take years off your appearance in just 15 minutes or less with an IPL photofacial. To learn more about this lunch break procedure and other ways you can rejuvenate your skin, contact Cosmetic Laser Dermatology in San Diego, CA, to schedule a consultation.
Next, learn 7 ways we make all of our treatments more comfortable for our patients here.