It seems we are in the midst of a new trend –the rise of male aesthetics. While the stigma surrounding male vanity has faded over the years, the pandemic has triggered a new level of self-awareness in men, leading them to desire the same benefits that women have been enjoying from cosmetic treatments over the years. With their requests for non-surgical procedures rising, they are proving to be a market demographic that cannot be ignored. 
At Cosmetic Laser Dermatology in San Diego, CA, we can say with confidence that men (and women) can trust their skin in our hands. Our six board-certified dermatologists combine major cosmetic breakthroughs in science and medicine to bring our patients the ultimate in treatments for men.  At our medical spa, we offer patients customized care, including the most innovative laser, injectable, body sculpting, and aesthetics treatments available.
The Male Trend
Turning back the clock on aging is no longer limited to the concerns of women, and the numbers prove it. The American Society of Plastic Surgeons saw a 182% increase in Botox injections in men from 2000-2020 and a 482% increase in laser skin resurfacing procedures. Botox injections are the number one non-surgical cosmetic procedure for men, with 265,247 procedures administered in 2020 alone.
Reasons Behind the Trend
Men are just as concerned about their appearance as women. And why not? We all care about how we look, and we know how looking our best can do wonders for our self-confidence. The pandemic has not only allowed men to recognize their tired-looking appearance but has given them the opportunity to seek out non-surgical treatments while recovering in the comforts of their own homes.
The Zoom Boom Impact
Because people are switching to a WFH setup, daily virtual meetings via platforms like Zoom have become the norm. Everyone has gone from nonchalantly looking at their reflections in the mirror while doing their daily routine to staring at their image on a screen for hours a day. As a result, they are scrutinizing their appearance and paying close attention to lines, wrinkles, sagging skin, and other signs of aging. This process is making many of us more self-conscious about our appearance regardless of gender – leading to the "Zoom Boom" or upsurge in demand for cosmetic procedures during the pandemic.
Maintaining a Competitive Edge
Men are aware of the benefits of having a youthful-looking face with classically handsome features. In addition to looking more attractive, they know they can gain a competitive edge in the high-stress job market. Non-surgical treatments are also seen as an essential component in a vibrant, youthful lifestyle, like eating healthy or hitting the gym regularly. Men who are facing a sometimes ageist job market are taking matters into their own hands by exploring options to enhance their appearance in a youth-obsessed culture. By looking their best, they can effectively boost their confidence and their drive to succeed.
Work from Home (WFH) = Private Recovery Time
Men who were considering cosmetic procedures but had worries about recovery time, have discovered a golden opportunity while the pandemic kept them at home. The WFH setup allows them to recover comfortably and privately at home without anyone else knowing they've undergone procedures. They don't even have to take much time off from work for most procedures. Staying at home also means a wardrobe consisting of loose tops and sweats with elastic waistbands –making recovery much more comfortable. In essence, quarantine life and the WFH setup provide the best environment for a discreet recovery time.
Top Choices for Men
Men are taking better care of their skin and bodies today, adopting a more proactive approach to maintain a youthful appearance and enhancing their best features with the help of non-surgical procedures. Some of the treatments we often perform on our male patients include: 
Goodbye Forehead Wrinkles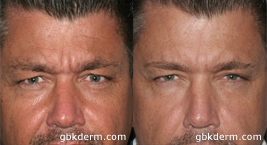 A few lines etched on a man's forehead can make him look more distinguished, but a heavily lined brow and eyelid area could create a tired or angry appearance. Because men want to soften their lines and not their edge, they can benefit from fine lines & wrinkle treatments with neuromodulator injections that provide subtle results. Neuromodulators such as Botox®, Dysport®, Jeaveau ® and Xeomin® work by blocking nerve impulses from entering the targeted muscle, reducing its activity. As the muscle relaxes, crow's feet, forehead lines, and other dynamic wrinkles begin to smooth out. 
Facial Contouring for Men
In addition to smoothing wrinkles, men also aim to enhance their naturally masculine features such as a stronger jawline or a more prominent chin. Dermal filler injections make for an ideal treatment because they produce natural-looking results (it's not just women who want to refresh their looks without looking like they've had any "work" done).
Dermatologists use hyaluronic acid (HA) fillers like Juvederm® and Restylane® to provide a safe and effective method for smoothing, lifting, and accentuating areas of the face, helping to enhance features such as a strong and defined chin and jawline. When injected, HA fillers can erase lines and wrinkles, restore volume, lift facial tissues, and reshape the face. We also use biostimulatory agents like Sculptra® and Radiesse® to help restore a natural youthful appearance to the face. With these injectables, men can enjoy a stronger, more youthful appearance with all of the confidence that comes with it. 
Turning Back the Clock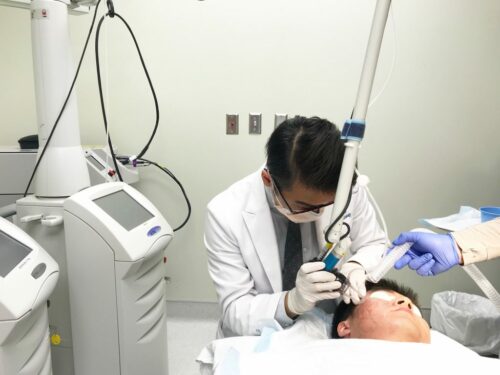 Advancements in laser technology have made it easier for men to address some of the most common signs of aging without the recovery time associated with more invasive treatments.
Cosmetic Laser Dermatology has over 50 lasers that are used for an array of skincare treatments. These lasers are designed to reduce lines, wrinkles, brown spots, acne, acne scars, and other facial imperfections. Lasers work by getting rid of the damaged skin's top layer to reveal healthier, younger-looking skin or boosting collagen production to improve the skin's quality while getting rid of its irregularities. One benefit of laser therapy is the ability to tailor treatments to each patient and their specific needs. In our San Diego, CA office, we create customized treatment plans for every patient and match lasers according to a patient's unique skin type, skin concern, and desired amount of downtime.
RF microneedling is another non-surgical skin rejuvenation treatment for men and women alike. The procedure takes microneedling to a new level by combining it with fractional RF to create an effective system for remodeling the skin from the inside out. It uses microneedles to deliver RF energy into various skin levels, including the deeper layers where treatment is most beneficial. This triggers the body's natural healing response, stimulating the production of new, healthier skin cells and collagen, while treating skin concerns such as fine lines and wrinkles, sagging skin, acne and acne scars, and uneven skin tone and texture. In our medical spa, we can even combine RF microneedling procedures with lasers and fillers for comprehensive skin rejuvenation or a non-surgical facelift.
Get rid of the Double Chin
Many healthy men when looking at their face on a Zoom call may notice that their neck looks alot like their father. This "double chin" may not be due to weight gain, but a genetic propensity to store fat in the upper neck. We have multiple procedures from a minimally invasive ThermiTight® and liposuction, to CoolSculpting® Elite  and Kybella® injections to reestablish a youthful jawline and neck. 
No More Dad Bod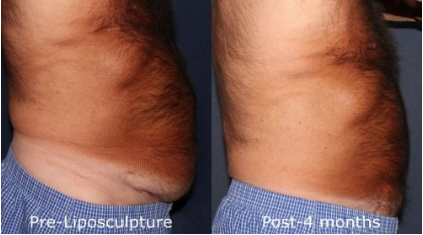 For millions of Americans, one of the pandemic's unintended consequences has been the "COVID 15," which refers to the weight gain that many people in lockdown have experienced. Love handles and a spare tire around the middle can make any man feel self-conscious. Now that businesses are beginning to open and cities are now resuming normal activities, men are also seeking body-contouring procedures to enhance their physiques.
At Cosmetic Laser Dermatology, our dermatologists are experts when it comes to body sculpting procedures. Men who have stubborn areas of fat that won't go away may be ideal candidates for body contouring at our San Diego medical spa.
Our dermatologists offer a wide range of safe and effective body contouring procedures such as CoolSculpting Elite, which utilizes precisely controlled cooling (cryolipolysis) to freeze away stubborn fat. CoolTone uses electromagnetic muscle stimulation to tone, firm, and strengthen the muscles of the abdomen, buttocks, and thighs. And for the ultimate in body sculpting, Cosmetic Laser Dermatology's proprietary technique, Cool³, combines popular body contouring methods such as CoolSculpting Elite, CoolTone, and Zimmer Z-Wave Acoustic Therapy, as well as liposculpture and ThermiTight to achieve optimal fat removal and body shaping results. 
Why Men (and Women) Choose Our Medical Spa for All Their Aesthetic Needs
With over 50,000 satisfied patients and over 100 years of combined experience, Cosmetic Laser Dermatology is one of the most sought-after cosmetic practices in the world.
Our board-certified dermatologists are national Botox trainers who are considered top experts in their field. Our medical spa's experience with Botox is unmatched, as we have conducted and continue to conduct many clinical trials involving this amazing wrinkle treatment. They are also some of the top dermatologists in the performance of cosmetic laser treatments in San Diego and the entire world.  Each has written articles, textbooks, and lectures to other physicians on expert laser techniques. Patients can trust they are in the hands of the leading specialists in the world. 
We pride ourselves on using the most advanced technology and working with every patient to create customized treatment plans, helping them achieve and maintain their desired aesthetic goals. Whether in the form of laser treatments, injectables, or a combination of cosmetic procedures, we can help our patients focus on their concerns, ensuring we turn back the clock on aging and make their face and body look radiant and youthful month after month, no matter their age.
Schedule A Skin Rejuvenating or Body Contouring Treatment Today
Our board-certified dermatologists will be happy to meet with you to discuss the best cosmetic treatment for you. To learn more or to schedule a consultation, contact our San Diego, CA medical spa.