Voluma® is a robust filler that is primarily used for volume restoration and facial contouring. With a bevy of potential benefits, there are also numerous areas on the face where Voluma can be used to enhance your appearance. 
What is Juvederm Voluma?
Voluma belongs to the Juvederm® family of dermal fillers. This volumizing facial filler contains hyaluronic acid (HA), a naturally-occurring substance found in your own body. HA is responsible for giving the skin hydration, form, and structure. Because it retains water, it can add natural volume to key areas of the face. Since your body slows down HA production over time, wrinkles, sagging skin, and other signs of aging become more noticeable. Juvederm Voluma restores volume and fullness, allowing you to look refreshed and rejuvenated without surgery.
What Are Dermal Fillers?
Dermal fillers are gel-like substances that are injected beneath the skin to add volume to the face, smooth out lines, soften creases, and enhance facial contours. There are a variety of FDA-approved dermal fillers that are categorized by the substance they are made of. HA fillers like Voluma focus on adding volume through water retention, while other fillers made of calcium hydroxylapatite (CaHA) and poly-L-lactic acid, work by promoting collagen growth.
While Voluma is specially-formulated to treat age-related volume in the cheeks, it can be used in other parts of the face that require lifting, definition, or additional fullness.
Midface (Temples, Cheeks, Nasolabial Folds)
Voluma filler smooths skin and adds fullness to the cheekbone (including the line between the under-eye area and cheeks), as well as the hollows of your cheeks (the region under the cheekbones), making the contours plump and more defined.
Voluma can also add volume to the temple area, a location that commonly sees hollowing over time due to HA and collagen loss.
Also known as smile lines or laugh lines, nasolabial folds can be treated by either directly injecting Voluma into the fold or by filling the cheek area to lift the fold and achieve a more youthful appearance.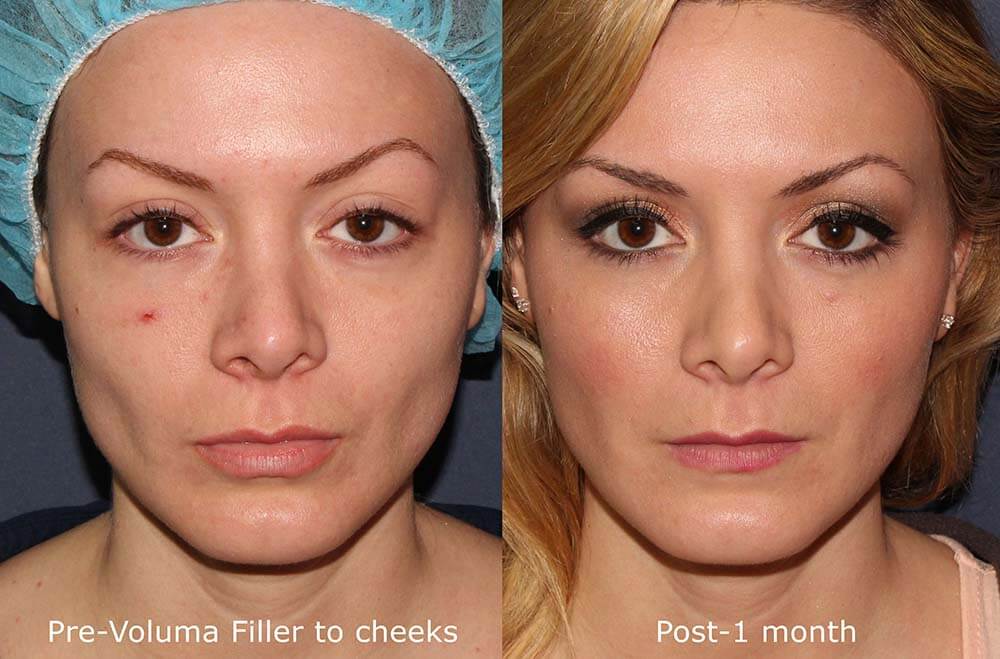 Lower Face (Chin, Jawline, Marionette Lines)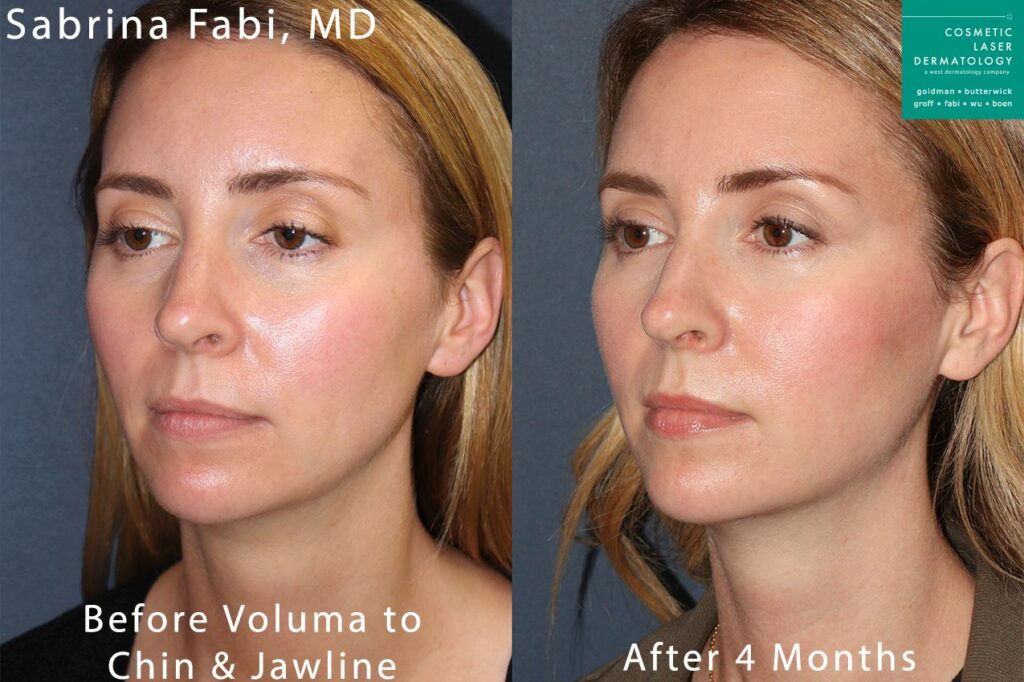 Voluma can also add volume to the lower portion of the jawbone, giving it more definition. Voluma injection points can be located anywhere on the jawbone, from the angle of the bone below your ears down to the tip of your chin for a non-surgical chin augmentation. When injected along the bone or on its outer edge, Voluma restores volume and pulls the skin outward, enhancing contours and restoring definition between your lower face and the upper neck. It also improves the appearance of early jowl formation in the lower face.
Voluma injections help soften marionette lines as well, helping to fill in the wrinkles around the lips. Injecting Voluma directly into the marionette area will lessen the lines and add volume to the area around the corners of the mouth, rejuvenating the lower face.
Am I a Good Candidate for Voluma Injections?
Juvederm Voluma candidates are men and women over the age of 21 who prefer a non-invasive anti-aging treatment that provides natural-looking results. This treatment is ideal for those with mild to moderate volume loss in the cheek area on the face and specifically, to address the following common aging concerns:
Undefined or uneven jawline
A recessed or less prominent chin
Hollow temples
Under-eye bags or skin laxity
Hollowed cheeks and under the eye hollows
Contact Our San Diego Medical Spa Today
At Cosmetic Laser Dermatology, we understand how sunken areas in the face can affect your appearance, as well as your self-confidence. Our board-certified dermatologists have been actively involved in research studies involving Voluma and other dermal fillers in San Diego, CA for the last 30 years, giving us more experience with injectables than nearly any other practice in the country.
Losing facial volume might be a natural part of aging, but you don't have to simply live with it. Our board-certified dermatologists combine major cosmetic breakthroughs in science and medicine to bring our patients the ultimate in skin rejuvenation procedures, including Voluma injection treatments. Contact Cosmetic Laser Dermatology today to schedule a consultation.