Intense pulsed light (IPL), also known as photofacial therapy, is a proven skin-rejuvenating treatment that alleviates common skin issues like rosacea, restoring clearer skin.
While rosacea cannot be cured, IPL laser treatments can safely and effectively control the symptoms.
What is an IPL Photofacial treatment?
IPL photofacial is a minimally-invasive procedure that requires little to no downtime. It uses a handheld device that delivers high-intensity pulses of light to penetrate the skin and trigger the natural healing process, effectively treating common skin conditions and rejuvenating your appearance.
The light-emitting device can be precisely calibrated to target specific skin concerns. It can be used to treat the face, hands, neck, or chest for comprehensive skin rejuvenation. Its advanced technology is proven to safely and effectively treat sun damage, brown spots, acne, fine lines, and rosacea.
How does IPL treat Rosacea?
An IPL photofacial treatment uses specific wavelengths of light energy to penetrate deep beneath the skin, targeting the diffuse redness or broken vessels that are common symptoms of rosacea. When the blood under the skin's surface absorbs the device's light energy, it generates heat that causes blood vessels to constrict and shrink without harming the surrounding dermal tissue. The body reabsorbs the damaged vessels, reducing the appearance of redness and swelling.
As the skin continues its healing process, facial redness, visible blood vessels, and other rosacea symptoms will begin to fade, revealing smoother skin with a more even skin tone.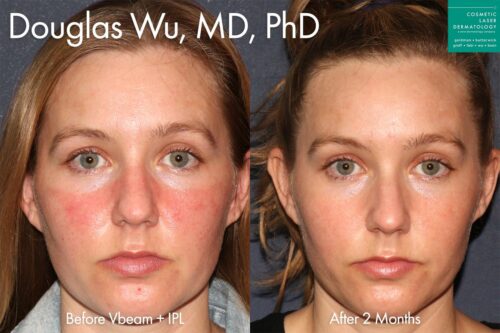 How many IPL sessions are needed for Rosacea?
You can expect a series of 1-2 sessions, every 4-6 weeks, to treat recurring rosacea symptoms. Once you achieve your desired results, touch-up IPL for rosacea sessions every 6 months to one year may be necessary to maintain your desired results.
Our board-certified dermatologists will customize the best treatment plan for your needs and goals.
How long do IPL results last for Rosacea?
Results are long-lasting, extending up to 6-12 months once the treatment sessions have been completed.
Before undergoing an IPL laser treatment for rosacea, we will discuss proper aftercare techniques with you to help prolong results. A simple rule of thumb is the better you care for your skin, the longer the results will last. Many of our patients have seen their results last for several years by coming in just once a year for maintenance.
Manage Rosacea with an IPL Photofacial in San Diego
With 50+ laser, light, and energy devices, Cosmetic Laser Dermatology in San Diego has a wide selection of devices available for rosacea treatment, including our most popular IPL photofacial device, the Lumenis Stellar M22.
Not only did Dr. Mitchel Goldman help develop the first intense pulsed light device for treating common skin issues, but each of our seven dermatologists have also been involved in numerous research studies involving IPL, giving our team more experience performing IPL treatments than nearly any other practice in the country. 
Our board-certified dermatologists at Cosmetic Laser Dermatology will be happy to meet with you to discuss whether IPL photofacial is the right rosacea treatment for you. Contact our San Diego medical spa to schedule your consultation or to book your IPL photofacial for rosacea treatment.
Next, read about our options to ensure your procedure is as comfortable as possible here.