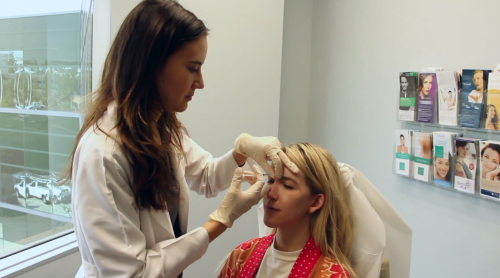 As the number one cosmetic procedure performed today, it's no secret that Botox is as popular as ever, and growing. With the prevalence of Botox in today's society, it's hard to believe that this procedure has only been FDA approved since 2002, though it
had been available for injections prior to that year. Unfortunately, far too many patients' still experience bad Botox injections for several different reasons, but at Cosmetic Laser Dermatology in San Diego, we want you to know that it doesn't have to be that way!
How To Avoid A Bad Botox Experience
It's important to remember that when something sounds too good to be true, it probably is. Below are some of the best tips to help patients understand what to look for in a good (and bad) Botox injector and overall experience.
1. Experience of the injector is Key – Choose a reputable Medical Spa
Visiting an experienced Botox injector is one of the best ways that you can avoid having a negative experience. Your face is extremely important in your everyday life—why would you trust anyone but a doctor with an immense understanding of the facial anatomy? Dermatologists often have the knowledge required to inject fillers the right way.
2. Beware of Low Pricing
Unless you're visiting an office that you know very well, it's important to shy away from deals that seem a bit off. For example, a doctor offering injections at a very low price may not be as experienced or even using actual Botox—which can be very bad for you! Make sure that you always know and trust the person injecting you.
3. Avoid Excess Bruising
A lot of people aren't aware that Ibuprofen and even certain kinds of herbs can actually cause excess bruising in people being injected with Botox unless they stop ingesting them a few weeks before their injection. When a person does experience bruising, ice is great for helping to reduce its appearance immediately following your injections,
4. Less Is More
If you're undergoing Botox treatments for the very first time, remember that less is more! On average, 20 units is typically used to treat frown lines, while this is a little less for areas like crows feet. Since you aren't aware as to how Botox will affect you, it's best to heir on the side of caution as opposed to going severely overboard.
Contact Our Skin Care Clinic & Medispa Today
Receiving Botox or any type of filler injections should always be performed by a board-certified physician who has an extreme understanding of the injectable process. If you would like to schedule your initial consultation with a doctor at Cosmetic Laser Dermatology in San Diego, please contact our office today by calling (858) 943-2113. The dermatologists at our practice are professionals who have an immense understanding of the injectable process, including the best methods to achieve optimal results for patients. For more information, please contact us today.
Next, learn about Common Botox Myths.