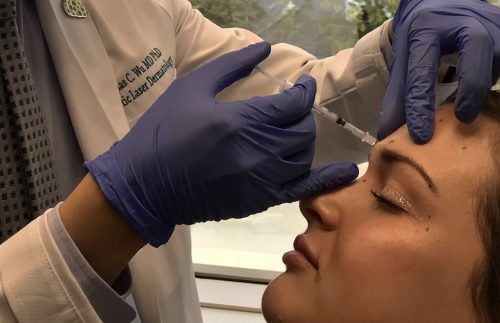 Hundreds of thousands of filler and injectable treatments are performed across the world every year. With such a high number of people on a quest to reduce the visible signs of the aging process, it's no secret that someone, somewhere, has had a bad experience. However, there are myths surrounding Botox that we as dermatologists at Cosmetic Laser Dermatology in San Diego feel need to be put to rest.
Myth: Botox Cause Blindness
In the early 1990's, the FDA did issue a warning in regards to collagen and liquid silicone injections of the face saying that blindness is a potential risk, leading some to believe that Botox causes blindness. It's important to realize that this is false, as Botox is not made of collagen or silicone,  but is a neurotoxin that acts to paralyze facial muscles. Fillers have had occasional reports of people suffering from blindness, which is most likely due to the fact of visiting an inexperienced injector who injected too deeply between the eyes, which Botox is not.
Myth: Botox & Fillers Are The Same Thing
When patients are looking for a treatment that is best suited for them, they often group injectables into being all the same procedure providing the same results. However, Botox injections diminish the appearance of wrinkles, crow's feet, 11 lines, bunny lines, squint lines and more.  Most commonly, Botox is injected around the eyes and the forehead, as these are common problem areas for most individuals. Fillers, on the other hand, add volume to an aging face by plumping up areas like the cheeks, under eye hollows, and lips.
Other common Botox myths that are entirely false include the belief that Botox is toxic to the body and that injections are painful.
At Cosmetic Laser Dermatology in San Diego, we aim to provide the safest and most effective treatments for our patients at all times.
When Are Injectables Dangerous?
Whenever a patient visits an injector that isn't highly qualified or does not have the proper experience, there is always an increased risk of side effects or unsatisfactory results. The best way to avoid any sort of risk with injectable treatments is to make sure that you do your research on your injector's experience and training. Ideally, someone who is board certified in dermatology or facial plastic surgery would be the best candidate to provide the service for you.
Contact Our San Diego Medical Spa Today
The dermatologists of Cosmetic Laser Dermatology in San Diego are ready to talk botox injections with you. If you're wondering whether or not you might be a good candidate to undergo one or several of the different injectable treatments offered at our practice, we encourage you to contact us today to schedule your initial consultation by calling (858) 943-2113. Our board-certified dermatologists are highly trained in providing our patients with the best injectable treatments possible. For additional information or if you have questions or concerns, please contact our practice.
Next, read about Other Uses for Injectables Beyond the Norm.