Advances in technology continue to push the boundaries of what can be achieved with minimally invasive procedures. Using injectable treatments, lasers, and other devices, dermatologists can deliver truly remarkable results for their patients with no need for surgery and little or no downtime.
Cosmetic Laser Dermatology in San Diego, California, combines these significant cosmetic advancements to provide patients with the ultimate in face and body rejuvenation. CLDerm's board-certified dermatologists provide individualized care to each patient, using the most cutting-edge laser, injectable, body sculpting, vein, and other aesthetic treatments available.
Watch CLDerm's webinar featuring Monica Boen, MD, to see their predictions for cosmetic dermatology in 2022.
What's new in cosmetic dermatology?
Dr. Boen kicked off her webinar by listing some of the latest developments in cosmetic dermatology that are already available at Cosmetic Laser Dermatology:
QWO: The first injectable cellulite treatment
The RHA® Collection: The first FDA-approved, award-winning hyaluronic acid filler for dynamic wrinkles and folds
Resonic™: The only FDA-cleared medical device that utilizes sound technology to quickly and effectively remove tattoos and diminish the appearance of cellulite
Combination treatments: Combining the best technology and products for superior results
QWO: The First Injectable for Cellulite
QWO is the first and only FDA-approved injectable for moderate to severe cellulite in the buttocks of adult women.
QWO's active ingredient is a purified enzyme (collagenase) that breaks down the fibrous septae of cellulite that leads to the development of cellulite.
According to a study of women who received three treatments 21 days apart, visible results are achievable in as little as ten weeks.
Injections take as little as 10 minutes, depending on the severity of cellulite in the treatment area. Three treatments are generally required to achieve optimal improvement.
You should not receive QWO if you're allergic to collagenase or other ingredients in QWO or if you have an active infection in the treatment area.
Bruising around the injection sites may occur after a Qwo treatment but will subside within a matter of days in most cases.
In rare cases, QWO may cause serious side effects, including allergic reactions, and anaphylaxis.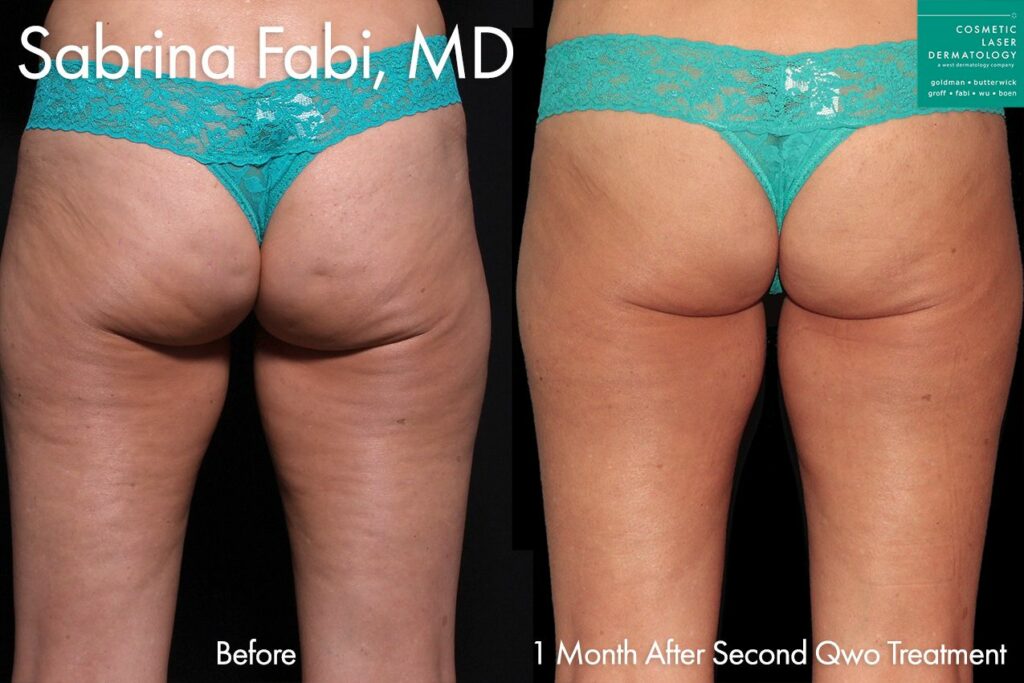 Understanding Cellulite
Cellulite is prevalent, occurring in 90% of women.
Fibrous bands tether fat to the skin, causing a dimpled appearance.
Excess fat and skin laxity can worsen the appearance of cellulite.
The collagenase in QWO acts by enzymatically severing the ties between the fibrous bands and fat, reducing the dimpled appearance of cellulite.
QWO vs. Other Cellulite Treatments
Qwo is not the only cellulite treatment option available at Cosmetic Laser Dermatology. We offer the following procedures, depending on the specific needs and goals of each of our patients:
RHA Fillers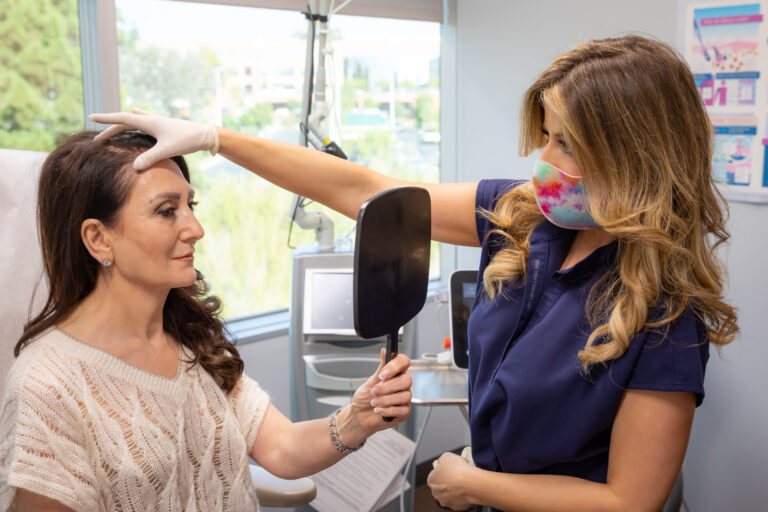 The RHA® Collection is an FDA-approved, award-winning hyaluronic acid filler for dynamic wrinkles and folds. Recently introduced in select practices in the U.S., RHA fillers have been used in Europe for years.
Dynamic wrinkles and folds appear in areas of the face where there is repetitive movement. Every day, your face undergoes millions of movements through laughing, smiling, frowning, squinting, and speaking. These actions eventually result in dynamic wrinkles and folds that can be challenging to treat. Dermal fillers have not been a top choice for these lines previously, as they can make the treated area appear stiff or unnatural when the face moves.
RHA fillers are cross-linked, using a novel technology to add softness and flexibility. They are especially useful for dynamic wrinkles caused by repetitive facial motions. The RHA® Collection is designed to adapt to facial movements, resulting in a more natural appearance at rest and in motion.
Advantages of RHA fillers:
Adapt seamlessly to the dynamic demands of the face for a natural appearance
Specifically formulated to mimic the natural hyaluronic acid found in your skin
May last longer than some other fillers, with results extending up to 15 months
Resonic™
Resonic is the only FDA-cleared medical device that uses sound technology to reduce the appearance of cellulite and remove tattoos. CLDerm in San Diego, CA, was one of the first practices in the country to acquire this device to better help their patients seeking cellulite improvement and tattoo removal.
Advantages of Resonic:
Non-invasive; device works by emitting controlled shock waves
Treats cellulite by targeting fibrous bands in buttocks and thighs
Improves and expedites tattoo treatment by targeting ink in tattoos
Resonic reduces the appearance of cellulite by creating the look of smoother skin in just one non-invasive treatment session. It works with existing technology to enhance both cellulite reduction and tattoo removal.
Combination Treatments
Combination treatments, such as CLDerm's exclusive Take10, enable customized treatments and superior results. Cosmetic Laser Dermatology has developed numerous proprietary treatments that do everything from reverse aging symptoms to toning and sculpting the body.
Multiple treatment modalities are often needed to achieve specific aesthetic goals. Different lasers address red vessels on the face, brown spots, or skin texture issues.
Botox and fillers can be combined with most laser treatments on the same day to achieve full results in a single appointment.
Cosmetic Laser Dermatology in San Diego, CA, is proud to offer over 50 lasers and devices—the most advanced technologies available—to treat a variety of skin conditions. Because of the flexibility, power, and versatility of these devices, they can be combined with other procedures to improve patient results with fewer treatments.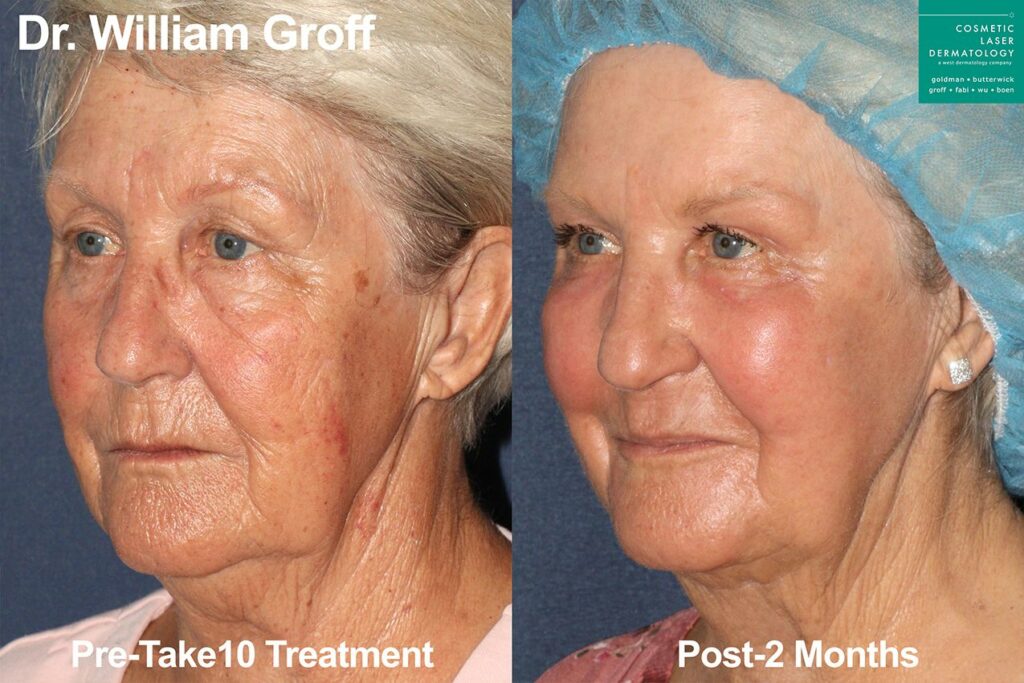 By customizing procedure plans and treatments to each patient's individual needs and goals, CLDerm's expert dermatologists can more effectively address skin issues with minimal downtime, resulting in skin that looks and feels younger, healthier, and more beautiful.
Trust Your Skin to The Expert Dermatologists at Cosmetic Laser Dermatology
CLDerm's innovation and expertise in anti-aging treatments, skin rejuvenation, body contouring, and skincare are unmatched. Our board-certified dermatologists are dedicated to helping our patients reach their aesthetic goals and regain their youthful appearance and self-confidence.
To learn more about the latest treatments or to schedule your consultation with a board-certified dermatologist, contact Cosmetic Laser Dermatology in San Diego today.