Patients often ask, "What's the best sunscreen?"
My most common reply is "The one you'll use every day!". There are a gazillion sunscreens on the market, but the best sunscreen for you is the one you'll use consistently. It's important to find a sunscreen that feels great on your skin while being convenient to use. That being said, not all sunscreens are created equal!
There are two main classes of active ingredients in sunscreens: chemical and physical blockers. Chemical blockers work like a sponge, absorbing the sun's radiation before it can damage your skin. Some examples of chemical blockers are avobenzone and cinnamates. Physical blockers, on the other hand, are like miniature mirrors that scatter solar radiation before it can penetrate the skin. Examples include titanium dioxide and zinc oxide. Both are effective in protecting your skin again UV damage; however, the physical blockers offer more broad-spectrum protection against UVA and UVB rays.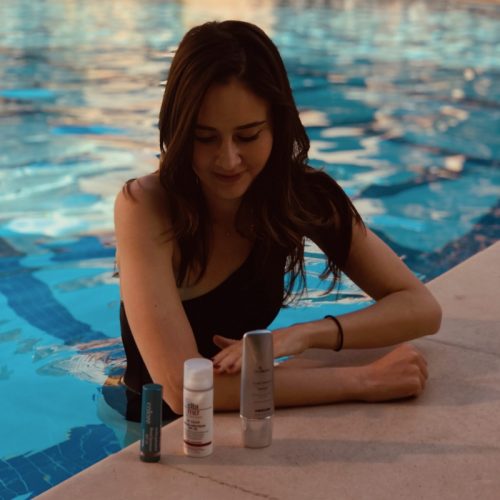 Other things to watch out for when picking a sunscreen are the sun protection factor or SPF and whether it offers broad spectrum protection for UVA and UVB radiation. I recommend an SPF greater than 30, as higher SPF numbers provide better coverage.
I use many different sunscreens, but if I were on a sunbaked desert island and had to choose only three sunscreens, these would be the ones (This is a very hard decision for a dermatologist, believe me)! I usually have at least one of these sunscreens with me at all times.  
EltaMD UV Clear (SPF 46) 

I like EltaMD UV Clear (SPF 46) because it has a lightweight feel while providing great sun protection. Its active ingredient is micronized transparent zinc oxide, a physical blocker. This is a great sunscreen for acne– or rosacea-prone skin because it's oil-free, fragrance-free, and has niacinamide, a vitamin that can reduce inflammation.

SkinMedica Total Defense + Repair (SPF 34) 

This ain't your average sunscreen. It not only helps block harmful UV rays, but also infrared rays using a unique blend of antioxidants, chemical blockers, and physical blockers. Not only did SkinMedica perform clinical trials demonstrating its efficacy for blocking UV and infrared radiation, they also showed that it could help repair existing photodamage!

Colorescience Sunforgettable Brush-on Shield (SPF 50)

One of the hardest parts about using sunscreen is reapplying! You should reapply every 2 hours when you are in the sun, and this brush-on powder sunscreen makes it so easy to reapply you have no excuse not to! You can brush it on right over makeup, and it offers great broad-spectrum sun protection from physical blockers.
One of these three sunscreens would be a great place to start if you're a novice to the sunscreen game. Don't worry if you use a sunscreen with SPF > 30, broad spectrum UVA and UVB protection, apply a good layer to the skin, and use consistently; you will be a sunscreen pro in no time! Questions about which sunscreen is right for you? Contact us today!
Next, learn why it's so important to go to a dermatologist for your cosmetic treatments.