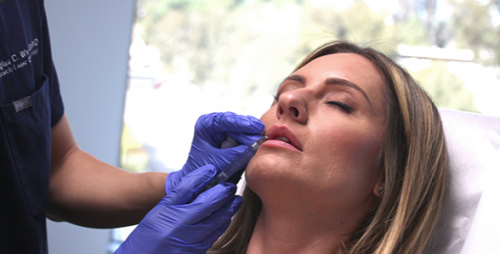 Do you wish your lips had just a little more volume, were a little plumper, or more defined? Some people have naturally thin lips, but our lips also naturally lose fullness and definition as we age. The San Diego dermatologists at Cosmetic Laser Dermatology have several treatment options available to help give you the natural-looking, fuller lips you desire.
Fillers for Perfect Lips
Hyaluronic acid gel fillers are very effective for adding volume to the face, particularly the lips. Juvéderm and Restylane are two of the most commonly used gel fillers to add volume back to the lips and create the desired shape. The doctors at Cosmetic Laser Dermatology strive to give their patients the most natural-looking lips appropriate for their age and face, with the results of Juvederm and Restylane lip injections generally lasting between 6 and 9 months.
Too much filler in the lips is a common mistake made by inexperienced injectors that results in large lips that look like they have been worked on. It is best to add small amounts of filler to the lips at a time to add subtle definition and plumpness, and more can always be added later. Too much filler looks unnatural and often leaves the patient unsatisfied. Patients in their 20's and 30's typically only need small amounts of facial filler to enhance the natural fullness prevalent in youth. In our 40's, the lips start to thin and lose definition. This may require a little more filler to achieve the desired result.
Fat Grafting for Perfect Lips
Fat grafting, or fat transfer, is another way to add fullness to the lips. This treatment uses the patient's own fat to add volume. The fat transfer procedure involves the physician removing fat from an area of the lower body and transferring it into the lips. Because the procedure uses the patient's own body fat, there is no risk of allergic reaction. Just as with hyaluronic acid gel fillers to the lips, the dermatologists at Cosmetic Laser Dermatology perform fat grafting to achieve the most natural-looking results possible with results typically lasting up to 3 years.
Call the San Diego Lip Injection Experts Today
If your lips are starting to thin, you're unhappy with your lack of lip definition, or simply want a plumper look, a facial filler or fat grafting procedure may be right for you. Call the lip experts at Cosmetic Laser Dermatology in San Diego at (858) 943-2113 to schedule a consultation today. Our board-certified dermatologists are experts in injectable and fat transfer procedures and are highly regarded for their expertise in the field. Contact us today for more information.
To learn more about lip injections, contact our San Diego office today.
Next, learn How You can Remove Unwanted Body Fat.