Sometimes, no matter how much we diet or exercise, we still find ourselves with stubborn deposits of fat we wish we could eliminate. Unfortunately, genetics and hormonal fluctuations with age are typically to blame for these fat deposits, making it difficult to get rid of them. The board-certified dermatologists at Cosmetic Laser Dermatology in San Diego do, however, have a few effective treatment options for eliminating stubborn fatty deposits.
Tumescent Liposculpture
Tumescent liposculpture is the most advanced technique for permanently removing excess fat. The doctor starts by completely numbing the treatment area and then he/she gently removes the fatty deposits using microcannulas. The microcannulas allow the surgeon to artistically sculpt the body and feather the areas treated with the surrounding areas for a smoother silhouette than one can get with traditional liposuction. Tumescent liposculpture is commonly used to treat the following areas:
Love handles
Hips
Inner & outer thighs
Abdomen
Back (bra-line)
Arms
Neck
The doctors at Cosmetic Laser Dermatology strive for natural-looking liposculpture results.
Watch Dr. Groff Perform Tumescent Liposculpture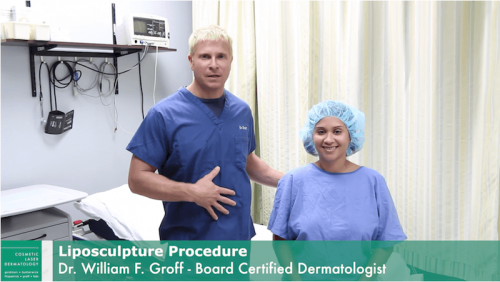 CoolSculpting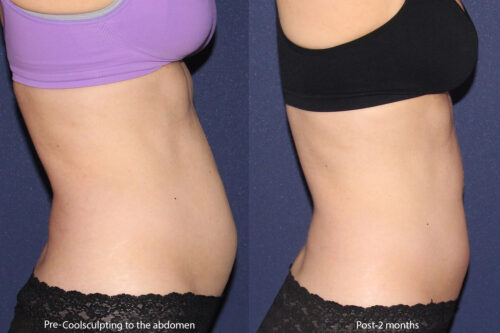 Another great option is the non-invasive CoolSculpting®. CoolSculpting by Zeltiq is an FDA-approved, non-surgical fat eliminating device that can be used to treat unwanted love handles, bra-line and stubborn stomach fat. The CoolSculpting device works by drawing the fat bulge into a clamp lined by 2 cooling panels that use precisely controlled cooling to freeze and destroy fat cells. This technique leaves the surrounding skin unharmed and causes the body to flush out the unwanted fat cells that have been destroyed.
No anesthesia or downtime is required for a CoolSculpting treatment, and one, 1-hour treatment session typically can achieve a 25% reduction of fat in the treated area. The procedure is non-invasive, so patients can return to their normal activities immediately after and they typically do not experience any discomfort during the procedure.
Contact Cosmetic Laser Dermatology for a Fat Removal Consultation Today
If you have stubborn fat that does not respond to proper diet and exercise, you may be a candidate for tumescent liposculpture or a CoolSculpting treatment. The board-certified dermatologists at Cosmetic Laser Dermatology in San Diego are experts in liposculpture and CoolSculpting and would love to discuss a treatment plan with you. Call (858) 943-2113 today to schedule a consultation.
For more information about eliminating stubborn fat, contact our office.
Next, read about the rise of Body Sculpting Treatments.