Fractional resurfacing is a safe and effective, non-invasive treatment that creates micro-channels in the skin to stimulate the body's natural healing processes. Over time, skin becomes smoother and more youthful from the inside out. Fractional laser skin resurfacing offers a myriad of benefits for the right patient.
Fractional Resurfacing Stimulates Collagen and Elastic Fiber Production for More Youthful Skin
Fractional lasers can reach the deeper layers of dermal tissue to spur collagen and elastin production without damaging surrounding skin and tissue. Collagen is a structural protein that keeps skin looking plump and youthful. It is found in the dermis, the middle layer of skin, giving skin its form. Elastin is also found in the dermis and gives the skin flexibility.
Unfortunately, collagen and elastin production starts to slow down in your mid-20s. As a result, the skin begins to thin, lose its elasticity, and show signs of aging. Laser skin resurfacing initiates the body's natural healing process, creating new collagen and elastic fibers to promote healthy tissue regeneration.
Fractional Lasers Are Minimally-Invasive, With Faster Recovery Times
Fractional lasers are minimally-invasive treatments that create noticeable results without incisions or extensive recovery time. Hand-held devices are applied to the outer skin's surface and penetrate the dermis to treat many skin concerns. Non-ablative fractional laser skin resurfacing heats the deep tissue to stimulate results. Fractional ablative laser skin resurfacing removes the outer layer of skin to help with concerns like hyperpigmentation and scars. Both types of lasers are safe and effective when they are used appropriately by an experienced, board-certified dermatologist.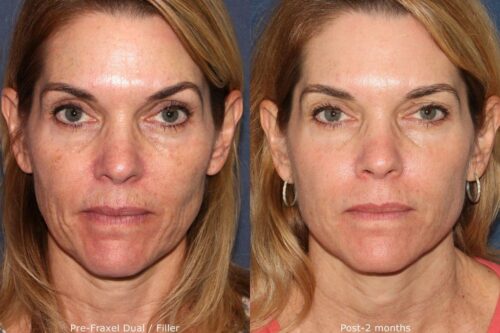 They Can Be Used to Treat Acne Scars and Surgical Scars
Fractional lasers can also be used to treat acne scars and surgical scars on the skin. Fraxel® Re:pair and the Lumenis Ultrapulse are fractional CO2 lasers for skin resurfacing that also treat acne scarring and can dramatically correct aged or damaged skin. These lasers work at the microscopic level, zone by zone, to penetrate the dermis and resurface the skin's outer layer. Patients can expect smoother, tighter, and healthier-looking skin without incisions or post-treatment scarring when using laser skin resurfacing treatments.
Fractional Laser Skin Resurfacing Provides Long-Lasting Results
Fractional laser skin resurfacing results can be very long-lasting. For several months after laser skin resurfacing, new collagen and elastin production continues to increase, producing firmer, smoother, and more youthful skin. Patients can work with a board-certified dermatologist to monitor results and identify appropriate follow-up sessions to maintain desired results.
Treatments Can Be Administered in Under 1 Hour
Fractional laser skin resurfacing is a quick and convenient treatment, lasting approximately one hour or less for many patients. Before a treatment, your dermatologist may apply a topical numbing cream to ensure patient comfort throughout the process. The laser device then delivers short, high-intensity bursts to the skin to target signs of aging, scarring, and sun damage.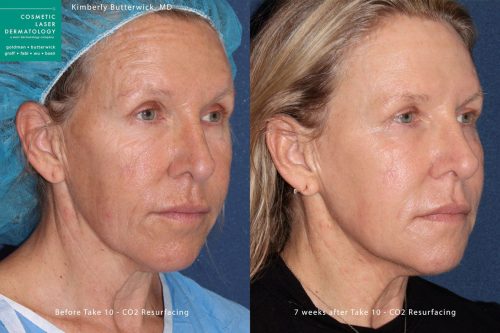 Fractional Laser Skin Resurfacing in San Diego
Cosmetic Laser Dermatology has a world-class reputation with highly trained, board-certified dermatologists, innovative treatment combinations, and an award-winning research center. Our team works with more than 50 lasers and energy devices, allowing us to precisely customize every treatment we perform.
Take10 is Cosmetic Laser Dermatology's proprietary treatment that combines 3+ lasers to drastically reduce signs of aging. This non-invasive treatment is an alternative to a surgical facelift and may take up to 10 years off your appearance.
Contact us to schedule a consultation and learn more about the benefits of laser skin resurfacing.
Next, discover the pros and cons of laser resurfacing.