Botox® Cosmetic and dermal fillers are popular cosmetic procedures that can help you achieve a more youthful appearance. Botox is a neuromodulator that relaxes muscles that cause dynamic wrinkles. Dermal fillers are injected into the skin to add volume to reduce the appearance of wrinkles. These injectable treatments are quick in-office procedures that can reduce fine lines and wrinkles with no downtime.
Relax Wrinkles With Botox
Botox is a purified protein injected into muscles to temporarily prevent them from contracting during facial expressions like smiling and frowning. The neuromodulator can help soften dynamic wrinkles and expression lines, such as crow's feet, forehead lines, and glabellar lines. These lines appear during facial expressions. Over time, they can become permanently etched into the skin even when the muscle is not contracting. Botox relaxes the muscles to reduce wrinkles and achieve a more youthful appearance. The results of Botox typically last for 3-4 months before the muscle activity returns, and a follow-up injection is needed to maintain desired results.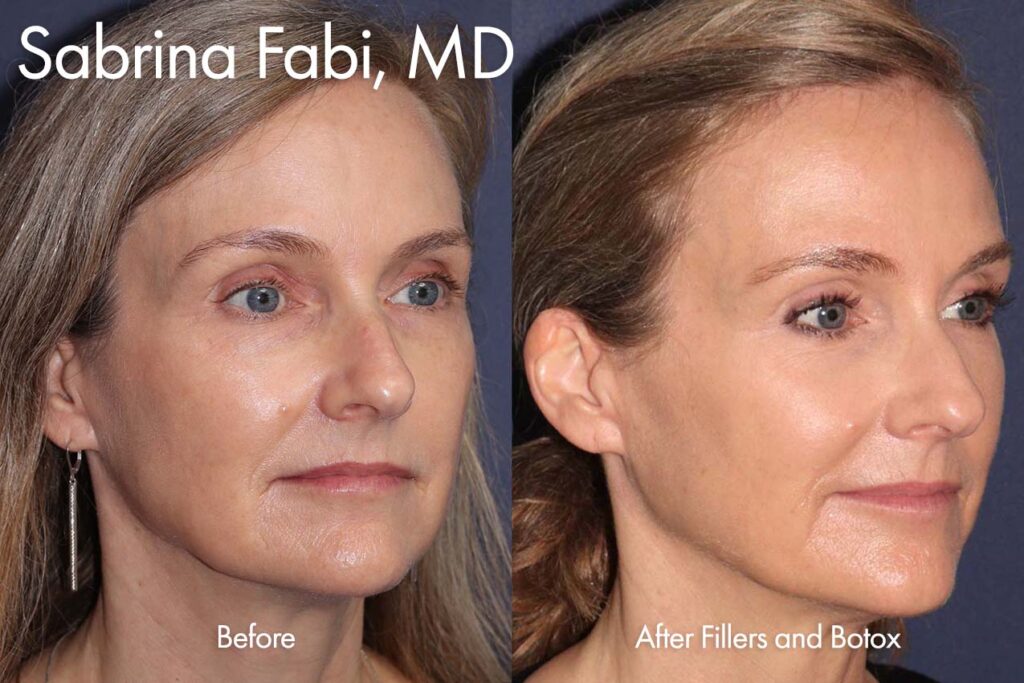 Restore Facial Volume With Dermal Fillers
Dermal fillers increase facial volume and fill in wrinkles for a smoother appearance. These gel-like injectable treatments plump the skin and fill hollow areas to restore youthful volume and definition while reducing the appearance of wrinkles. Unlike Botox, which temporarily relaxes the muscles, fillers are designed to add volume where it is needed most. Each filler has unique properties that make it ideal for different types of wrinkles. Most dermal fillers are made with hyaluronic acid, a naturally occurring substance that hydrates and volumizes the skin. Dermal fillers provide patients lasting results, often up to a year or more. Some of the most common dermal fillers include:
Which One is Right For You?
The best injectable for you depends on your goals and desired results. If you want to target expression wrinkles in the upper portion of the face, Botox may be the best option. If you are looking to add volume to certain areas for a smoother appearance, dermal fillers may be right for you. Botox and dermal fillers can also be used in conjunction to treat multiple concerns in a single treatment. A consultation with a board-certified dermatologist can help you decide which wrinkle treatment is best for you. During your consultation, your expert dermatologist will review your cosmetic and medical history and evaluate your skin to determine a personalized treatment plan.
How Botox and Dermal Fillers Are Used Together at Our Medical Spa
Injectables like Botox and dermal fillers can be more than wrinkle treatments. The correct pairing can also result in a non-surgical facelift without extensive downtime and recovery. Combining two injectables to target different types of wrinkles and skin concerns simultaneously results in a rejuvenated appearance and enhanced contour with fewer lines and wrinkles. The unique formulations support each other in a combination treatment because the dermal fillers are more likely to remain in place when facial muscles are restricted by Botox.
Schedule Your Consultation For Injectables in San Diego Today
Cosmetic Laser Dermatology has more than 125 years of combined experience performing injectable treatments. Our 7 board-certified dermatologists customize wrinkle treatments to help patients experience natural and youthful results. Our highly trained dermatologists perform all injectable treatments to ensure precise placement for natural results and reduce the chance of side effects. We also participate in numerous research studies to ensure we remain at the cutting edge of treatments and techniques. Contact us to schedule a consultation at our San Diego office and determine which injectables are right for your skin needs.