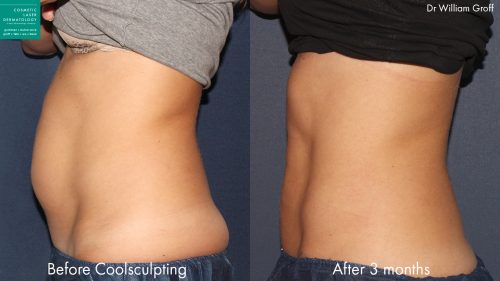 Have you been doing everything you can to get that perfect summer look, but still need a few finishing touches to get you looking your absolute best? The board-certified dermatologists in San Diego at Cosmetic Laser Dermatology in San Diego have the solution. How does a total body makeover without surgery sound?
Our dermatologists can get you ready for all those summer trips, family reunions, and beach days with just a few simple treatments and little to no downtime. For a whole body makeover that restores your youthful appearance, consider trying a combination of the following treatments:
CoolSculpting
Liquid facelift
Laser skin resurfacing
What is CoolSculpting?
CoolSculpting is a revolutionary procedure in which cooling is used to target and destroy undesirable fat cells. It is often a great treatment option for patients who have stubborn fat in areas that exercise and dieting just don't seem to target. It is not for dramatic weight loss, rather for treating the pesky areas that are prone to bulge, such as love handles. Because the results gradually improve over the course of the few months following treatment, no one will ever be able to tell you had work done. They will simply notice your slimmer shape.
What is a Liquid Facelift?
A liquid facelift is for those patients looking to improve the overall look of their face without surgery. The San Diego liquid facelift procedure is a combination of dermal fillers and Botox injections used to reduce the appearance of things like fine lines, wrinkles, hollow cheeks, and lip lines. The San Diego injectable experts at CLDerm will tailor the injections specifically to your needs to give you the youthful look you want for summer. While the results of a liquid facelift are not permanent like a surgical facelift, it's a great way to tighten and smooth the face with surgery or recovery time.
What is Laser Skin Resurfacing?
If you have acne scars, sunspots, or pigmentation problems, laser skin resurfacing can target the trouble areas and stimulate the growth of new healthy skin cells and collagen. In just a few treatments, our doctors can restore a healthy, youthful glow to your skin, thus taking years off your appearance.
Schedule a Consultation in San Diego Today
If you're looking to put the finishing touches on your summertime makeover, call the experts at Cosmetic Laser Dermatology in San Diego for a consultation today. They have a variety of cutting-edge treatments available and would be happy to put together a treatment plan specifically tailored to your individual desires. Contact CLDerm today at 858-943-2113.
For more information on CoolSculpting, Liquid Facelift, or Laser Skin Resurfacing, contact us today.
Next, read Dr. Goldman's Talk About Adult Acne.