Sun damage is ubiquitous among both men and women of a certain age. UV ray exposure is nearly impossible to avoid, and a lifetime of being out in the sun without adequate skin protection results in sun damage, such as lines and wrinkles, dark spots, rough skin texture, and a dull complexion, not to mention the possibility of precancerous lesions or skin cancer. The expert dermatologists at Cosmetic Laser Dermatology in San Diego offer a variety of sun damage treatments that can help to erase the signs of sun damage and restore your skin to its former youthful, healthy glow.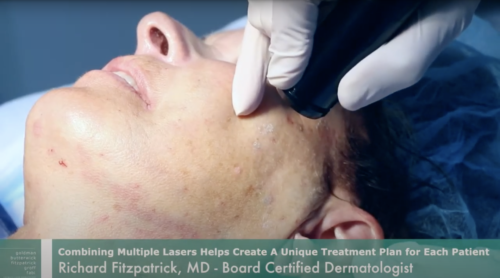 Sun Damage Procedure
Laser skin resurfacing is one of the most popular and effective procedures to reverse the signs of sun damage and restore youthful, supple, healthy looking skin. Cosmetic Laser Dermatology offers the largest number of cosmetic lasers in the San Diego area, with over 40 unique lasers to choose from. In addition, the expert dermatologists of Cosmetic Laser Dermatology have been involved in many research studies and clinical trials for the advancement of cosmetic laser technology, making it safer, more effective, and more efficient. You can rest assured that you are in good hands when you visit Cosmetic Laser Dermatology in San Diego.
Laser resurfacing can provide full face comprehensive rejuvenation by smoothing out lines and wrinkles, reducing the appearance of dark spots, brightening skin tone, and smoothing dull, rough skin. It can also help to reduce chronic redness and pigmented lesions. Depending on the type of laser used, a single session may be all that's needed for full results, or if you prefer a milder laser that needs no time for recovery, multiple sessions may be needed. Which laser therapy procedure is best for you can only be decided after an in-person consultation during which your skin can be evaluated and the best treatment option decided on.