Perhaps you had an unfortunate slip and fall when you were a teenager that left a scar on your forehead. Or perhaps you underwent a surgical procedure that caused excessive scarring. Regardless of the circumstances, it's possible that you've developed scar tissue. Scar tissue on the face can be more than distracting; it can make a person feel self-conscious, unattractive, and frustrated, especially if the discoloration or abnormal texture cannot be easily concealed with makeup.
Fortunately, the board-certified dermatology specialists at Cosmetic Laser Dermatology have extensive training and experience in reducing the appearance of damaged tissue. Laser treatments are some of the best ways to reduce the appearance of scars, giving patients a virtually scar-less look.
Which Scar Revision Laser Treatment is Right for You?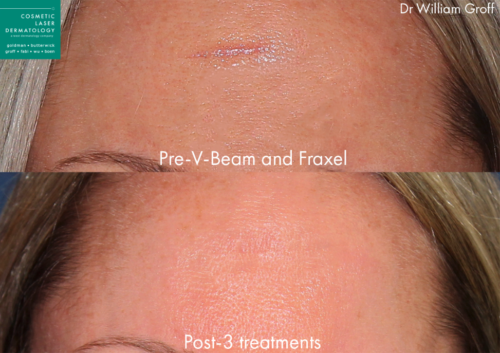 Science and medicine have come a long way in the treatment and correction of scarred skin. No matter if your scars are raised, recessed, discolored, or have an abnormal texture, laser treatment options exist for you and your unique scar.
The following is a list of scars that can be treated by in our San Diego dermatology office, using state-of-the-art laser treatments:
Superficial Scars
Blemishes on the surface of the skin, such as acne scars, can be treated with a series of laser treatments performed by our skin care experts. One of the best and most effective laser treatments for the diminishment of scars are non-ablative fractionated laser resurfacing with the Fraxel or ResurFX lasers. Another is the radiofrequency microneedling treatment with Infini. These procedures utilize targeted therapy and can be adjusted to treat a wide variety of scars, including acne scars, surgical scars, trauma-related scars, and others.
Depressed Scars
Creases and indentations caused by poorly healed injuries to the skin can be treated with various laser treatments or fractionated radiofrequency needles as described above. These types of scars can also be lifted and smoothed with injectable dermal fillers, such as Juvéderm, Restylane, Belotero or Sculptra.
Discolored Scar Tissue
Reddish or dark pigmentation can be treated with a variety of lasers and/or intense pulsed light (IPL) to reduce the discoloration that makes scars stand out more. The effectiveness of laser and IPL treatments depends on the skin type as well as the size and shape of the imperfection. Often, a variety of lasers are used to optimize results.
Pockmarks and Acne Scars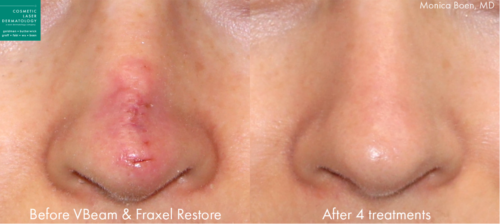 In addition to non-ablative laser treatments like fractional laser resurfacing, fully ablative treatments with the Sciton Erbium:YAG laser and/or the Lumenis Accupulse or UltraPulse lasers are sometimes recommended to achieve dramatic improvement.
Surgical Scars
In the event that a surgical site healed poorly or resulted in excessive scarring, our skin care experts can revise the location, pattern, and shape of the disfigurement so that more healthy tissue is visible. Surgical scar revision can allow the skin to re-heal for better results and allow for a virtually scarless result. In terms of laser options, we use up to eight different lasers to achieve the best results. It is important to see a specialist who has ALL of the latest lasers, light, and energy based equipment to ensure optimal results.
For more information about cosmetic treatments for scars, visit medlineplus.gov
Contact a Scar Laser Treatment Specialist Today!
If you're tired of living with scar tissue that makes you self-conscious or unhappy with your appearance, do not hesitate to set up a meeting with the dermatology experts at Cosmetic Laser Dermatology in San Diego. We can help you determine the best laser treatment options for regaining the youthful, beautiful, and healthy appearance you want. Contact our office in San Diego today to set up an appointment!
Next, read about these 5 laser hair removal myths.