Vbeam Perfecta Overview

As one of the world's most popular pulsed-dye laser treatments, the world-renowned doctors at Cosmetic Laser Dermatology in San Diego are pleased to provide such cutting-edge technology to individuals of all skin types.
The Vbeam Perfecta is a pulsed-dye laser, meaning it helps patients overcome pigmented lesions, vascular problems, and several other skin conditions. Being a pulsed-dye laser, the machine works to target blood vessels deep within the skin, ultimately leading to the reabsorption of the damaged skin vessels by the body. This allows the dermatologic condition that the patient is seeking treatment in San Diego to become diminished in appearance.
PDL treatments are extremely quick and effective, sometimes taking only a few minutes to perform in our office. Though the procedure is relatively pain-free, it is common to experience some redness, tingling, or bruising after the procedure. Depending on the number of visits you need to overcome your specific conditions, final results are generally appreciated in the following few weeks after your last treatment.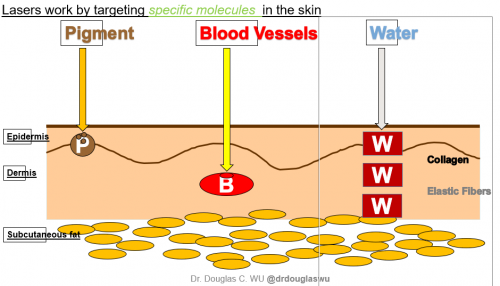 Common dermatologic conditions that patients often seek treatment for with the Vbeam Perfecta system includes but are not limited to the following:
Nose Veins
Port Wine Stains
Benefits of Pulse Dye Laser Treatments: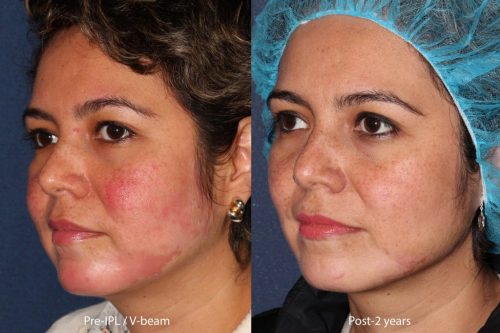 Reduces redness of the face, neck, and chest
Reduces veins, dilated capillaries of the face, neck, and chest
Reduces wrinkles and promotes new collagen synthesis to improve skin tone
Reduces acne and warts
Reduces red birthmarks
Treats mild to moderate psoriasis
If you're dealing with any of the skin conditions listed above, we encourage you to contact our medical practice today to learn more about how we can help you overcome the issue with easy and effective laser treatment in San Diego.
To learn more about this laser wrinkle treatment, please visit Syneron-Candela.com.
What to Expect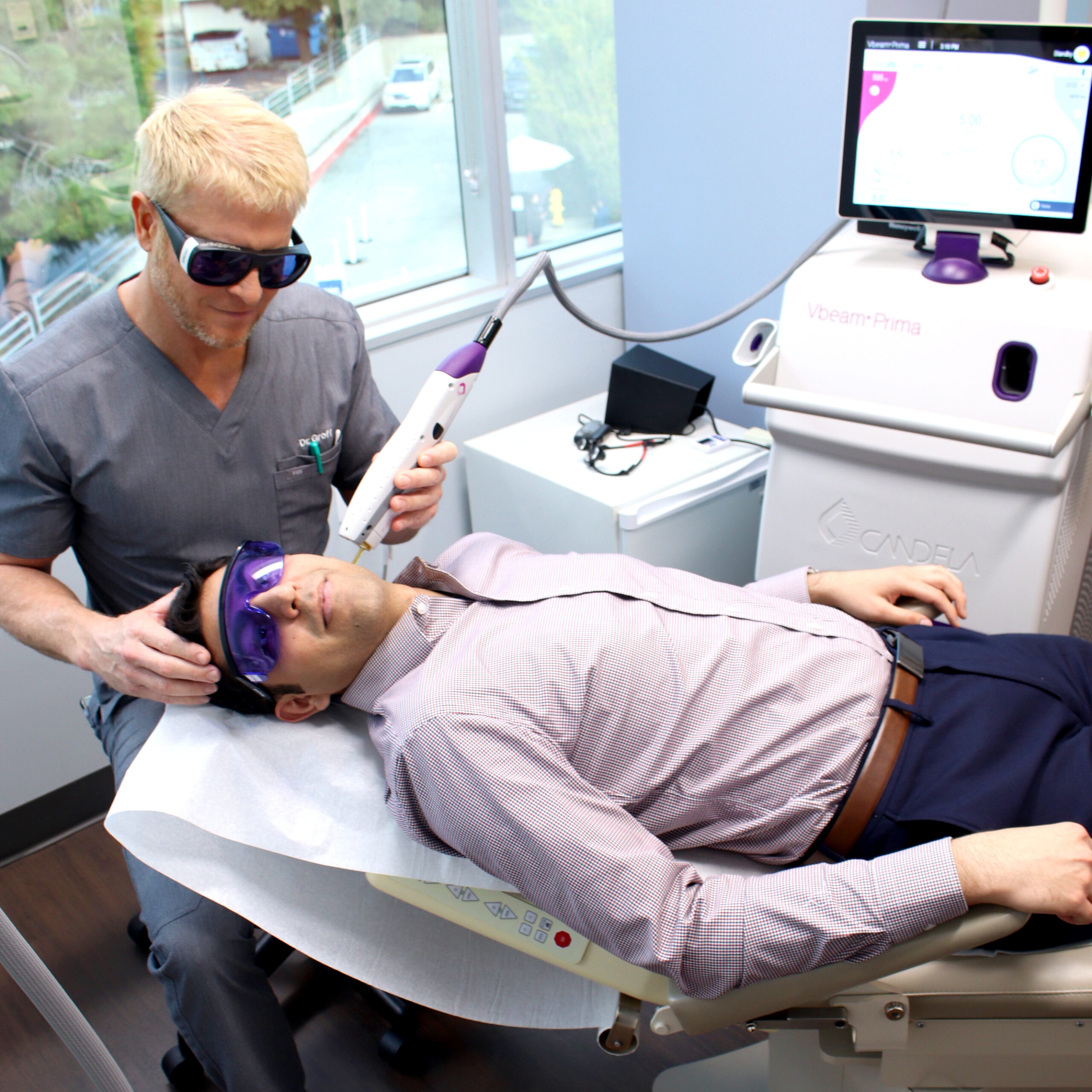 During a Vbeam treatment, the laser light is absorbed by hemoglobin within red cells in vessels. As this molecule collects the laser energy, the red cells heat up and the undesirable capillaries are eliminated.
Read our pre/post-treatment guidelines for VBeam Perfecta.
A cooling spray is felt microseconds before the laser fires, making anesthetics unnecessary. Many patients may feel a slight sting during the procedure. Ice packs may be used immediately after to quickly alleviate any discomfort.
After your treatment, you can expect less redness and flushing and the reduction of broken capillaries and veins. Many patients also experience skin that is smooth and glowing, which conveys a rested, youthful appearance.
Professional skincare can help you extend your positive results by maintaining the health of your skin with daily use. We offer a range of top-recommended products and the expertise to help you design a personalized program that will meet your needs best.
Treatment Guidelines
During your procedure:
Your eyes will be protected.
Cold air may be applied directly to the skin's surface as it is being treated to help decrease
the sensation of heat.
You will feel the sensation of heat (similar to grease "splattering" or rubber band
"snapping" against your skin).
Each area will be targeted by the laser until the entire treatment area has been completely
covered.
After your procedure:
You will feel a sensation of heat/sunburn that will subside within a few minutes. It is ok
to take Tylenol or Ibuprofen.
Redness and mild swelling may occur for a day or two.
It is possible that you develop bruising (may be present immediately after procedure or
within 1-2 days after the procedure).
If bruising occurs, it may take 3-10 days to resolve. Some bruising can last 2-3 weeks.
Apply sunscreen with Zinc Oxide &/or Titanium Dioxide daily. Protect the treated area
from the sun both indoors and outdoors (use a hat, sunglasses, and sunscreen). Please
be aware UVA rays can penetrate through the windows.
You may use ice packs (20 min. on and 20 min. off) the day of the procedure. It will
help to reduce the sensation of heat and will help minimize swelling.
Swelling typically peaks at 12-48 hours. If your treatment is being performed on your
face, sleeping with your head slightly elevated at night for the first 2-3 nights will help
minimize swelling.
Swelling can vary from patient to patient, size, and location of the area being treated.
Some patients will not experience swelling and some may experience marked swelling.
NO RUBBING, PICKING OR WIPING TREATMENT AREA.
It is okay to shower the day of the procedure.
Gentle cleansing with the fingertips is fine.
Crusting/scabbing may occur (allow to come off naturally, do not try to remove).
If crusting/scabbing occurs, apply antibiotic ointment until resolves (typically 5-10
days).
You can wear make-up (unless instructed not to by your physician) as long as you are
not rubbing, picking, or wiping off the surface of the skin when applying or removing make-up.
Please contact our office if you have any questions or concerns at (858) 657-1002
Photos
FAQs
Q: What can the Vbeam Perfecta treat?
A:
The VBeam Perfecta is a PDL laser, meaning it uses Pulsed Dye Light to emit laser energy into your skin. This type of laser is great for correcting port wine stains, birthmarks, wrinkles, hyperpigmentation or brown pigmentation, rosacea, scarring, and acne scarring.
Q: How much does laser treatment cost?
A:
Until our dermatologists are able to examine you in our San Diego office, it will be difficult to determine a specific treatment cost, as cost depends on the area being treated and the number of treatments necessary.
Q: Does PDL treatment hurt?
A:
This varies on the patient and the area being treated. Most commonly, patients report a slight tingling sensation during and after treatment. You may also notice slight redness after completion of your treatment, but this will diminish over the course of the following week or until your treatment plan has come to an end.
Q: Is PDL treatment safe?
A:
Treatment with the VBeam Perfecta is extremely safe. To help protect patients and their skin, this type of laser utilizes a build in the cooling mechanism which sprays a light mist onto the treatment area before each pulse by the laser to improve comfort.
Q: Will my results be permanent?
A:
This greatly depends on the individual and the area being treated. If a patient is seeking treatment to reduce sunspots, for example, and continues to suntan without proper UV protection, it is very common that the spots could return. It's a good idea to speak with our dermatologists during your initial consultation to determine the longevity of your treatment results.
Other Options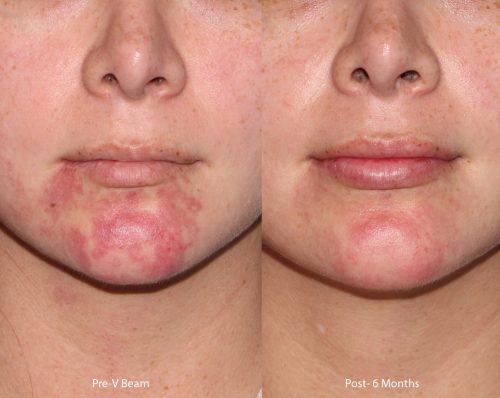 In addition to Vbeam Perfecta, we offer multiple lasers at our office in San Diego to meet the diverse skin care needs and skin types of our patients. We encourage you to contact our practice today to schedule your initial consultation. When our world-renowned dermatologists are able to examine you during your initial consultation, we'll be able to develop a unique and completely custom treatment plan to meet your goals and needs.
Promotions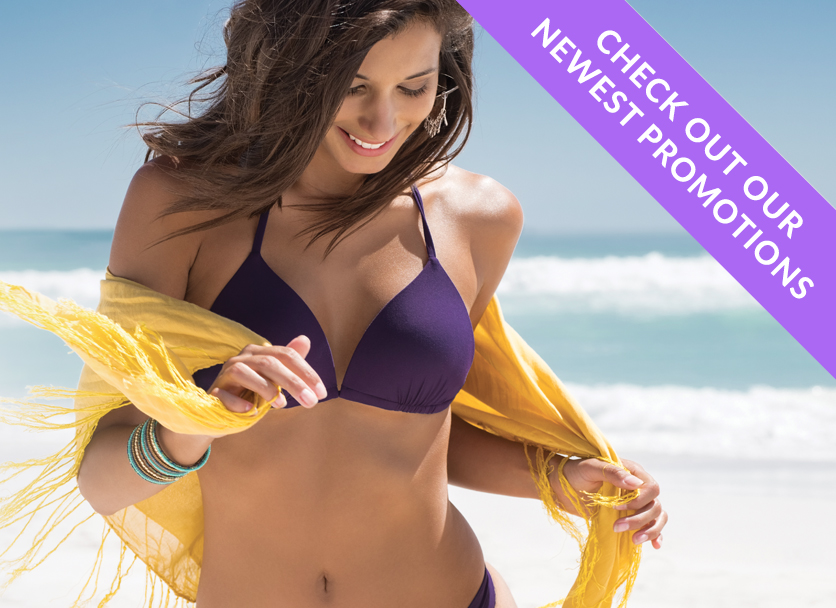 For more information about the monthly specials offered at Cosmetic Laser Dermatology, visit our Promotions page.