Pregnancy is a joyous occasion, but can also significantly impact your skin and body. As the body changes and hormones adjust, it can mean new skin and body challenges that you may want to safely address after pregnancy. Don't worry—you can capitalize on your pregnancy glow and tackle common postpartum challenges to stay confident and youthful.
Cosmetic Laser Dermatology has more than 50 laser, light and energy devices, conducts in-house research, and has distinguished board-certified dermatologists specifically trained in cosmetic surgery. Patients receive quality care and innovative treatments in San Diego's top cosmetic and medical spa including postpartum skin and body rejuvenation treatments.
In a Cosmetic Laser Dermatology webinar, Monica Boen, MD, who is a recent mom herself, discusses postpartum skincare and different treatment options to support your cosmetic goals after your baby arrives.
Pregnancy and Postpartum Skin and Body Changes
Don't be too hard on yourself—bringing a baby into the world is an amazing experience that our skin and bodies work hard to accommodate. Many skin and body changes occur during and after pregnancy, including:
Skin swelling and dryness
Stretch marks
Visible vessels
Abdominal skin laxity
Weight gain
Change in pigmentation
To learn more about skin changes during pregnancy, please visit ncbi.gov.
Top 10 Postpartum Skin Problems and Solutions
It can take time for pregnancy and postpartum skin and body changes to return to normal. Challenges after pregnancy can be difficult to target without professional help. Dr. Boen gave an overview of these treatment options available for patients who need a postpartum pick-me-up to help restore confidence.
1. Dull Skin/Radiant Skin
Looking to achieve more radiant skin after postpartum? There are several safe options to give your skin a healthy glow, and one option is the Clear + Brilliant laser:
A skin resurfacing treatment that achieves smoother skin tone and texture
Gentle and non-invasive treatment for noticeable results
Ideal for patients with uneven pigmentation, brown spots, or signs of aging
Precise laser energy that minimizes and refines the pores
Deep delivery into the dermal structure to boost collagen production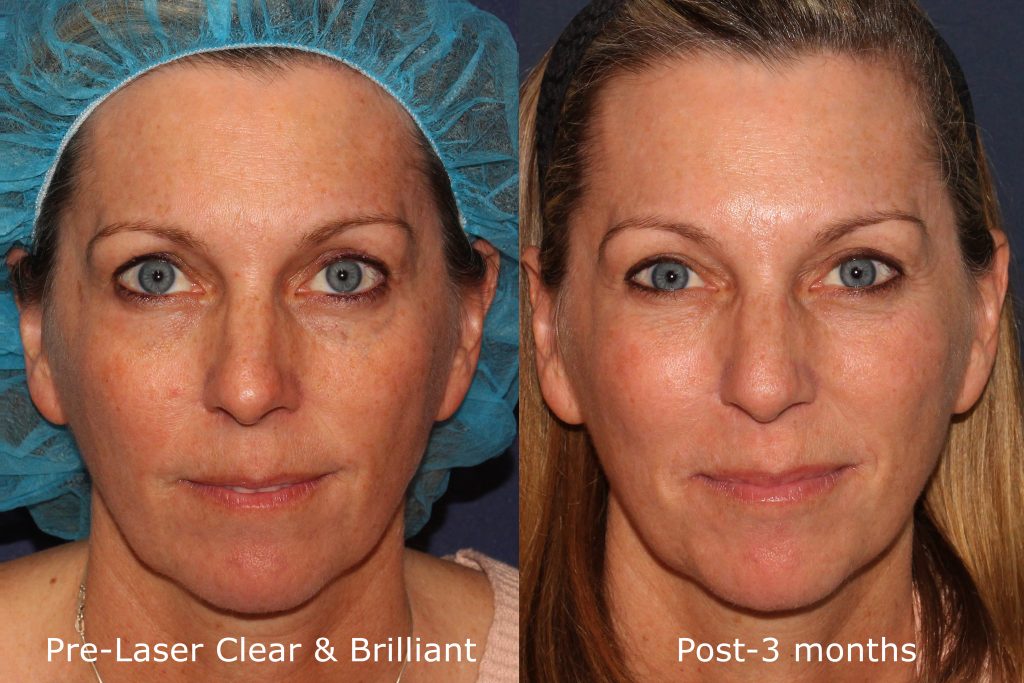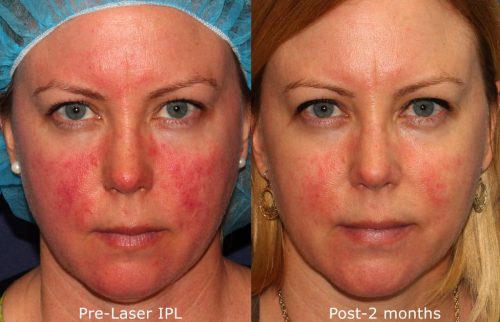 Another option is an Intense Pulsed Light (IPL) treatment:
Targets reds and browns in the skin
Decreases pore size
Offers a quick treatment with little downtime
And finally, radiofrequency microneedling:
A skin tightening treatment that improves skin texture
Small needles penetrate deep into the skin to promote collagen production
These skin rejuvenation treatments can be combined to achieve the best results for your postpartum needs.
2. Wrinkles/Smooth Skin
You might look in the mirror one morning and realize there are lines and creases in your face that weren't there before your pregnancy. Rather than accept them as a part of motherhood, you can take steps to treat them at Cosmetic Laser Dermatology.
Neuromodulator treatments are ideal for smoothing skin. Postpartum mothers who are not breastfeeding or have completed breastfeeding may use several different neuromodulators to achieve smooth skin.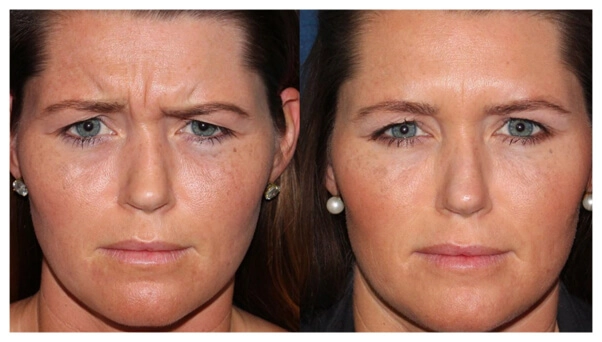 These treatments treat dynamic wrinkles, which are those caused by repeated facial expressions. They typically appear on the forehead, between the eyebrows and around the eyes. Neuromodulators target the muscles that create these wrinkles, relaxing the muscles and smoothing out the lines. Options include:
While different makers manufacture these neuromodulators, they all contain the same active ingredient. Improvements typically appear within two weeks of your treatment and last 3-4 months.
3. Dark Spots/Even Pigment
Skin is more sensitive to the sun during pregnancy, resulting in dark spots and uneven skin tone. Our medical spa has several postpartum treatment options to even pigmentation, including:
Clear + Brilliant Laser
Intense Pulsed Light
Picosecond Laser
Depending on which laser is used and how severe the condition is, recovery can take 1-5 days. Melasma is a common skin condition that forms during pregnancy. The Clear + Brilliant and Picosecond lasers are most effective at reducing pigmentation from melasma. Our expert team can analyze your condition and choose an effective treatment option.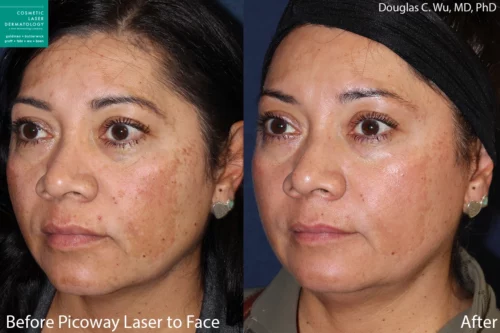 4. New Blood Vessels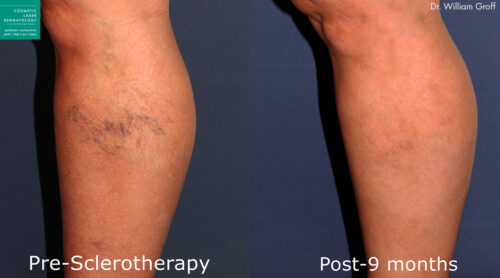 The development of new blood vessels and leg veins with pregnancy is very common:
Cherry angiomas/telangiectasias: The pulse dye lasers can easily remove almost all cherry angiomas and spider telangiectasias within 1-2 treatments.
Leg veins: Sclerotherapy can eliminate spider or varicose veins from the legs by sealing the vein closed so it can be reabsorbed by the body.
5. Hair Loss/Hair Growth
Telogen Effluvium is a common cause of hair loss during postpartum, especially 3-6 months after delivery. Women can experience hair loss, androgenic alopecia, or female pattern alopecia, which can all be treated at Cosmetic Laser Dermatology with:
A balanced diet high in proteins
Nutrafol supplements
Topical minoxidil
We may also recommend a combination of therapies to achieve the most effective results.
6. Stretch Marks/Battle Scar Reduction
Stretch marks occur when the skin stretches during pregnancy to accommodate your growing baby. Postpartum, there are some treatments to reduce the scarring, such as:
Topical hyaluronic acid
Topical Retinol or Retinoid
Vbeam laser/ Intense Pulsed Light//Fraxel laser/ ResurFX/Radiofrequency Microneedling
It is difficult to remove stretch marks completely, but most treatments can shrink the lines and make them less noticeable.
7. Skin Laxity/Skin Tightening
Abdominal skin tightening is a popular postpartum treatment to tighten loose or sagging skin. Two treatments with minimal downtime to target loose skin include:
Thermage: A non-invasive skin tightening treatment that uses radiofrequency energy to treat wrinkles and sagging skin in the abdominal area and other parts of the body.
Ultherapy: A non-invasive procedure that is effective for skin tightening. It uses ultrasound energy, delivered deep into the layers of tissue to increase collagen production and firm skin.
Sofwave is another focused ultrasound technique that is effective at skin tightening.
8. Weight Gain/Body Contouring
Weight gain is an unfortunate byproduct of pregnancy that can be much more difficult to take off than it was to put on when your body was nurturing a growing baby. Even if you reach a desirable weight after pregnancy, isolated pockets of fat can line, interfering with your figure and your self-confidence.
Coolsculpting is an effective treatment with minimal downtime so busy moms can achieve the shape they want without the extensive recovery time. It typically takes 1-2 treatments spaced 2-3 months apart for full results to take effect. It can be used on the:
Abdomen
Thighs
Back
Arms
Neck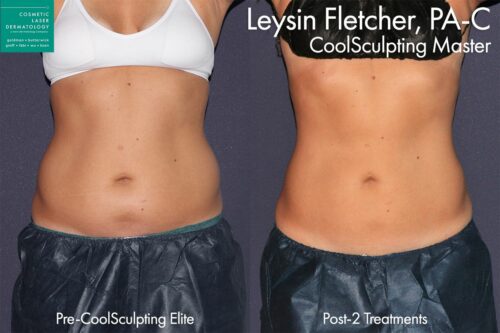 9. Loss of Muscle/Muscle Toning
Your abdominal muscles can take a beating during nine months of changes during pregnancy, making it difficult to restore the look of your abs no matter how many crunches you do.
CoolTone is a new muscle toning procedure that Cosmetic Laser Dermatology offers. It is an FDA-approved device that uses magnetic muscle stimulation to activate muscle contraction as if doing more than 1000 crunches in just 30 minutes. It can be used on the:
10. Vaguvination/Vulvovaginal Rejuvenation
This procedure is not talked about often, but many postpartum patients have high levels of satisfaction after a vaginal rejuvenation treatment. ThermiVA is a device that uses radiofrequency therapy to stimulate collagen production in this sensitive area. ThermiVA can be used inside and outside of the vagina for tightening and can also help reduce urinary incontinence, another common side effect of pregnancy.
Schedule Your Postpartum Rejuvenation Treatment at Our Medical Spa Today
Don't let those nine months of pregnancy keep you from looking and feeling your best as a new mom. Contact us to schedule your consultation and learn more about postpartum skin and body treatments available at Cosmetic Laser Dermatology.