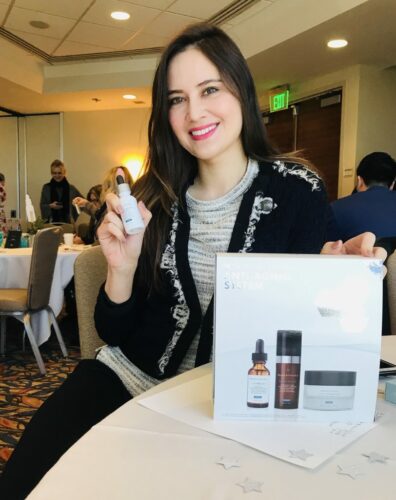 If you have read a beauty magazine or online skincare blog recently, you probably have heard of SkinCeuticals, a medical grade skincare line started by dermatologists.
What I like about this brand is that they back their products by clinical trials. Here are my top 3 favorites!
#1 C E Ferulic
This is a powerhouse serum with potent antioxidants, 15% pure vitamin C, 1% pure vitamin E, and 0.5% ferulic acid.  If you want an anti-aging serum—this is for you. It helps protect against free radicals fromthe sun and it works additively with your sunscreen to prevent UV damage. Plus, it decreases fine lines. Remember, not all vitamin C creams are the same-it all depends on the concentration of the vitamin and the delivery vehicle of the serum.
#2 Triple Lipid Restore
One of the most common concerns I see in clinic is dry skin—especially in the winter. Dry skin is due to impaired skin barrier, such as due to decreased lipids (aka fat cells) in the skin, like ceramides. This Triple Lipid Restore cream has a unique blend of pure ceramides, cholesterol, and fatty acids to keep your skin hydrated and give your skin a radiant glow. Combine products like these with further stem cell treatment options and you simply can't go wrong!
#3 Discoloration Defense
If you live in San Diego or any area in southern California, it's very hard to avoid getting brown spots, or sun spots. Discoloration Defense has one of the best new ingredients to fade brown spots, tranexamic acid, as well as kojic acid and niacinamide, also known as vitamin B3. It does not contain hydroquinone, a bleaching ingredient, and can be a great hydroquinone-free alternative for stubborn pigmentation. It's also good to fade those brown spots from acne!
Still wanting to learn more about how to perfect your skin? Here are five more steps which compliment this amazing product line.
All the above are available at our San Diego medical spa.