The Thermage® RF system could be the perfect skin tightening treatment for you if you experience:
Wrinkles around the mouth and eyes
Undefined lips
Loose jawline
Thermage is an innovative non-invasive skin tightening treatment that can provide younger-looking skin and significantly reduce signs of aging. A Thermage treatment can be an ideal solution for the right patient.
How Does Thermage Work?
Thermage is an advanced radiofrequency (RF) device that targets the dermis and subcutaneous tissue, or fat beneath the dermis, with deep heating and integrated cooling. The device heats tissue deep beneath the outer skin to tighten the existing collagen fibers and stimulate increased production. Collagen is a protein that keeps the skin smooth, firm, and elastic. As we age, our bodies produce less collagen, leading to skin laxity and the formation of wrinkles. By boosting collagen production, treatment can reverse some aging symptoms and smooth and firm the skin from the inside out.
While a Thermage treatment heats the tissue, it simultaneously cools the epidermis or top layer of skin. The combination of heating and cooling makes Thermage a safe and effective skin tightening treatment without downtime after the procedure. Patients typically resume normal daily activities right away with minimal signs they just had a cosmetic procedure performed.
What Are the Benefits?
Thermage is a rewarding cosmetic treatment that can dramatically reduce signs of aging without downtime. Using Thermage for a non-surgical eyelift is one of the most effective treatments. The device can freshen the skin around the eyes in a quick session to reduce hooding and create a more awake appearance. Other benefits include:
Non-invasive treatment
Quick session between 30-60 minutes
Long-lasting results
Little to no recovery time
Versatile treatment for many skin concerns
Targeted results
Customizable procedure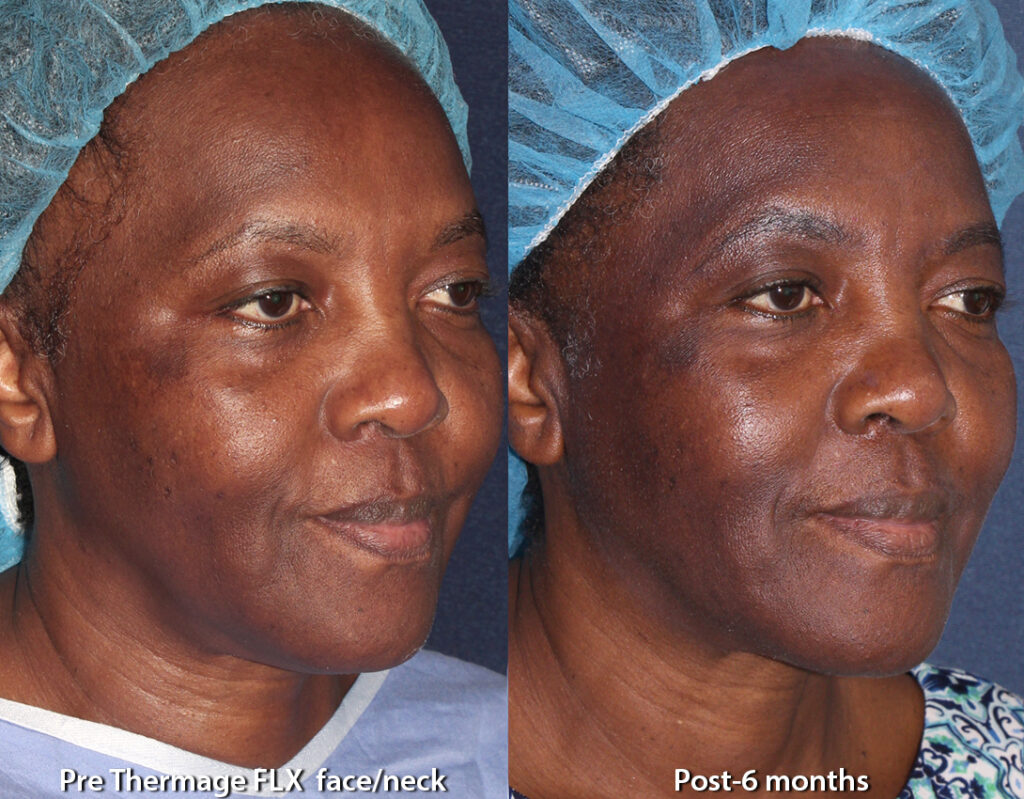 Thermage vs. Ultherapy or Sofwave; What's the Difference?
Thermage, Sofwave, and Ultherapy are all FDA-approved devices to tighten skin and address signs of aging using different energy sources. Thermage uses radiofrequency energy to heat the skin and spur collagen production. Ultherapy and Sofwave deliver ultrasound waves to the skin to lift and tighten sagging neck and face skin. The results are significant for each treatment. 
Thermage, Sofwave, and Ultherapy are safe and highly effective treatments that can be customized to your precise concerns and aesthetic goals. Working with a board-certified dermatologist can help determine which treatment best suits your needs and goals.

Are There Any Side Effects of Thermage?
Side effects are uncommon after a Thermage treatment, but some patients may experience minor swelling or redness. Any side effects should be mild and dissipate within a day or two.
Who Is a Good Candidate for Thermage Treatments?
Thermage is a safe treatment option for healthy men and women who want to address mild to moderate signs of aging like sagging skin and wrinkles. Your board-certified dermatologist will provide a comprehensive consultation to review your medical and cosmetic history and identify if you are a good candidate for Thermage.
What to Expect During Your First Thermage Treatment With a Board-Certified Dermatologist in San Diego
After your comprehensive consultation and custom treatment plan have been discussed, you can schedule your first Thermage treatment session. If your eyes are the target treatment area, a shield will be placed over the eyes to protect them from the radiofrequency heat energy. With any treatment area, a coupling fluid is applied throughout the process to ensure a consistent electrical connection.
Patients may feel a heat sensation and vibration lasting a couple of seconds as the energy is delivered into the dermis and subcutaneous layer of the skin. A treatment session can last 30-60 minutes, depending on the number of treatment areas and the size. Some patients experience tender or swollen skin for a brief time after treatment but can resume activities and proceed with regular skincare right away in most cases.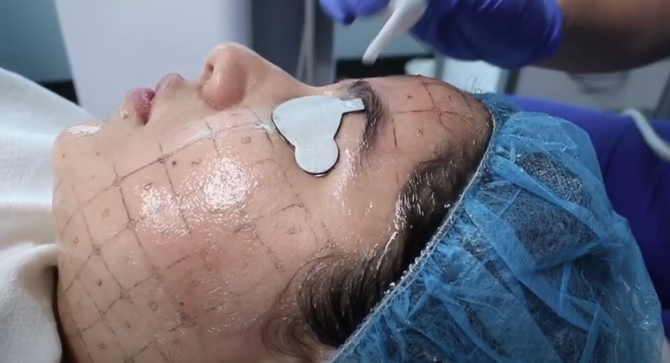 Cosmetic Laser Dermatology has more than 60 laser and energy devices to help patients achieve younger-looking skin without surgery. Our 7 board-certified dermatologists have more than 125 years of combined experience and have been involved in extensive research to study RF devices and their benefits. We work closely with patients to understand their goals and create personalized plans for natural, beautiful skin. Contact us to schedule a consultation and see if Thermage is the right skin tightening treatment for you. 
Next, learn how ThermiTight can also help with skin tightening here.