You've plumped your lips and trimmed down your tummy. You've turned back the clock more than 10 years with facial rejuvenation treatments.
You look amazing. You feel amazing. And then you notice your hands. And your legs. They don't look as great as the rest of you. In fact, they just plain don't match your amazing new look at all.
When you're treating your face and your body with sculpting and rejuvenation treatments, don't forget about your arms, hands, and legs. Visible veins in your hands, varicose and spider veins on your legs, age spots, and crepey skin can all undo the youthful, vibrant, and confident glow you've worked so hard to achieve.
Luckily, the expert dermatologists at Cosmetic Laser Dermatology in San Diego, California, are experts at full-body makeovers, including the limbs, hands, and feet. In fact, founder Mitchel P. Goldman, MD is known as the "Godfather of Sclerotherapy," which is one of the fastest, most effective ways to clear your legs and hands of unsightly and unhealthy veins.
Ready to look your best from head to toe? Here are some common limb issues and how to resolve them:
Pamper your legs and butt 
Make ugly leg veins vanish with these vein treatments
If you have twisted, torqued blue or purple varicose veins, or spider vein networks on your legs, Cosmetic Laser Dermatology has a solution. When you consult with Dr. Goldman or our other dermatologists — Kimberly Butterwick, MD, Dr. William Groff, Sabrina Fabi, MD, Douglas Wu, MD, PhD, and Monica Boen, MD — they evaluate the state of your visible veins and then suggest one or more of the following treatments: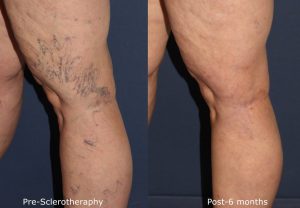 Sclerotherapy

—

If you have large varicose veins in your legs that no longer function well, your dermatologist can collapse them with injections of an FDA-approved medication. The dysfunctional veins are reabsorbed into your body and your circulation reroutes itself to healthy veins. Within a few months, your legs are visibly vein-free and ready for shorts, dresses, and bathing suits.

Phlebectomy

— If your leg veins are too large to treat with sclerotherapy, our doctors can remove  them in a minimally-invasive surgical procedure called a phlebectomy. Your legs will look years younger!

CoolTouch CTEV

— This special laser evaporates the dysfunctional great saphenous vein in your leg. Your doctor may combine CoolTouch with sclerotherapy or phlebectomy. 
Zap away excess hair everywhere
You don't have to spend the whole summer shaving daily anymore. We have a wide variety of lasers (FIVE separate laser systems) to zap unwanted hair on any part of your body, including your bikini area, legs, and thighs. You need a series of treatments to permanently eliminate up to 80% of hair, then annual or biannual maintenance treatments.
Remove or re-contour fat around your belly or buttocks
If your butt is shapeless and flabby, we can trim the fat with a variety of non-invasive treatments in addition to minor liposculpture under local anesthesia.  Ultherapy is so safe, you can even use it to eliminate unsightly knee fat. Our experts re-contour your legs so that they're shapely, fit, and youthful. 
Rejuvenate your arms and hands
Wave goodbye to veiny hands
Radiesse® — Blue veins and bones that stand out on your hand are a dead giveaway for your age. Your doctor can turn back the clock on your hands with Radiesse, a collagen-stimulating injectable. Radiesse fills in the volume that you've lost to aging, leaving the tops of your hands looking fuller and softer. The extra volume also masks the appearance of blue veins, giving your skin a more even, youthful-looking color and tone. 
Trim away arm fat … and hair!
While you might want to undergo liposuction to permanently get rid of flabby arms, if you just have a small amount of fat, you could opt for injectable Kybella treatments. Kybella melts away excess fat in just three to five sessions, leaving you with arms that look more toned and younger than ever. Coolsculpting is another easy option that requires 1-2 treatments for excellent results. 
Laser hair removal works on arms and underarms, too. If you're tired of having hair on or under your arms, this treatment might be right for you. 
Banish skin damage and skin spots 
Whether it's on your neck or your legs, if your skin is wrinkled, sagging, or if you have brown spots because of sun damage, you look years older than you feel. Our dermatologists use light-based treatments — such as intense-pulsed light (IPL) and Fraxel 1927 thulium laser, Clear & Brilliant laser, Q-switched alexandrite or ruby lasers and multiple picosecond lasers — to erase years of sun damage from your face. The reason we have over 9 different types of lasers to remove unwanted pigmented spots is because every person and every spot is different. To learn more about laser treatments, visit fda.gov
These devices can do the same for your hands. The energy from the laser or light targets the excess pigment in brown spots, age spots, and "liver" spots, breaking it into small fragments that your body then eliminates. Your hands look young, clear, and fresh again. The treatments also stimulate your skin to produce more collagen so that it's thicker and resists damage more effectively.
Maintain benefits with custom-designed medical grade skincare
You wouldn't trust your skin to DIY lasers or microneedling, so why should you trust it to over-the-counter skin care products? Our dermatologists recommend the right medical-grade skincare products for your particular skin type and issues, choosing from high-quality brands, including our own. 
You won't have to guess about which moisturizer, toner, and sunscreen is best for your skin — and that includes your arm and leg skin. Your dermatologist recommends the products that are right for you right now, and makes adjustments as your skin needs change over the years.
Schedule Your Leg & Arm Makeover Appointment in San Diego, CA Today
Give yourself a complete makeover by treating your hands, feet, and limbs, as well as your face and body, this summer. Contact our friendly San Diego staff by calling or using our online forms.