Spring and summer are right around the corner—it's not too soon to start thinking about preparing your body for warmer weather. You can display your newly sculpted body in a few short months with Cosmetic Laser Dermatology's proprietary procedure to address common problem areas that often don't respond effectively to diet and exercise alone.
Cosmetic Laser Dermatology is the top cosmetic dermatology practice in the San Diego area. Our world-renowned, board-certified dermatologists leverage science, medicine, and technology to provide patients with ultimate skin and body procedures.
What is Cool³?
Cool³ is a minimally-invasive body sculpting procedure designed by Cosmetic Laser Dermatology for men and women.
Advanced technology performed by skilled dermatologists, the Cool³can remove fat and tone muscles to achieve desired body shaping results. This popular body contouring procedure includes:
CoolSculpting® Elite
CoolTone®
Zimmer Z-Wave Acoustic Therapy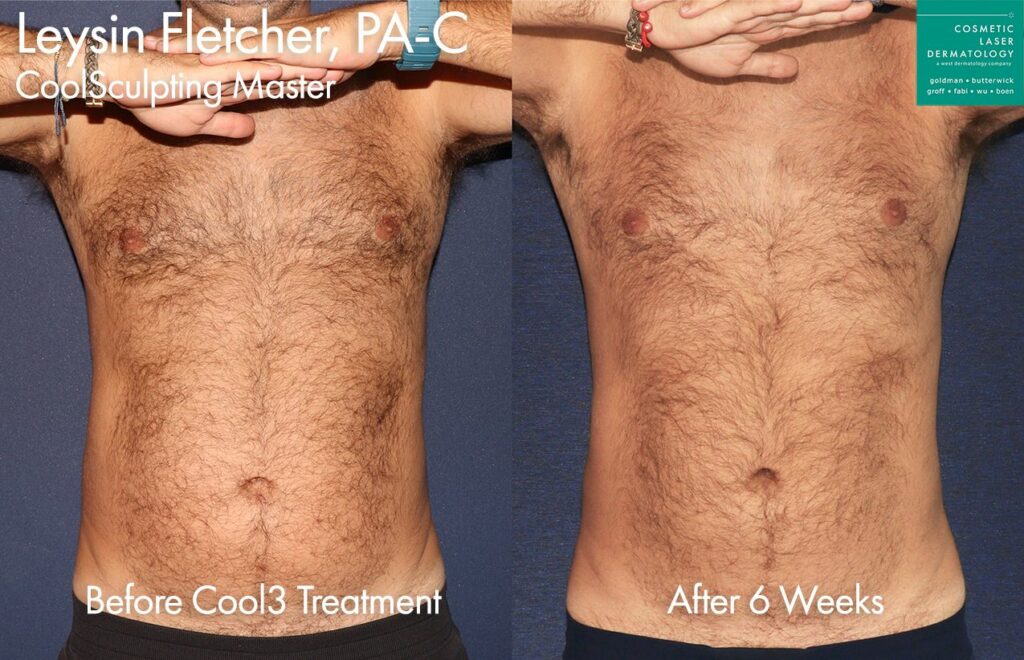 CoolSculpting Elite for Fat Reduction
Part of the Cool³, CoolSculping Elite is one of the most popular body sculpting methods due to its proven success. It is a minimally-invasive, FDA-approved treatment that uses controlled cooling to eliminate stubborn fat bulges. 
Cosmetic Laser Dermatology is the only medical spa in San Diego to use 2 of the advanced CoolSculpting Elite devices at the same time on patients (based on necessity).
Our physician assistant Leysin Fletcher is also one of two Master CoolSculpting Specialists in the San Diego area. We also are the only San Diego clinic to have performed the original FDA studies demonstrating the safety and efficacy of this new advanced body sculpting device.
Targeted fat cells are frozen and destroyed without harming surrounding tissue or skin.
Natural processes in the body then dispose of the unwanted fat deposits for a firmer and more contoured shape. CoolSculpting Elite can be used on different areas, including:
Neck
Chest
Arms
Back
Stomach
Love handles/sides
Thighs
Knees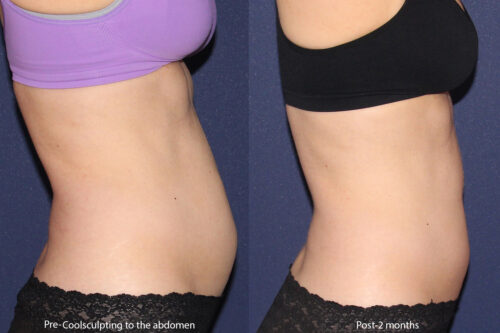 The device has a 'c' shaped applicator, which allows for a better fit to curves and more significant fat reduction. Cosmetic Laser Dermatology has two machines totaling four applicators and can treat four areas at once. The procedure is performed in the San Diego office without anesthesia and little to no downtime.
Zimmer Z-Wave for Smoother Skin
Zimmer Z-Wave is ideal after a fat removing, body sculpting procedure to firm up skin and reduce the appearance of dimples and "cottage cheese" skin. Z-Wave is an integral part of the Cool³ because it smooths out skin and breaks up the unwanted for ultimate contouring results. Z-Wave benefits include:
Non-invasive procedure
Simple application
Gentle and effective
Visible results
Enhanced body contouring results
CoolTone for Beach-Ready Abs
Abs, thighs, and buttocks tend to be trouble areas for many men and women seeking toned bodies.
Despite healthy living and exercise, sometimes these areas are nearly impossible to transform. Cosmetic Laser Dermatology utilizes the FDA-approved device, CoolTone, for these challenging areas.
CoolTone is a non-invasive procedure that sculpts targeted areas using electromagnetic muscle stimulation. It can firm, tone, and strengthen muscles in the following: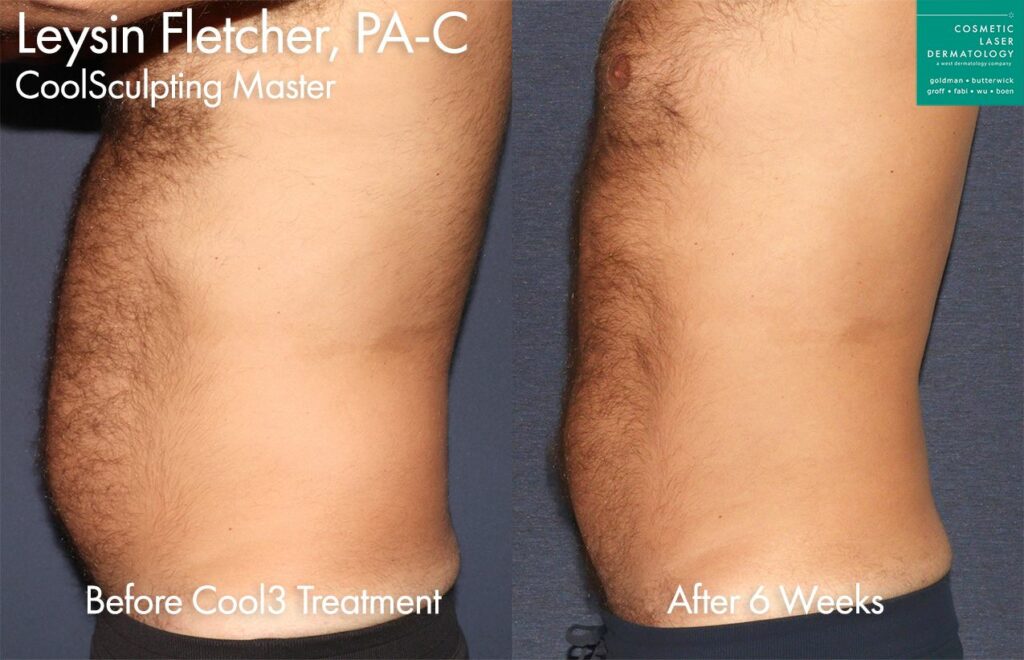 As part of the Cool³ treatment, CoolTone takes results to the next level. It is most effective when used in conjunction with healthy living such as diet and exercise and not to replace healthy choices.
The Power of Three
Individually, each of these treatments is an effective procedure to address body shaping. However, CoolSculpting Elite, Z-Wave, and CoolTone provide superior results when combined.
Removing fat is ideal, but it may leave behind sagging skin, which may reduce the effectiveness of the treatment. Addressing fat without toning muscle also produces a less-than-stellar result.
Combining these effective treatments helps patients achieve stunning results.
Other Body Contouring Options at Our Medical Spa
Cosmetic Laser Dermatology has other body contouring options to help patients slim down and reduce fatty deposits in the body.
Less invasive than traditional liposuction, liposculpture uses a local anesthetic to minimize bleeding and discomfort.
Patients are awake during the procedure and feel little to no pain.
Our expert dermatologists use a tiny cannula to access unwanted fat through a small incision that does not require sutures to close, and the fat is suctioned out of the body.
It is a safe and effective way to eliminate fat, and patients can return to normal activities after just a few days of recovery.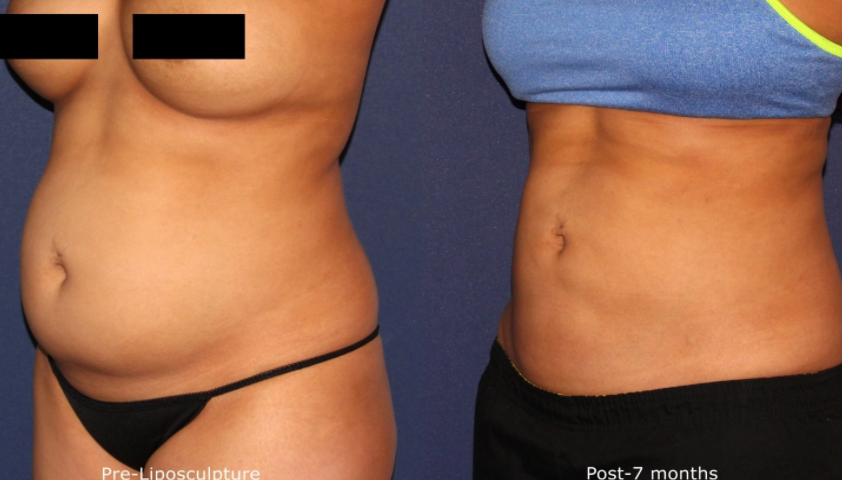 ThermiTight is another body sculpting method that helps tighten and smooth skin and restore a youthful appearance. ThermiTight is a non-surgical procedure that can reduce the adverse effects of aging. It can be used on different areas of the body, including:
Face and neck
Arms
Breasts
Stomach
Knees
Many patients see visible results with one treatment, but more sessions may be necessary depending on individual goals and the extent of the original condition.
Your expert dermatologist can help decide which treatment is right for your specific goals and body type.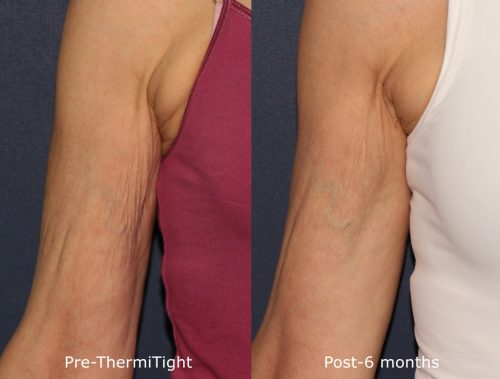 Contact Cosmetic Laser Dermatology for a Better Body by Spring
Cosmetic Laser Dermatology has a range of body sculpting solutions to help you achieve your dream body by spring. Our San Diego medical spa has nine board-certified dermatologists, a physician assistant, and a medical aesthetician to help you meet all your skin and body goals.
We have the latest technology, including more than 50 lasers, light and energy devices as well as innovative combination treatments. We focus on natural beauty results with minimal surgery.
Contact us to schedule your consultation and learn more about Cool³ body sculpting.