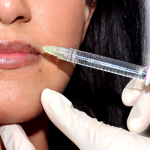 With Valentine's Day just behind us, our dermatologists want to let you in on a little-known secret—fillers like Restylane and Juvederm can help make your lips more kissable than ever in just one office visit. If you're dealing with lips that aren't as full as they once were, we can help restore their youthful and full appearance year-round, giving you kissable Valentine's Day lips year-round!
How Do Lip Fillers Work?
At our practice, our world-renowned dermatologists use dermal fillers like Restylane and Juvederm to restore volume to areas of the face that have gone through a loss over time. Using an extremely small needle to diminish any pain, our doctors inject the filler into the lips to bring a once natural and pouty appearance back to life. The injections itself only take a few minutes, and our dermatologists take every precaution possible to ensure that our patients see optimal outcomes. Because patients may experience very minor side effects like redness, swelling, or tenderness, it's a great idea to schedule your appointment when you'll have a couple of days to relax, allowing your lips to get back into tip-top shape.
For patients looking to diminish the appearance of facial wrinkles before year round, it's very common to perform Botox or Dysport and filler injections during the same office visit as dermal fillers, as both will work on different parts of the face to bring an even more youthful appearance to the forefront. Botox is a very safe cosmetic treatment that can be used to diminish the appearance of deep 11 lines in our forehead, marionette lines around our mouth, and crow's feet that occur around our eyes.
Get Valentine's Day Ready Lips Year Round
To make sure you've got kissable lips even after Valentine's Day, contact Cosmetic Laser Dermatology today to schedule your initial consultation with a board-certified dermatologist in San Diego. Our expert dermatologists are skilled injectors who have an extreme knowledge in achieving natural results while providing unique and excellent patient care.
If you'd like to learn more about the best treatments for you, please contact our medical practice today by calling (858) 943-2113.
Next, learn about How to Reduce Lip Lines.