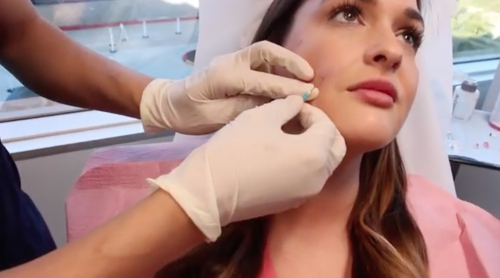 At Cosmetic Laser Dermatology, we are proud to be on the very forefront of cosmetic procedures, and we are excited to announce the launch of brand-new Restylane Lyft. We have long used Restylane products, including Restylane, Perlane, and Restylane Silk, and we look forward to being able to offer Restylane Lyft in the near future as well. This new product from the proven Restylane line is the only dermal filler approved for both nasolabial folds, also known as smile lines, and for adding volume to the cheeks. Restylane Lyft is a brand-new weapon in the battle to bring youth back to the midface!
The dermatologists at Cosmetic Laser Dermatology are physician trainers and expert injectors thanks to our in-depth experience with the product. These advantages mean that patients who undergo Restylane treatment have access to far more experience than is possible with other dermatology clinics.
What is Restylane Lyft?
Restylane Lyft is a brand-new hyaluronic acid gel filler with a firmer texture in order to more effectively add volume to thinning skin that creates hollows in the cheek area. This new filler is indicated by the FDA for use on both the nasolabial folds and cheek hollows. As we age, our skin stops producing as much collagen, leading to thinner, sagging skin that retains wrinkles. Dermal fillers such as Restylane can be used to smooth wrinkles, add volume, and augment the lips, among other uses. Restylane Lyft is specifically for mid face enhancement, making it an exciting addition to the Restylane line.
Hyaluronic acid gel fillers are safe and very effective. They are made from hyaluronic acid, which is a naturally occurring substance in the body, so allergy tests are not needed. If a rare reaction occurs, hyaluronidase can be used to reverse the effects of the filler. There are many types of hyaluronic acid fillers, including Juvederm, Voluma, and Belotero, each with its own indication for which part of the face it is best used on.
Rejuvenate the Mid-Face with Restylane Lyft
The mid-face includes the area below the eyes and above the lips. This area of the face tends to be strongly affected by age, with deep smile lines and loss of volume in the cheek area, which creates unflattering shadows and can make a person look older than they are. Dermal fillers such as the new Restylane Lift can help to rejuvenate the mid-face, taking years off of the appearance and creating a refreshed and youthful look.
Restylane Lyft can also be used in combination with other dermal fillers or neuromodulators such as Botox for an even more comprehensive facial rejuvenation. While Restylane Lyft fills hollow cheeks and smooths smile lines, Botox can help reduce crow's feet and frown lines while Restylane Silk can be used to plump the lips. There are non-invasive solutions to most facial skin concerns, and you can talk to your expert dermatologist at Cosmetic Laser Dermatology to create a custom "liquid facelift" that addresses all of your concerns and rejuvenates the entire face.
Schedule a Restylane Lyft Consultation
If you have concerns about your nasolabial folds or loss of volume in the cheeks, Restylane Lyft could be right for you. To learn more about when Restylane Lyft will be offered and to schedule a consultation, just call Cosmetic Laser Dermatology at (858) 943-2113.
Next, read about A Popular Cosmetic Procedure for Men.