IPL photofacial is effective for all skin types, but results may vary for each person. Some skin tones are more suitable for the treatment and experience maximum benefits. Darker and tan skin tones may have a risk for temporary pigment changes from this treatment.
It is essential to always choose an experienced, board-certified dermatologist for your IPL treatment who can assess your specific skin type and concerns to determine whether IPL is the best treatment option for you.
Who is a good candidate for IPL Photofacial?
Good candidates for IPL facials are individuals who are concerned about sun-damaged skin. Signs of sun damage include:
Sunspots
Age spots
Melasma
Facial redness
Rosacea
Red blood vessels
IPL photofacial treatments may also benefit those looking for an effective anti-aging and skin rejuvenation treatment to address concerns like:
Large pores
Shallow acne scars
Acne discoloration
Fine lines and wrinkles
Broken capillaries and facial veins
Individuals with untanned skin that have reasonable expectations for their results, and prefer a non-invasive approach to skin rejuvenation, tend to see the best results from IPL laser facials.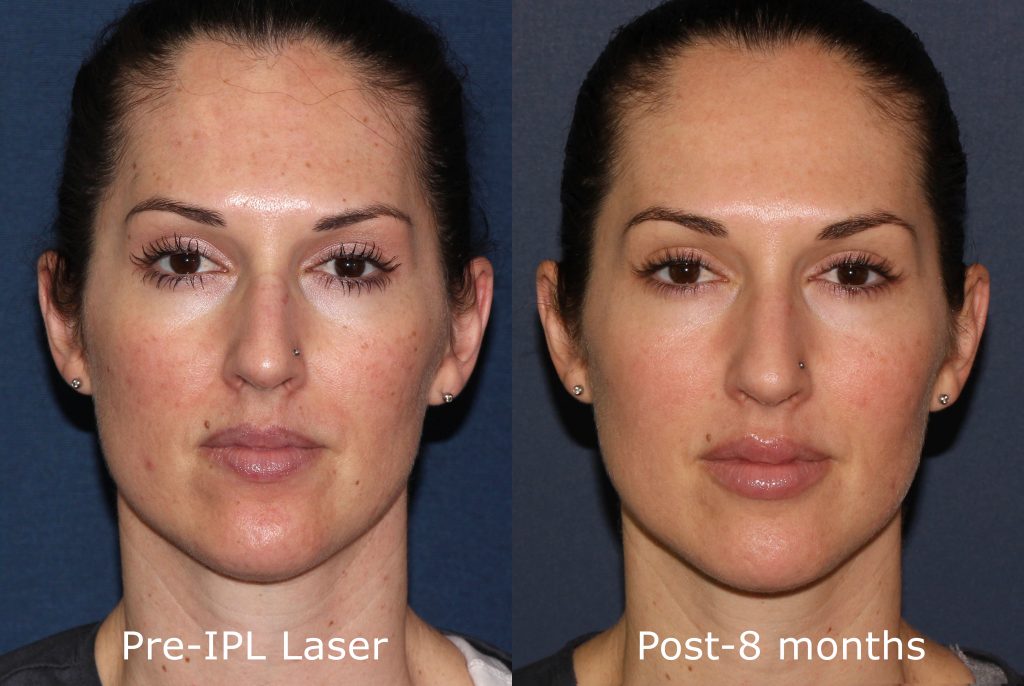 Who should not get an IPL Photofacial?
People with tanned or darker skin tones may not be good candidates for IPL procedures. Other treatments, such as RF microneedling, might provide a safer, more effective option. Patients with deep wrinkles, severe acne, or deep scars may find that laser treatments might produce better results.
Why is IPL not suitable for dark skin?
The darker the skin color, the more difficulty the IPL device has in distinguishing darker pigmentation caused by sun damage from the skin's normal pigmentation. Unlike lasers, IPL photo facial devices emit a broad spectrum of light with multiple wavelengths. Some of these wavelengths have an extremely high melanin absorption coefficient, and IPL may cause discoloration or increase the risk of burns on melanin-rich dark skin.
Patients should only seek IPL treatments from skilled and experienced providers with expertise in using the IPL device settings to produce the safest and most effective outcome. 
Schedule a consultation for IPL Photofacial at our San Diego medical spa
At Cosmetic Laser Dermatology, our board-certified dermatologists offer a comprehensive variety of 50+ lasers, including our most popular IPL photofacial devices, Lumenis Stellar M22 and Lumenis One. With a wide array of device options, we have the ability to treat multiple skin concerns and suit each patient's unique skin type and goals.
Dr. Mitchel Goldman helped develop the first IPL device for treating common skin issues. Each of our dermatologists have been involved in research studies involving IPL, giving our San Diego team the most experience performing IPL facial treatments than any other practice in the country.
If you're considering an IPL photofacial treatment or would like to schedule a consultation, contact Cosmetic Laser Dermatology today.
Next, learn how an IPL photofacial can treat your rosacea.