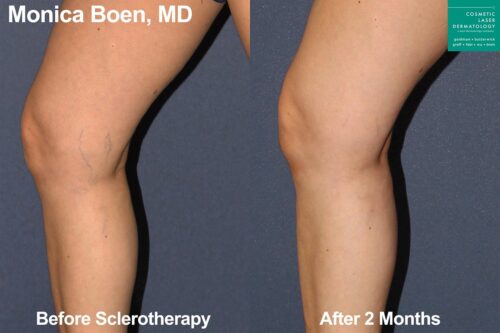 If you have bulging unwanted veins in your lower legs that cause you to wear unrevealing clothing or make you feel a general embarrassment when you do wear shorts or skirts in the summer, you should seek out many of the available treatments offered by your expert dermatologist.
Lower leg veins are a common and unattractive issue that patients face as they age.  The blue and bulging appearance is a result of a back up of blood caused by damaged or weak valves in the lower leg veins. Genetics, gravity, and pressure have over time aided to this unwanted change in the lower legs and this can cause trouble getting blood to the heart.
Today, the skilled and knowledgeable staff at Cosmetic Laser Dermatology have various treatments available to help people feel comfortable and confident about showing off their lower legs. Contact these skilled dermatologists to learn more info about which lower leg vein treatment is right for you!
Lower Legs Vein Treatments
There are many different treatment options available to patients wanting to remove bulging lower leg spider veins:
Sclerotherapy Procedure
The sclerotherapy procedure is typically the first and only line of defense needed to treat lower leg veins.  During this procedure, your dermatologist will inject a sclerosing agent into your unwanted leg veins.  This will cause the vein to immediately shrink! Over the next few days and weeks, your body will naturally absorb and dissolve the sclerosed vein!  The benefits of the treatment are its fast and effective results, as well as the minimal recovery time.  Patients may feel itching, bruising or redness around the treated area.
Phlebectomy for Lower Leg Veins
A phlebectomy is performed when bulging lower leg veins are the size of a finger or larger.   This procedure is minimally invasive and can be performed in your dermatologist's office. During this surgical procedure, patients are provided with a local anesthetic so the treatment is pain-free.  Your doctor will make tiny incisions into the skin near your lower leg vein and the vein is then pulled out.  After the procedure, patients are able to walk right out of the office, as there is no downtime necessary.  You may have bruising and swelling after the procedure, but these side effects are minimal and your lower legs will be vein-free and looking great!
Laser Treatment
Laser treatment is utilized when sclerotherapy is not fully effective; this is rare in office like CLDerm who specializes in effective, high-quality sclerotherapy.  If you do not receive the intended results from sclerotherapy, your dermatologist will talk with you about laser treatments for your lower leg veins.
Contact Your Dermatologist Today!
With the various treatments available for ridding your bulging lower leg veins, you do not have to spend any more time feeling insecure about your legs.  The experts at Cosmetic Laser Dermatology have the experience and knowledge to answer any of your questions about lower leg vein removal. Call (858) 943-2113 today to find out more about these bulging vein removal treatments!
Next, learn about the Best Treatment For Bulging Leg Veins.