TotalTat³ is a proprietary laser tattoo removal procedure developed by Cosmetic Laser Dermatology.
The system was designed to remove tattoos of any size and color on any skin tone from any body part. Douglas Wu, MD, PhD, recently detailed this revolutionary treatment in a webinar that outlined procedure steps and showcased impressive before and after photos. 
If you're looking for an effective way to remove unwanted tattoos, Cosmetic Laser Dermatology's board-certified dermatologists have the experience and expertise to produce the best possible results for you.
Tattoo Regret is Real
Wishing you could turn back time and undo that dated or unwanted tattoo? There's no shame in wanting to remove a tattoo; in fact, 75% of people with skin art eventually regret at least one tattoo.
Dr. Wu cited common reasons for wanting a tattoo removed in his webinar, including:
It doesn't fit current lifestyle or career choice
Got it done too young
Names are no longer relevant or appropriate
Poorly executed
Is not meaningful
Whatever your reason, our medical spa has expert dermatologists and innovative technology to help you move forward without an unwanted tattoo.
The Anatomy of a Tattoo
Dr. Wu explained in his webinar that a tattoo is composed of large ink particles embedded into the skin.
Because the particles are so large, they cannot be removed from the skin with natural removal processes.
Tattoo ink sits below the epidermis layer in the dermis layer and is considered permanent. Our skin has cells called macrophages that circulate and take in foreign particles, but tattoo ink is so large that these cells cannot absorb and remove these particles naturally.
How do Lasers Remove Tattoos?
Laser treatments can remove tattoos by breaking up the color pigment with light beams.
Specific lasers are utilized for different ink colors. Black is the easiest shade to remove because all laser wavelengths absorb it.
Lasers channel energy into ink particles, which shatters them into smaller pieces.
Once they are fragmented into tiny particles, it becomes easier for the macrophages to absorb them and naturally remove them from the skin.
Lasers are the most effective form of tattoo removal. This advanced technology can:
Safely remove tattoos
Remove ink in fewer treatments
Remove a range of colors that were once difficult to remove successfully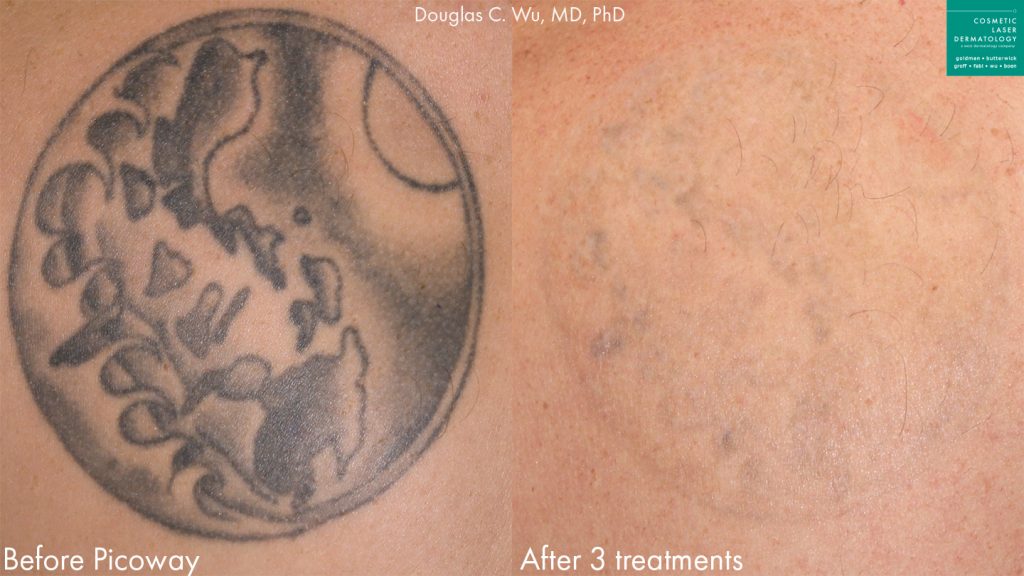 Best Lasers for Tattoo Removal
Only specially-designed lasers can achieve this effect on tattoo ink; most lasers do not have the ability to shatter ink into small enough particles for macrophages to eliminate naturally. Several cutting-edge lasers can produce remarkable results with fewer treatments, including:
PicoSure and PicoWay
PiQo4
Q-switched Alexandrite
Q-switched Ruby
Q-switched Nd: YAG
Fractionated Accupulse CO2 Laser
Most tattoo removals require at least 3-5 sessions, but it depends on factors such as:
Tattoo size and colors
Type of ink used
Location of tattoo
Skin tone
Cosmetic Laser Dermatology has a variety of lasers that can remove tattoo ink as part of the proprietary TotalTat³ treatment and mainly uses PicoSure, PicoWay, and Accupulse lasers.
Other lasers can be used to ensure all patients see results in less time and fewer treatments than they would need with other techniques.
Picosecond Lasers
Picosecond lasers are the most effective tattoo removal lasers because they fire a laser beam within one trillionth of a second—and the faster a laser, the better it is at breaking up ink and removing all signs of a tattoo.
Cosmetic Laser Dermatology dermatologists reviewed the worldwide scientific literature from the last 50 years on lasers and found that picosecond lasers are the best way to remove tattoo ink from the skin. View the study results here.
There are different types of picosecond lasers.
Although they use the same technology, they each have pros and cons and are helpful at different phases of the tattoo removal process.
Cosmetic Laser Dermatology has three of the best Picosecond lasers for tattoo removal.
Our expert dermatologists can combine these laser technologies into a single treatment to leverage the strengths of individual lasers.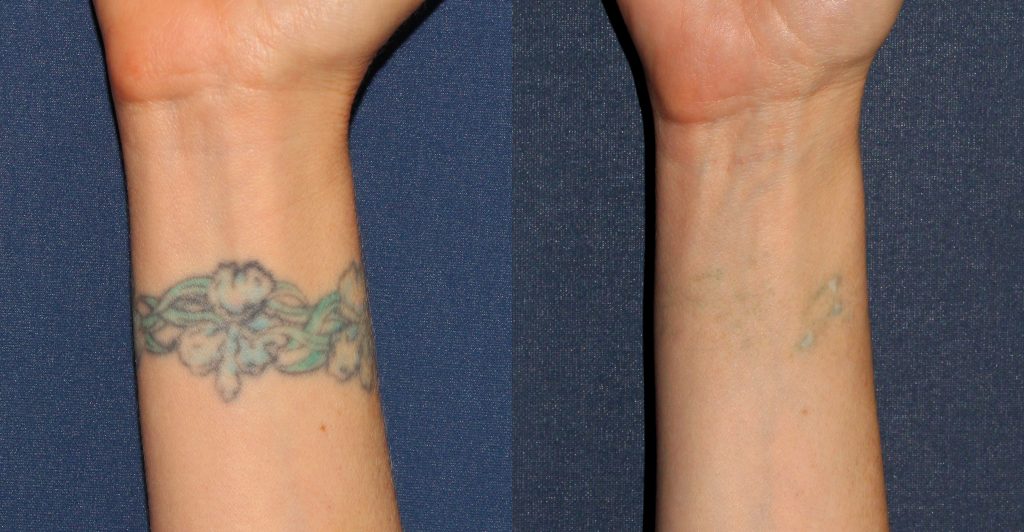 Introducing TotalTat³ at Our Medical Spa
Cosmetic Laser Dermatology helped develop the first laser for tattoo removal more than 30 years ago and continues to stay active and influential in laser technology today.
Our latest development is TotalTat³, a total tattoo removal solution that uses one to six lasers to remove unwanted tattoos as completely as possible. Our board-certified dermatologists create custom solutions based on the size and color of each tattoo and skin type. A combination of lasers is always used for safe, effective, and fast treatment results.
While many patients find the procedure tolerable, local anesthesia with lidocaine can be used to increase comfort level during the removal process.
Both the patient and doctor wear eye protection to prevent damage from the laser light.
After treatment, patients can experience redness, swelling, or temporary pigment changes. It is recommended to stay out of direct sunlight and wear sunscreen to protect the area.
We can guide you through the tattoo removal process during a consultation so you know exactly what to expect.
Benefits of TotalTat³
The greatest benefit of TotalTat³ is that it actually works.
Laser tattoo removal is a safe, simple, and effective way to remove unwanted tattoos. Benefits include:
Any size, shape, and color can be removed with a wide range of lasers
See faster results with only 3-5 treatments
Aftercare is minimal and does not inhibit daily activities
Minimal side effects
Minimal chances of scarring
Lasers have pinpoint accuracy and can remove specified portions of skin art
It is highly effective at making tattoos disappear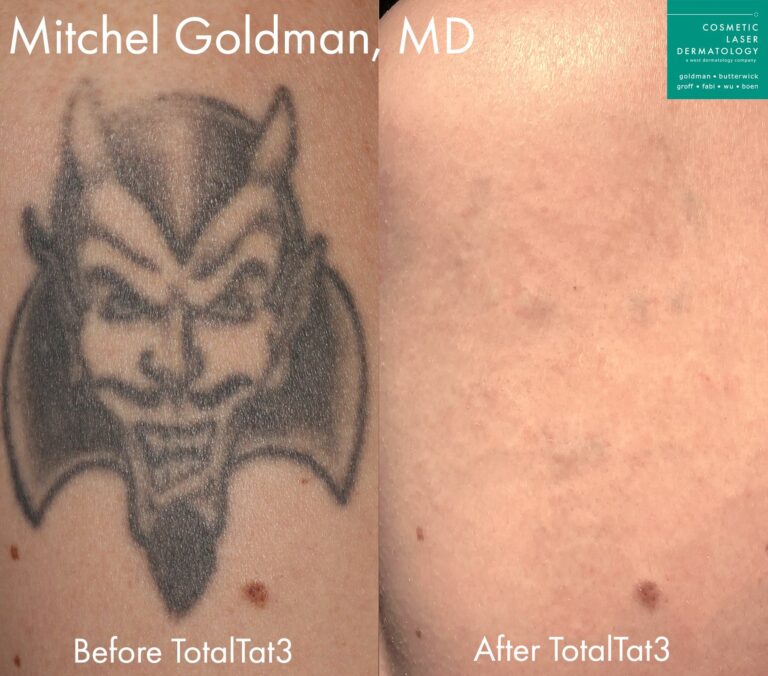 Schedule Your TotalTat³ Laser Tattoo Removal Treatment in San Diego Today
Cosmetic Laser Dermatology has decades of experience in dermatological procedures, including laser tattoo removal. Contact us to schedule a consultation at our San Diego medical spa and learn more about TotalTat³ and how we can help you remove an unwanted tattoo.