Clean eating and regular exercise are the cornerstones of a healthy lifestyle. Unfortunately, even the strictest diets and fitness regimens aren't always enough to achieve sculpted abs or toned thighs and arms. When stubborn fat pockets persist, minimally invasive body sculpting procedures can help women and men attain their goals without going under the knife. Does achieving your dream physique without surgery or downtime sound too good to be true? 
What is Body Sculpting?
Non-surgical body sculpting, also known as body contouring and body shaping, refers to minimally-invasive procedures that can help you achieve a leaner, more toned physique. Body sculpting allows you to reshape your body by targeting specific areas such as the abdomen, thighs, love handles, back, and buttocks. Body sculpting procedures can trim and tone these areas and work by incorporating specific techniques to remove stubborn fat. These include:
Freezing fat cells to eliminate them
Suctioning fatty tissue out of the body
Toning muscles using electrical muscle stimulation
Injecting fat dissolving solutions to small areas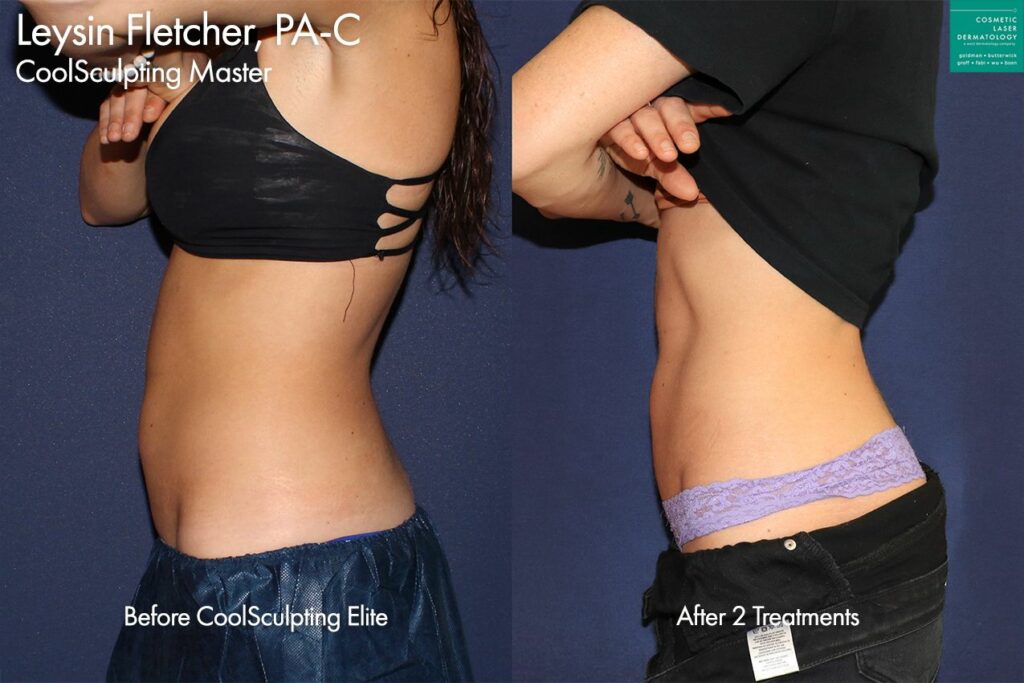 What Are the Different Types of Body Sculpting?
There are several proven body sculpting procedures that will help you reduce fat and help you contour your problem areas with minimal downtime afterward. Options include:
Cryolipolysis
Cryolipolysis uses precisely controlled cooling to eliminate stubborn fat bulges and sculpt various areas of the body. CoolSculpting Elite is a popular procedure that uses this technique. An applicator is placed in a target area and works like a vacuum. Fat cells in the targeted area are frozen and destroyed without harming adjacent tissue or injuring the skin. Your body's natural mechanisms then gradually and safely flush out the unwanted fat deposits, leaving behind firmer skin and a more contoured shape.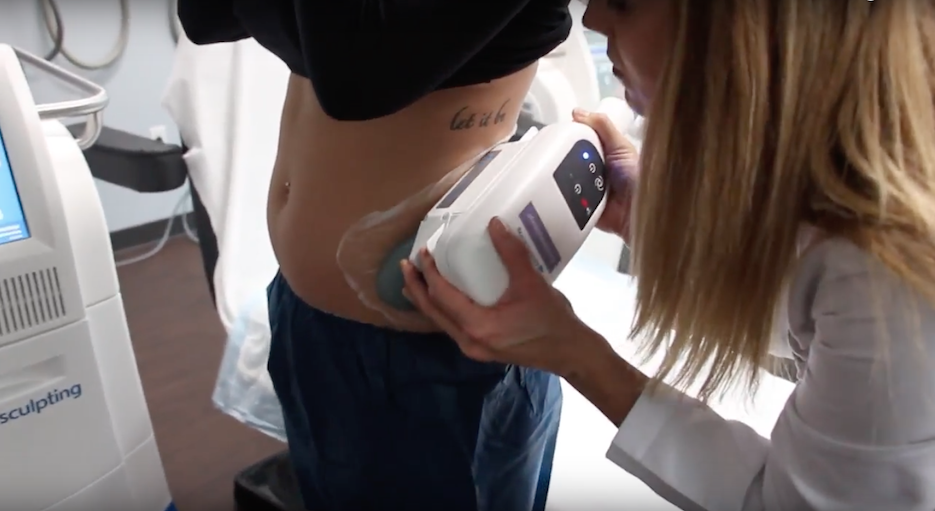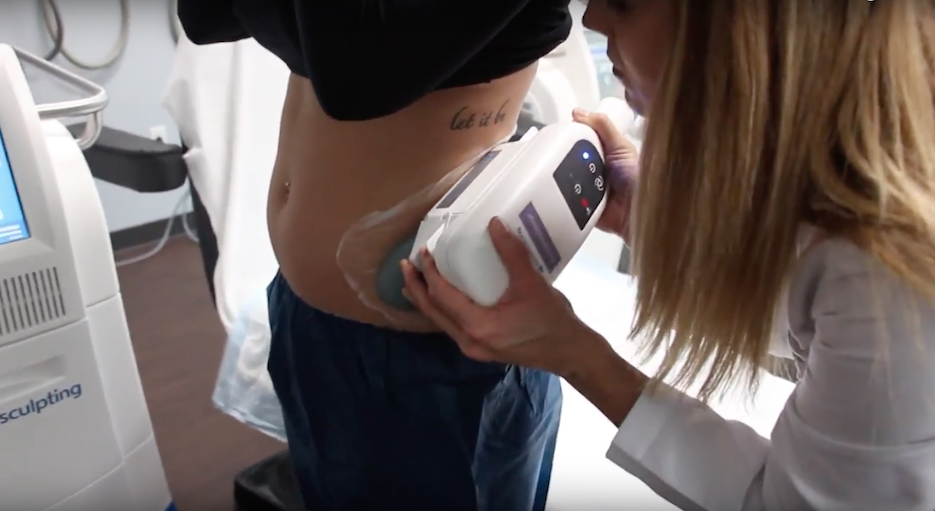 Our board-certified dermatologists use CoolSculpting Elite, which provides superior results in less time than the standard CoolSculpting device. We also take CoolSculpting to the next level with Cool³, a combination procedure developed exclusively at Cosmetic Laser Dermatology that combines popular body contouring methods such as CoolSculpting Elite, CoolTone, and Zimmer Z-Wave Acoustic Therapy. We might also recommend liposculpture and ThermiSculpt/ThermiTight to achieve optimal fat removal and body shaping results.
Liposculpture
Tumescent liposculpture, also known as "Awake Lipo" is the most advanced technique available for permanently removing excess fat deposits in areas resistant to diet and exercise. This technique infuses the treatment area with an anesthetic solution that makes the fat easier to remove, resulting in less trauma to the surrounding tissue.
Unlike traditional liposuction, tumescent liposculpture uses local anesthetic which results in less downtime after the procedure. We insert a microcannula into the area of unwanted fat through small incisions that do not require sutures to close and leave almost no visible scarring behind. The microcannula gently loosens fat cells and suctions them out of the body.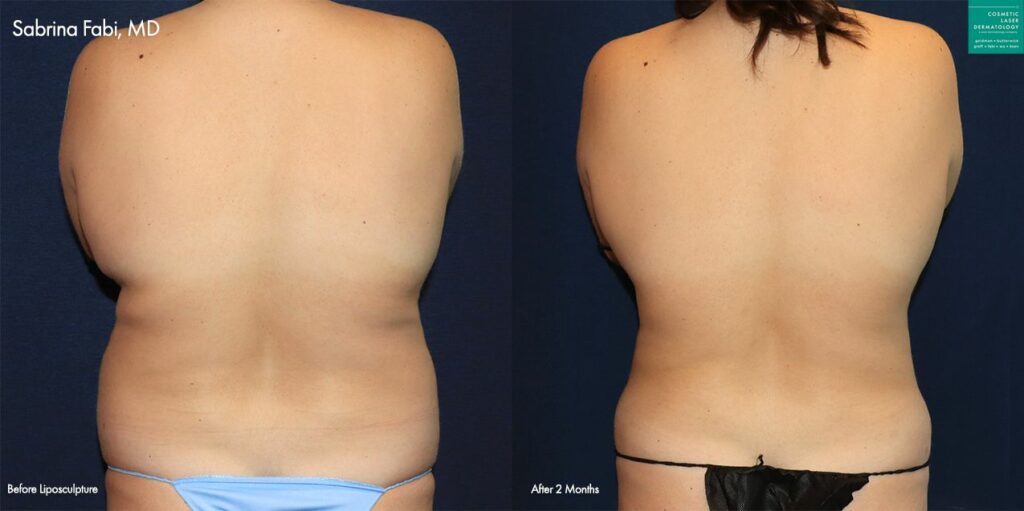 Our board-certified dermatologists in San Diego are liposculpture experts, with more than 60 years of combined experience and over a dozen authored medical publications and medical textbook chapters. Our physicians also teach their techniques at national and international medical conferences. Our research center keeps us at the forefront of liposculpture treatment. A recent study of our 25+ year experience demonstrated that nearly ALL of our patients were satisfied with their results with the majority of our patients so satisfied that they had the procedure performed at multiple times on multiple different body areas. Tumescent lipo offers long-term satisfaction.
Muscle Stimulation
Electrical muscle stimulation (EMS) uses electromagnetic energy that contracts the muscles in a similar way to an exercise routine, but significantly accelerated. A 30-minute treatment offers the equivalent of 20,000 crunches. Your body responds to these contractions by strengthening muscles and boosting abdominal tone and/or buttock tone depending on which areas you wish to treat.
Cosmetic Laser Dermatology offers CoolTone, which uses magnetic muscle stimulation (MMS technology) to target muscle layers to induce involuntary muscle contractions. The CoolTone device is indicated for the strengthening of the abdominal and/or buttock muscles, improving tone, and developing a firmer, more sculpted appearance.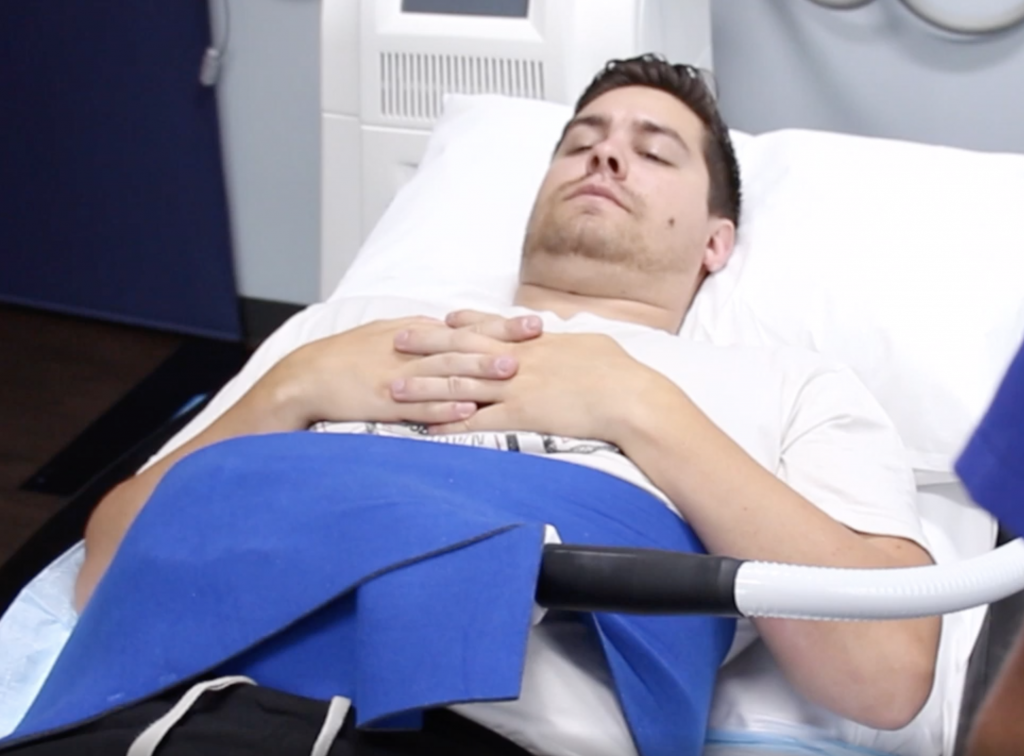 Kybella Fat Dissolving Injection
For small areas especially under the chin or in the bra-fat area, we also offer an injectable way to dissolve fat. Our physicians' have performed the FDA studies leading to the approval of this product as well as more advanced techniques to obtain the best possible results.
Pros of Body Sculpting
There are several benefits to choosing non-invasive body sculpting procedures:
No Surgery – No surgery means avoiding the risks of general anesthesia, scarring following incisions, and the need for a long and painful recovery.
Minimal to No Downtime – You may resume your normal activities immediately after your procedure, making these treatments easy to fit into your busy schedule.
Quick, Easy, Comfortable procedures – We ensure our patients are comfortable during their body contouring procedures. Treatments can often be performed over your lunch hour, depending on the size of the treatment area. These procedures are perfect for those with busy schedules and active lifestyles
Noticeable Results – Non-surgical procedures can produce naturally beautiful results. Clinical research and patient reviews have all concluded that these body sculpting procedures can give you measurable results. With advancements in technology, these procedures only get better and more effective.
Cons of Body Sculpting
While body sculpting procedures provide excellent options for many individuals who want to look and feel their best without undergoing surgery, there are other considerations:
Not a Weight Loss Solution – Body sculpting is intended for those who want to address unwanted bulges in problem areas that cannot be eliminated with diet and exercise. It will not drop the numbers on the scale.
Possible Side Effects – Although temporary, possible side effects include temporary tenderness, redness, swelling, bruising, and reduced sensation in treatment areas.
Gradual Results – It can take up to 6 months to see the best results with some procedures.
Multiple Procedures – Depending on the treatment used, best results are seen with multiple treatments. Your physician can give you an estimate of the number of treatments it should take to achieve your desired results.
Limited Treatment Areas – Most devices are designed to only treat specific body areas, although liposuction can be used on nearly any area where there is unwanted fat.
Schedule Your Minimally Invasive Body Sculpting Treatment With a Board-Certified Dermatologist in San Diego Today
Our board-certified dermatologists in San Diego, CA, are skin and body sculpting experts who specialize in minimally-invasive treatments, providing patients with natural and beautiful results without the need for surgery. With proprietary treatments like the Cool³ combination procedure, we can offer some of the most powerful, non-surgical techniques for body sculpting.
If you want to go the extra mile to remove stubborn pockets and fat and finally achieve the body of your dreams, body sculpting procedures can get you over the finish line. For more information about our body sculpting procedures and other non-surgical aesthetic services available at Cosmetic Laser Dermatology, contact us today to schedule an appointment at our San Diego, CA office.