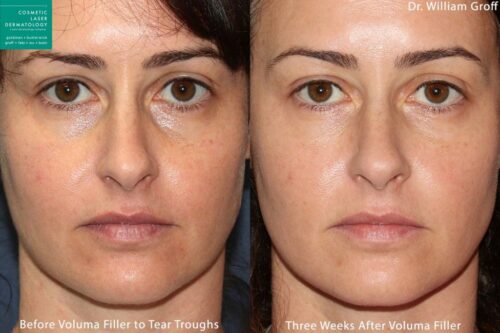 Juvederm has become a popular choice for non-surgical lip injections, but did you know it has many other uses as well? At Cosmetic Laser Dermatology, our board-certified dermatologists use Juvederm in San Diego to smooth lines and wrinkles by restoring lost volume. For patients wanting to minimize signs of aging in the face, Juvederm injectable treatments may be the ideal treatment option!
What Is Juvederm?
Juvederm in San Diego is a dermal filler made from hyaluronic acid. Hyaluronic acid is a natural substance found in our bodies that contribute to a youthful appearance. With age comes the loss of hyaluronic acid and volume, causing sagging, wrinkles, and facial folds to become prominent. When injected by our board-certified dermatologists, Juvederm's smooth gel filler restores lost volume and creates younger-looking results.
Juvederm for Lower Face Rejuvenation
Our lower face can show many signs of aging that can be corrected with Juvederm in San Diego. The area around the mouth and lips are prone to wrinkles and folds as the skin starts to sag with age. Many people develop unwanted lip lines, smile lines, marionette lines, and smoker's lines that were not present in their youth. All of these lines around the mouth can contribute to an aged appearance. Our doctors can expertly inject Juvederm into problem areas in the lower face in order to smooth the skin and diminish the appearance of wrinkles. Patients will look younger and refreshed after lower face injections with Juvederm in San Diego.
Juvederm for Cheek Definition
Because Juvederm adds volume into the face, it can be used as a non-surgical alternative to shape and contour the cheeks and nose. The cheeks and cheekbone area are very important to the overall appearance of the face. Well-defined cheekbones and naturally soft cheeks are sought after by many as they create a more youthful aesthetic. When aging takes a toll on the appearance of the cheeks, Juvederm can be used as cheek filler. With Juvederm, patients in San Diego can have their cheekbones defined and their cheek hollows filled out to enhance the youthfulness of their face.
Watch Dr. Butterwick and Dr. Groff Discuss Juvederm Voluma
Juvederm for Non-Surgical Nose Jobs
For patients who desire to change the shape of their nose without undergoing drastic plastic surgery, our dermatologists offer Juvederm injections as a way to alter the nasal appearance. With a few strategically placed injections, our San Diego Juvederm experts can customize a non-surgical nose job to meet your needs. When you are unhappy with a flat nasal bridge, prominent nasal tip, nasal hump, or nostril size, our non-surgical rhinoplasty specialists can use Juvederm in San Diego to help you achieve a more ideal nose shape.
Schedule your Juvederm Consultation in San Diego Today!
Our board-certified dermatologists are ready to rejuvenate and enhance your appearance using safe and effective Juvederm injectable treatments. To learn more information about how Juvederm in San Diego is the right injectable treatment for you, call Cosmetic Laser Dermatology at 858-605-1897 today!
Next, read about How to Achieve the Perfect Lips.