Despite regular exercise and a healthy diet, stubborn fat can remain in hard-to-target areas like the neck, love handles, and thighs. CoolSculpting® Elite is a non-invasive solution that contours your body without incisions or recovery time.
Why choose Cosmetic Laser Dermatology for your CoolSculpting procedure?
Cosmetic Laser Dermatology is a top medical spa in San Diego with renowned, board-certified dermatologists. Our team is at the forefront of cool technology with our proprietary Cool³ Body Sculpting treatment. Cool³ is a comprehensive body contouring treatment that might include a combination of any of the following procedures:
Our expert dermatologists and physician assistant provide expert treatments and customized care with innovative technology to ensure the best possible results. In an effort to bring patients the most effective and advanced treatment options, we have an in-house research center where we continue to explore the potential for various devices for the benefit of our patients. We also participate in numerous research studies to remain abreast of the latest developments in cosmetic dermatology. Patients can count on Cosmetic Laser Dermatology for exceptional care and treatments.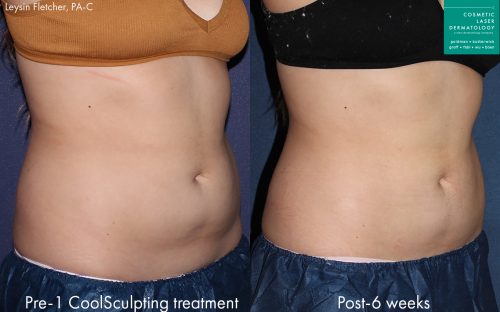 Advanced CoolSculpting Technology
Cosmetic Laser Dermatology offers CoolSculpting® Elite, a body contouring treatment that freezes fat cells so the body can naturally dispose of the cells for a slimmer appearance. The Elite system is an improved design that allows for better skin contact and fat reduction. The c-shaped applicator can move along natural curves more easily for precision treatment and better results.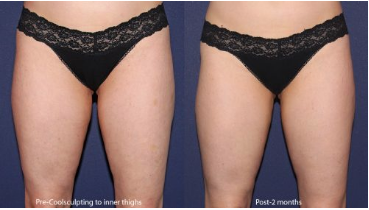 We also offer DualSculpting, which uses two Coolsculpting machines to treat two areas simultaneously for a faster treatment session. DualSculpting is ideal for patients with more than one treatment area that wants to avoid multiple sessions. Common CoolSculpting Elite treatment areas include:
Neck
Chest and arms
Stomach and abs
Love handles
Thighs
Knees
Expertise in CoolSculpting Body Contouring
CoolSculpting is a complex treatment that should only be performed by highly trained professionals. All of our dermatologists have extensive training using CoolSculpting Elite for superior results. Our physician assistant, Leysin Fletcher, is one of only two certified Master CoolSculpting Elite Specialists in San Diego and can provide a higher level of care than other providers using this treatment.
What to expect during treatment at Cosmetic Laser Dermatology
Our experts listen to your concerns and discuss target treatment areas during your consultation. During the procedure, patients may be seated or lying down. CoolSculpting Elite delivers freezing temperatures to fat cells in the target area without damaging surrounding tissue or skin. You may feel a slight tugging on the skin and an intense cold at the start; this indicates the tissue is drawn into the machine and fat cells are effectively destroyed. As the treatment continues, the target area will likely become numb from the cold, and you should feel comfortable enough to read, watch a video, or even nap during your session.
Device applicators require precise placement to ensure firm skin and a contoured shape. Cosmetic Laser dermatology uses the CoolAdvantage enhanced interchangeable applicators to ensure results even in hard-to-maneuver areas. The applicator designs make it easier to contour to natural curves and deliver even cooling for seamless results.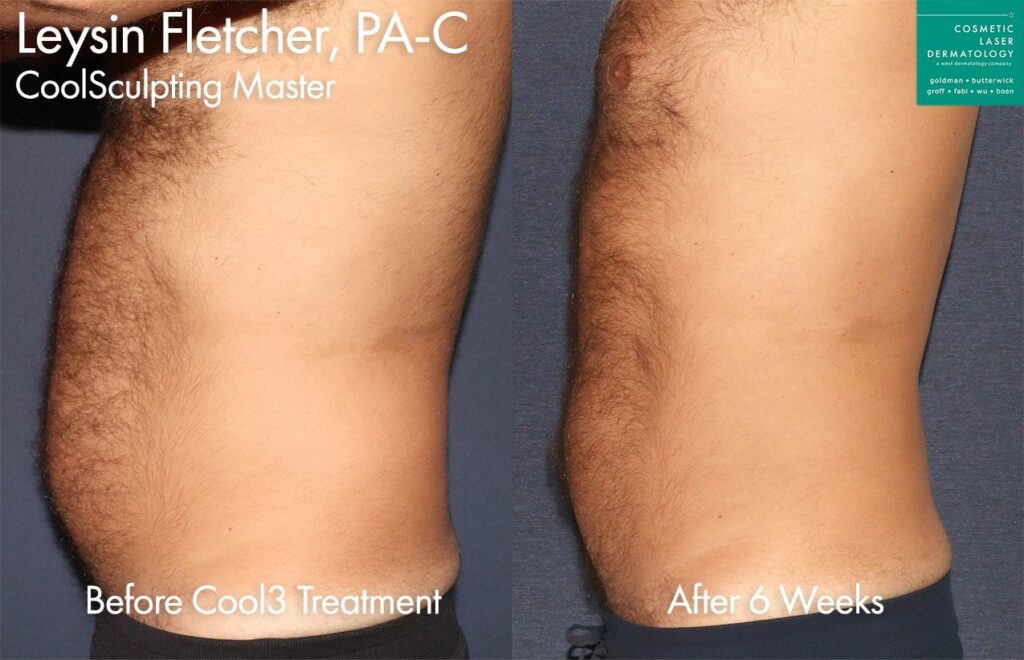 Contact us to schedule your appointment for the best CoolSculpting in San Diego
With more than 50 laser and light devices, as well as proprietary combination treatments that deliver superior results, the board-certified dermatologists at Cosmetic Laser Dermatology are ready to take your body contouring experience to the next level. We can help you sculpt any area of the body, from the neck to the ankles with natural and noticeable results.
You can rely on Cosmetic Laser Dermatology experts for quality, precision, and a higher level of results and patient satisfaction. Contact our medical spa in San Diego to schedule a consultation and learn more about CoolSculpting Elite.
Next, learn all about the pros and cons of body contouring here.