It's safe to say that neuromodulators and dermal fillers have become one of the most popular choices in cosmetic treatments today due to the natural and immediate results you see when performed by an expert cosmetic dermatologist. Reinforcing this trend is the next generation of hyaluronic acid dermal fillers, the RHA line of fillers, which provide an even more natural look whether the face is at rest or in motion. What exactly makes RHA fillers unique?
A Center of Excellence in the Art and Science of Rejuvenation, Cosmetic Laser Dermatology has now included RHA Dermal Fillers alongside the other hyaluronic acid fillers to its roster of non-invasive anti-aging treatments. Our board-certified dermatologists in San Diego, CA, are expert injectors and highly respected for their use of innovative procedures, combination treatments, and involvement in advanced medical research, including the studies for the RHA collection of dermal fillers. Combining these cosmetic breakthroughs in science and medicine, we offer our patients the ultimate anti-aging treatment options.
Injectable Fillers: What They are and What They do
In addition to sundamage, signs of aging you notice on your face are also likely caused by volume loss. As tissue thins out with age, the lines etched around your cheeks, nose, and mouth create both wrinkles as well as sagging skin.
Injectable fillers are gel-like substances that dermatologists place beneath the skin to restore lost volume, enhance facial contours, smooth lines and wrinkles, and soften creases, resulting in a more youthful-looking appearance.
Specifically, injectable fillers can do the following:
Restore volume and enhance shallow contours

Soften facial lines and creases

Improve the appearance of recessed scars

Reconstruct facial contour deformities

Achieve facial symmetry

Reduce or eliminate the lower lids' shadows

Plump thin lips
Hyaluronic Acid for Natural Improvement
One of the most common ingredients used in dermal fillers is hyaluronic acid (HA). HA is a naturally occurring substance found in our body that holds up to 1,000 times its weight in water, playing a vital role in keeping the skin hydrated and plump. When used in dermal fillers, HA can fill in lines, wrinkles, and folds, make the skin look more hydrated and volumized, and enhance the facial contours. HA fillers are soft and gel-like. Popular FDA-approved HA fillers include:
Juvéderm® products –

Juvéderm XC®

,

VOLUMA®

,

VOLBELLA®

,

VOLLURE®

Restylane® products –

Restylane®

,

Restylane Silk®

,

Restylane Lyft®

,

Restylane Refyne®

, Restylane Defyne®,

Restylane Kysse®

,

Restylane Contour®
Depending on their specific formulas, dermal fillers can last from 6-12 months or longer before the body eventually absorbs them.
RHA Fillers for Dynamic Wrinkles
TEOXANE Laboratories' RHA (Resilient Hyaluronic Acid) dermal filler collection (RHA® 2, RHA® 3, and RHA® 4) is the new line of fillers designed to provide an exceptionally natural appearance, whether your face is at rest or in motion. Developed in Geneva, Switzerland, RHA dermal fillers are the first and only FDA-approved HA fillers dedicated to treating dynamic facial wrinkles and folds. Dynamic lines are those that form when you make certain facial expressions, such as forehead lines, creases between the eyebrows, and crow's feet in the outer corners of the eye. These concerns were previously only addressed effectively with neuromodulators like Botox, Xeomin, Jeuveau and Dysport.
What makes RHA fillers unique? The RHA formula more closely mimics natural hyaluronic acid than traditional fillers. Specifically, RHA fillers consist of longer chains with less crosslinking, making them more malleable and more resilient and allowing them to mold and bend with your expressions. This formulation makes them less "stiff" than fillers with shorter HA chains, creating the most natural-looking results that make them the perfect choice for dynamic wrinkles.
Botox vs. RHA Fillers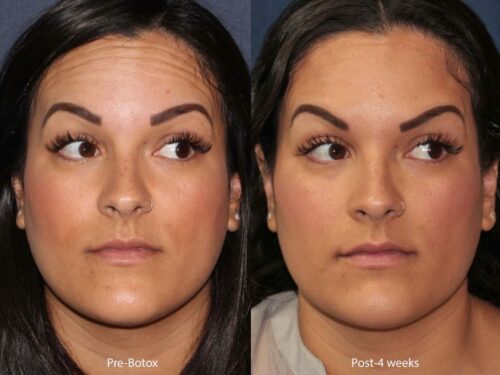 Since RHA fillers work differently than Botox, they are not a substitute for the neuromodulator. While Botox corrects dynamic wrinkles by limiting muscle movements that create those wrinkles, RHA fillers smooth wrinkles by restoring lost volume in your tissues. Essentially, you can still maintain your facial expressions but with fewer lines and creases when RHA fillers are injected into the area.
RHA fillers do offer longer-lasting results (up to 15 months compared to 3-6 months with Botox). They also work well for patients that are concerned about retaining a full range of facial expressions. RHA fillers can also be combined with Botox injections for more comprehensive results for treating dynamic wrinkles. RHA fillers and Botox can work together in reducing wrinkles, smoothing skin, and plumping tissues. Botox can even enhance RHA fillers' effects – since Botox temporarily reduces muscle activity, it can help RHA fillers last longer.
The acclaimed dermatologists at our San Diego medical spa can skillfully design a liquid facelift using carefully chosen injectables based on a patient's unique needs. With so many fillers and neuromodulators on the market, each designed to treat specific skincare concerns, our board-certified dermatologists can successfully combine them to turn back the clock on a patient's appearance in just one sitting.
Juvederm and Restylane vs. RHA
In the world of dermal fillers, brand names like Juvéderm and Restylane have become synonymous with HA fillers known to effectively plump, smooth, and contour areas that need volume and lift. They are safe, effective, and have been part of many patients' skin rejuvenating regimens over the past decade. With that said, if you love the results you've been obtaining from your current brand of filler and are satisfied with how your results look and feel, you'd don't have to switch products. However, there are several reasons to consider trying RHA fillers:
RHA fillers are optimized to treat dynamic areas while remaining undetectable.

Unlike HA fillers used to treat static wrinkles, RHA fillers can address both static and dynamic wrinkles. Specifically, RHA fillers can correct aesthetic concerns like dynamic wrinkles, nasolabial folds, expression lines around the mouth, and marionette lines.

Because of its long-chain HA formula, RHA fillers move with your face and take longer to break down. They may last up to 15 months, where most HA fillers dissolve after about 12 months.

Due to its formula that closely resembles your body's natural HA, RHA fillers may lead to less-post treatment reactions such as swelling in some patients.
Let's take a closer look at the RHA Filler collection to help you determine which product might work best for you:
RHA 2:
For Dynamic Moderate Wrinkles (comparable to Juvéderm Volbella and Restylane Silk)
RHA 2 is a highly resilient formula designed to treat surface lines and moderate wrinkles, such as nasolabial folds, vertical lines, radial cheek lines, and crow's feet.
RHA 3:
For Severe Dynamic Wrinkles (comparable to Juvéderm Vollure and Restylane L)
RHA 3 is both resilient and strong. The thicker formula treats deep wrinkles and creases. It builds volume to smooth more severe wrinkles and folds, including nasolabial folds and smile lines at the corners of the mouth. It can also be used to volumize the midface and lips, and smooth and plump the cheeks.
RHA 4:
For Dynamic Extended Areas (comparable to Juvéderm Voluma and Restylane Lyft)
RHA 4 is the most potent formula with the least amount of stretch. It is specifically designed to treat the deepest lines and folds, particularly those along the lower face and jawline. It can smooth severe wrinkles, rebuild lost volume, and restore volume and definition to the cheeks.
When you come in for your consultation at our San Diego medical spa, we will assess your specific concerns and let you know if RHA might be the best option for you.
Choose San Diego's Top Medical Spa For Your Injectable Treatments
The dermal filler you choose will depend on both your facial anatomy and your aesthetic goals. Your decision should be made in consultation with a highly skilled and experienced injector to ensure the best possible results. Trust your skin to the experts. To learn more about what RHA fillers and our other injectable treatments can do for you, or to schedule a consultation, contact Cosmetic Laser Dermatology in San Diego, CA today.