Has your skin lost its luster? Perhaps it is time to refresh the complexion with a non-invasive aesthetic procedure. The revolutionary JetPeel procedure might be the perfect choice for you. 
In this webinar, Mitchel P. Goldman, MD, and Farzaneh Momeni-Salami, medical aesthetician, at Cosmetic Laser Dermatology in San Diego, discuss this innovative new procedure.
As a full research center with access to cutting-edge treatments not even on the market yet, our cosmetic dermatology professionals offer a variety of non-surgical treatments, including the JetPeel procedure. Learn about the JetPeel to see if this is the right treatment option for you.
What is the JetPeel?
To put it simply, the JetPeel is like a pressure washer for your face. As Dr. Goldman says, there's "no magic in a bottle," but you can find positive results that will make you feel young and beautiful again with the JetPeel. 
The JetPeel is not a cream or a laser. Instead, it uses a powerful stream of micro droplets that deliver active ingredients deep into the dermal tissue where your skin needs them most.
The JetPeel introduces different nutrients into the skin, depending on the condition you want to treat. There is no pain and no downtime with this state-of-the-art procedure. 
Treatment is usually performed at our medical spa once per month to help the skin maintain its soft, youthful glow.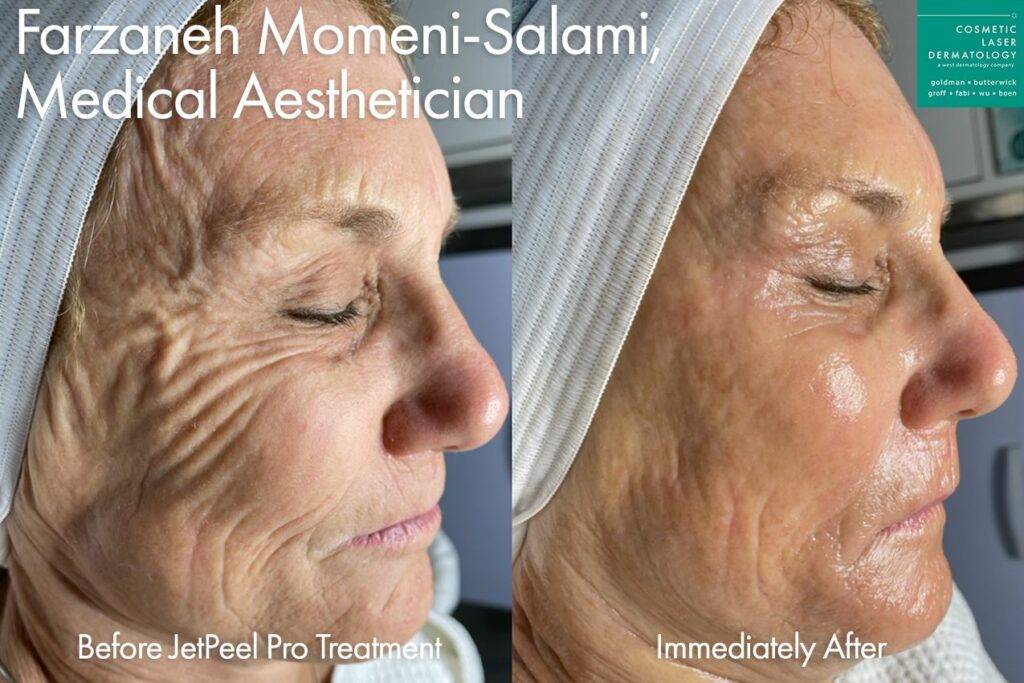 How does the JetPeel work?
Developed by a rocket scientist, the JetPeel generates pressurized air to accelerate liquid or saline at a velocity reaching 200m/sec (656ft/sec). At this high speed and at a 45-degree angle, dead skin cells are removed from the surface and micro-channels are created deeper into the dermal layers without discomfort or downtime.
The anti-aging products are then delivered into the layers of the epidermis that experience sun damage and the effects of aging.
The ability to get products deeper into the skin is one of the features that sets the JetPeel apart from other facial treatments.  
The JetPeel can penetrate a thousand microns under the skin. It converts liquid into micro air droplets and has a pressurized jet stream that delivers powerful ingredients deep into your skin via transdermal delivery.
The JetPeel is an infusion-based technology where the handpiece never comes in contact with the skin and instead, targets the dermal tissue underneath where true rejuvenation can occur. 
To learn more about JetPeel, please visit pubmed.gov.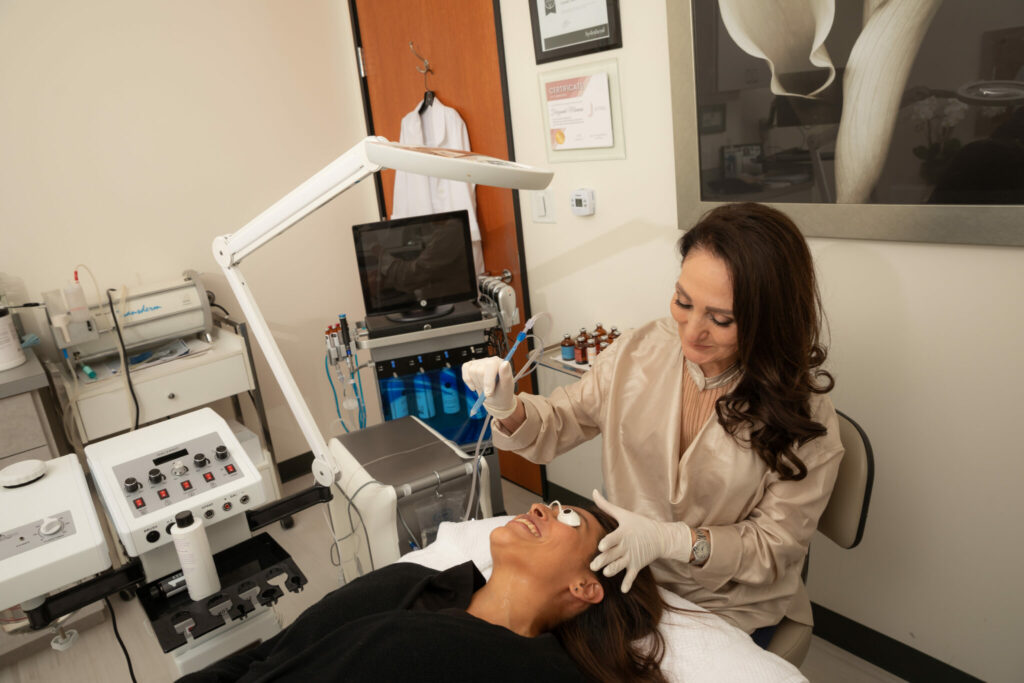 Not Your Average Facial
With 20 years of testing, research, and clinical use, the JetPeel is gentle and effective.
It was originally used in hospitals to treat burns and wounds,removing damaged tissue so that new tissue can grow. It was also used to prevent scarring. The JetPeel stimulates collagen production restoring skin at a cellular level.
You will see an immediate improvement after your JetPeel, but the best results are best seen over time. In addition to leaving our office with a healthy glow, you will actually see your skin continue to improve in the days following your appointment.
What can the JetPeel treat?
There are many conditions that the JetPeel can treat, including:
Fine lines & wrinkles
Uneven skin tone
Hyperpigmentation
Oily skin
Enlarged pores
Acne
Rosacea
Hair loss
Excessive sweating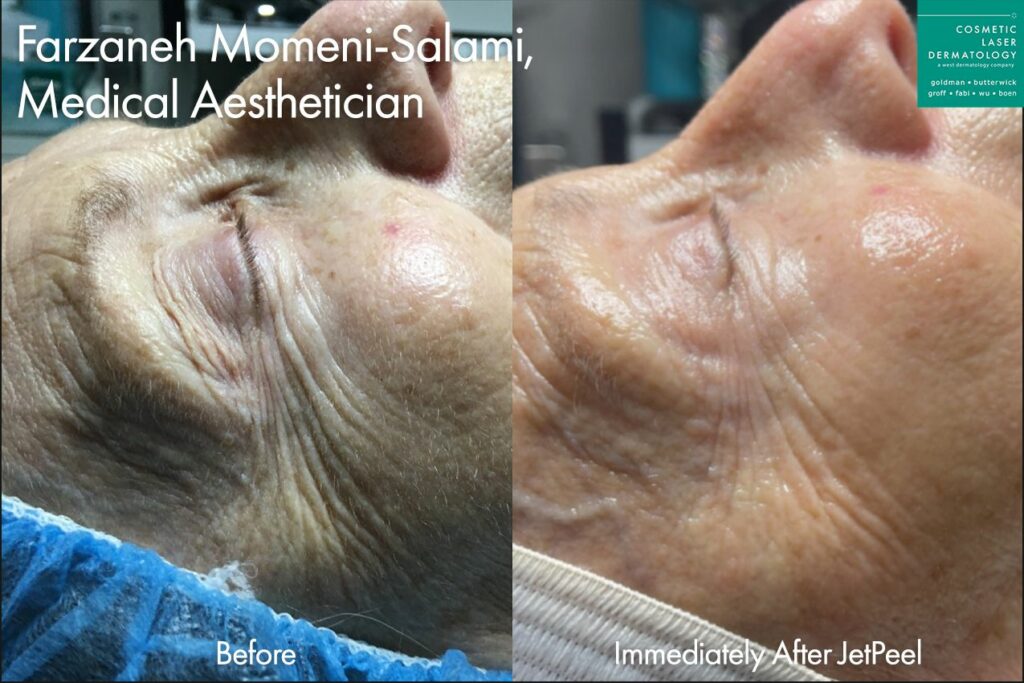 Although the JetPeel is not a cure, it can be used to improve the appearance of your skin and manage the symptoms of various conditions. This procedure is appropriate for any skin type and tone and is even safe for sensitive skin.
Benefits of the JetPeel
If you have several concerns, the JetPeel may be able to address all of them in the same appointment. There's no downtime and you can return to your activities looking and feeling better than before. The JetPeel cleanses the skin while stimulating collagen production without skin damage, pain, needles, and recovery time.
JetPeel Treatment Steps
There are three treatment steps with the JetPeel, including lymphatic drainage, exfoliation, and infusion. Each is designed to work synergistically to produce an optimal outcome at the end of the procedure.
Step 1 Lymphatic drainage: The jet stream of saline and oxygen gently removes natural debris and excess fluid for a deep cleansing of the skin. The JetPeel brings oxygen and nutrients to the skin and stimulates microsieve collection. The result is tighter skin, smaller pores, and an improved appearance of fine lines and wrinkles.
Step 2 Exfoliation: Exfoliation is the process of removing the outermost layers of skin cells, revealing softer, smoother skin underneath. During this step, pore size will shrink, skin tone and texture will even out, and oil will decrease.
Step 3 Infusion: The jet stream of microdroplets using supersonic velocity creates micro-channels deep into skin through a needle-free process. A special active serum will be infused with that jet stream deep into the skin where it can have the greatest effect. Your doctor will use different power serums, depending on what is being treated. The procedure is both deep and fast-acting.
During the webinar, Dr. Goldman undergoes his own JetPeel treatment with Farzaneh to demonstrate the process. You can see his results immediately following the procedure.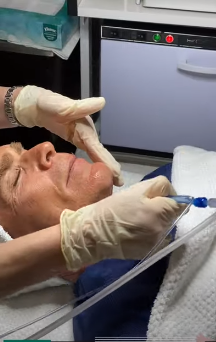 Schedule Your JetPeel Treatment at Our Medical Spa Today
Our medical aesthetician Farzaneh is a pioneer in the field of JetPeel treatments and can help you create a skincare plan that will keep your skin in top condition. Give our medical spa a call at 858.943.2113 or contact us online to schedule your JetPeel treatment in San Diego.