Radiofrequency (RF) microneedling is an effective FDA-approved treatment used to tighten the skin, minimize texture and scarring, and smooth wrinkles. Hair-fine needles penetrate the skin and deliver radiofrequency energy into the dermal tissue to induce collagen production and boost skin elasticity. After a series of treatments, patients are left with tighter, more youthful skin.
What Is RF Microneedling?
RF microneedling combines the benefits of a microneedling procedure with radiofrequency energy to rejuvenate the skin. Microneedles create microscopic channels deep into the underlying dermal layers. The device then delivers RF energy to the tissue, heating the area and facilitating the natural healing process, and boosting collagen and elastin production. Collagen and elastin are essential proteins that are vital to your skin's support system. As we age, our bodies produce less of these substances. RF microneedling restores collagen and elastin levels and turns back the hands of time to create a more youthful appearance.
How Does RF Microneedling Treat Skin Imperfections Like Acne Scarring?
Microneedling with RF treats a variety of skin conditions, including:
Sagging skin
Acne and acne scars
Large pores and stretch marks
Skin tone and texture
Hyperpigmentation
Stretch marks
Cellulite formation
By inducing collagen and elastin production, fractional RF microneedling helps patients achieve a smoother, firmer complexion — minimizing the appearance of skin concerns like acne scarring. In addition to the face and neck, this treatment can be performed on the chest, hands, arms, legs, abdomen, and thighs.
You will receive a topical numbing cream prior to treatment to ensure your comfort during the procedure. Your doctor will perform multiple passes over the treatment area using one of the RF microneedling devices available today. The procedure typically takes an hour or less to perform.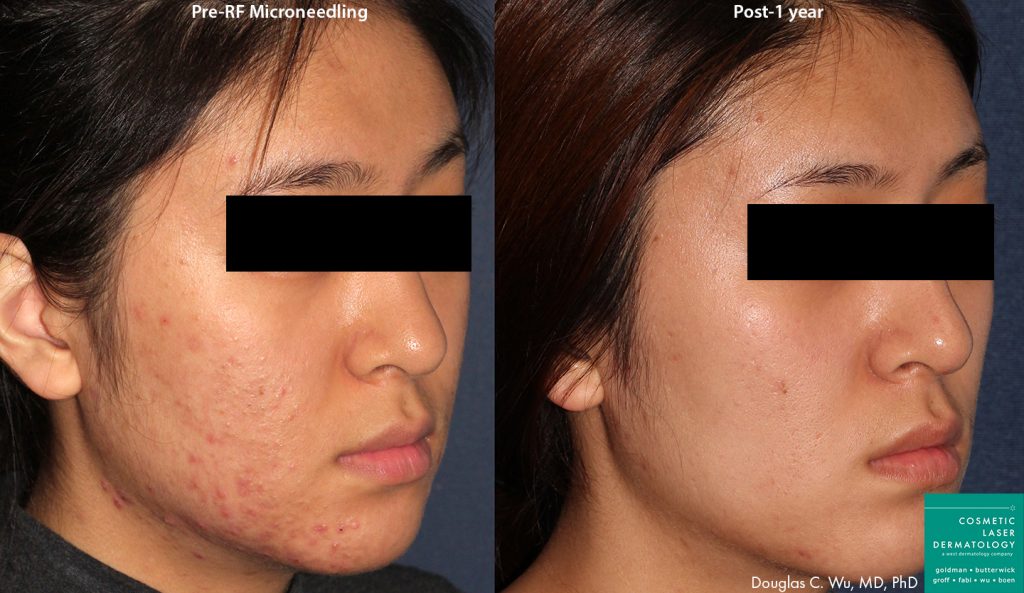 Potenza™, the newest RF microneedling system used at CLDerm in San Diego, offers four modes of radiofrequency to treat various skin conditions with one device. For this reason, Potenza is a one-stop shop for treating many skin conditions simultaneously, without the downtime of surgical treatments.
How Many Treatments Do You Need Before You See Results?
2-3 treatments are typically needed to achieve optimal RF microneedling results. However, the number of treatments depends on the severity of your skin condition and the treatment plan set by your dermatologist. For example, certain conditions like acne scarring could need 5-6 treatments for the best results. 
How Often Should You Have RF Microneedling?
Treatments are usually spaced a month apart, with some flexibility depending on your treatment plan. RF microneedling can also be performed as a preventative measure once a year to maintain your positive improvement. Using professional skin care and daily sun protection in between treatment sessions can help optimize RF microneedling results.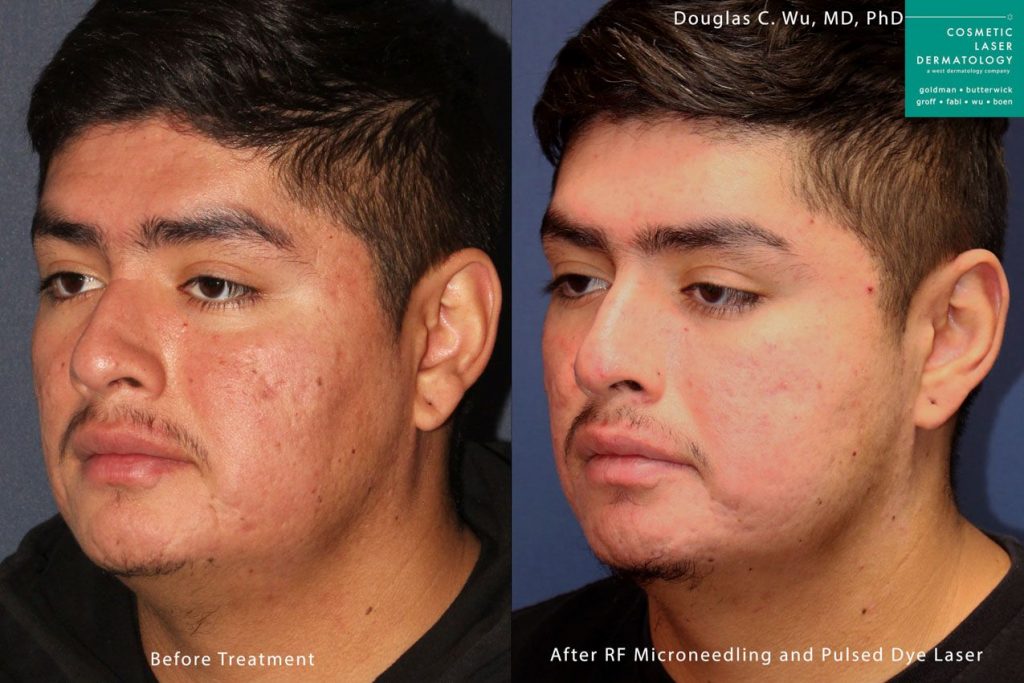 What to Expect After RF Microneedling Treatments
Unlike surgical treatments, patients experience little downtime after RF microneedling. Mild swelling, redness, and tenderness can occur after treatment and last a day or two. Mild crusting of the skin can also occur following deeper treatments and typically subsides within a week.
It's important to be gentle with the skin for a few days after treatment, avoiding makeup, sun exposure, rubbing the skin, and harsh topical products. Your physician will give you specific instructions on how to care for your skin after RF microneedling.
What Skin Types Can Benefit From RF Microneedling?
Another benefit of RF microneedling devices is their ability to treat all skin types and tones. The FDA has cleared the procedure as safe for nearly all patients in good health. RF microneedling is especially beneficial for ethnic skin tones such as Asian, African-American, and Hispanic, often producing better results and fewer side effects than some laser treatments.
Why choose Cosmetic Laser Dermatology for your RF Microneedling treatment in San Diego?
You'll want an experienced doctor to provide a safe, personalized treatment plan when seeking treatment for your skin condition. The board-certified dermatologists at Cosmetic Laser Dermatology are experts in radiofrequency energy, utilizing the latest RF devices and researching their effectiveness, including this 2021 study. We pride ourselves on creating beautiful, natural results for our patients for over 30 years, and we're ready to help you feel confident in your skin.
You can trust your skin in the hands of our experts at CLDerm in San Diego, La Jolla, North County, and Del Mar. Contact us today to schedule a consultation and see if RF microneedling is right for you.
Next, learn about the benefits of fractional laser treatments here.