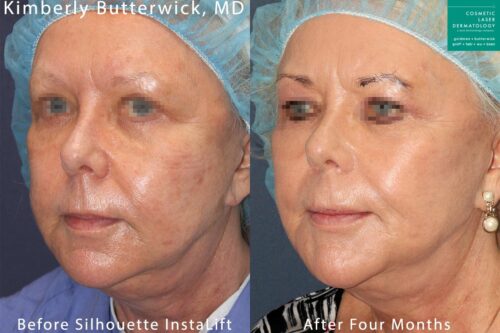 Non-surgery facelift was FDA approved in the United States earlier this year, and our board-certified San Diego dermatologists have now performed many of these skin tightening treatments, perfecting our technique. The InstaLift is the perfect solution for patients who are just beginning to see the signs of jowling and skin sagging in the lower face and want dramatic rejuvenation but aren't quite ready for a full, invasive facelift.
The Silhouette InstaLift is a procedure that takes approximately 45 minutes to perform and requires no anesthesia or incisions. Right after the skin tightening procedure at Cosmetic Laser Dermatology, the face looks lifted, and the best part is that results actually improve over time due to collagen stimulation. This collagen stimulation helps plump the skin and restore lost volume – something that a surgical facelift can't do.
How This Skin Tightening Treatment Works
How does InstaLift achieve double duty results of both tightening and plumping the skin? It works by using special absorbable sutures placed strategically under the skin and anchored in place with bidirectional cones that allow for a natural looking lift. These sutures physically lift sagging skin to tighten and define the jawline, and because they are made of a unique material very similar to the injectable called Sculptra, they create youthful volume over time. Read more about this skin tightening technique at InstaLift.com.
Contact a San Diego Dermatology Specialist to Learn More
This exciting new technology is a great middle ground for someone who needs a little more lift and tightening than traditional non-invasive techniques can provide, but who doesn't want the ordeal of going through actual facelift surgery with all of its potential complications and weeks of downtime. It is essentially painless and is a very good option for those in this in-between stage. If this sounds like you, contact Cosmetic Laser Dermatology in San Diego to book your consultation!
Next, learn about LaserLift, a new Procedure Revolutionizing Neck Skin Care.