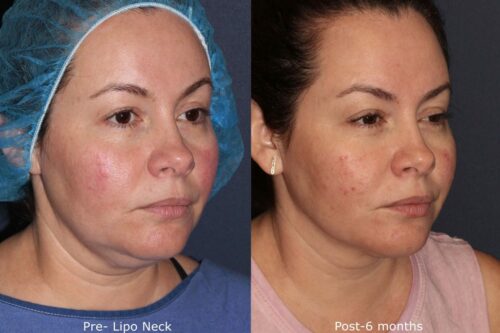 Sometimes, you're so focused on taking care of your face and reducing the effects of facial aging that you neglect to dedicate the same type of effort to your neck. You're not alone in this, but a beautifully sculpted neck is one of the most alluring features on your body.
At Cosmetic Laser Dermatology in San Diego, we understand the importance of a beautiful neckline, which is why we are proud to offer several ways of keeping your neck and décolletage beautiful, tight, and sculpted, including a revolutionary neck lift combination procedure called LaserLift. It combines two of the most effective skin care treatments available for a well-rounded way of keeping your neckline youthful looking.
Don't Neglect Your Neck
Compared to your face, the skin on your neck is usually thinner and drier. Untreated and unprotected, your neckline can develop wrinkles, look dry due to sun exposure, and lose volume due to aging. Preventative measures such as using sunscreen and moisturizer on your neckline daily can reduce future concerns, but it won't fix what's already been done.
Neglectful neck skin care in San Diego leads to sagging skin on your neck and under your chin. Wrinkles and stubborn folds can form, as well, extending onto your upper chest and even the back of your neck. This dulls your skin and makes you look older than you are or feel. Maybe worst of all is that you feel restricted in what you can wear. Bikinis, low-cut dresses, and open-throated tops make you self-conscious and, sadly, you don't wear them as much as you used to.
There are plenty of non-invasive treatments for skin resurfacing and skin tightening to help reverse sun damage or the effects of aging. However, merely one treatment or the other is not enough to give you the comprehensive neck lift that you want.
As such, we recommend the revolutionary combination LaserLift neck treatment for more complete and effective treatment.
Before we look at LaserLift, let's take a quick look at the two components that make up this therapy.
Component #1: Fraxel Laser Resurfacing Treatment for Excellent Superficial Results
FDA-approved fractionated resurfacing (FX) is a non-invasive laser treatment that helps regenerate your skin on and around your neck. By itself, a series of these refreshes your skin, often dramatically. Two types of fractionated laser treatments are available in Del Mar, Active FX and Deep FX.
Active FX is the standard in laser resurfacing because it removes sun damage, stimulates new skin and collagen growth, and provides newfound elasticity. You get more youthful, firmer skin with very little downtime and aftercare in as little as a week!
Deep FX is a deeper treatment option for your neck because it penetrates further into your collagen for repair of deep wrinkles, stubborn lines, and scars due to acne, surgery, or injury.
Component #2: The Deeper Effects of Non-surgical Ultherapy
Typically, only invasive surgical procedures (liposuction or a facelift, for example) are able to treat your cosmetic issues on a deep level. With Ultherapy, however, we can treat the inner layers of your skin and tissue without affecting the skin surface.
This FDA-cleared therapy is a non-surgical face and neck treatment that uses ultrasound technology to "see" deep below your skin to precisely target the foundation of your skin system without incisions or invasiveness. This precision skin care stimulates the production of collagen, improving skin elasticity and defense against gravity and other effects of aging.
It is a viable option for anyone wanting to avoid incisions on or prolong the effects of previous cosmetic surgery in La Jolla. It produces immediate neck lift results in many cases and requires no downtime.
What You've Been Waiting For – Revolutionary Neck Skin Care
Because of the unique characteristics of the skin on your neck, the neck lift treatment that would produce the best results is one that combines skin resurfacing, skin tightening, and wrinkle smoothing.
LaserLift does just that.
By combining fractionated laser resurfacing with Ultherapy, your neckline is transformed! Your skin is tighter, your neck contours more sculpted and attractive, and your appearance is years younger!
This combination procedure can be performed on the same visit or done separately; either way, Ultherapy treatment is usually performed first.
Why You Should Try the Neck Lift Combination Therapy
The main benefit is that it addresses the skin on your neck from top to bottom. Ultherapy tackles the deep, foundational layers of your skin, while laser resurfacing takes care of your skin surface and other superficial issues (wrinkles, fine lines, pigment changes, etc.), making the two therapies indeed complementary.
In essence, Ultherapy works from the inside out without damaging surrounding tissue or the surface of your skin, whereas the fractional lasers work from the outside in to improve sun damage, loose skin, and fine lines and wrinkles.
For more information on neck lift treatments, visit plasticsurgery.org.
Want to Know More about LaserLift? Contact Cosmetic Laser Dermatology Today
If you want to address the skin issues of your neckline in a comprehensive manner and not just focus on the superficial or foundational aspects separately, this revolutionary combination neck lift treatment might be exactly what you want. To find out about this and more, contact Cosmetic Laser Dermatology in San Diego to schedule a consultation.