Cosmetic Laser Dermatology has been San Diego's #1 destination for beautiful skin for over 35 years. With seven board-certified dermatologists and more than 100 years of combined dermatologic surgery experience, Cosmetic Laser Dermatology has made a name for itself as one of the world's leading cosmetic dermatology practices. 
But building an over $20 million per year empire with dermatologic pioneers, cutting-edge research, and the most advanced technology available didn't happen overnight. Our story's inception began with Dr. Mitchel Goldman's mission to reshape the field of cosmetic and laser dermatology, which ultimately evolved into the world-renowned practice it is today. To understand how Cosmetic Laser Dermatology became a multi-million dollar practice, it's important to turn back the clock and see where it all began.
Early Years, First Partners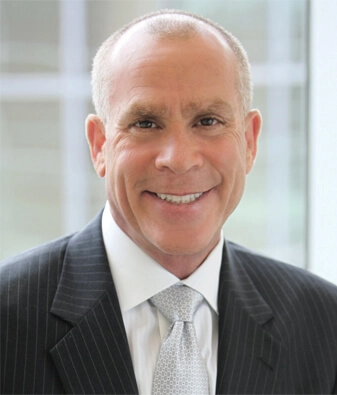 Dr. Mitchel Goldman started practicing medicine in 1986 after completing his dermatology residency at the prestigious University of California, Los Angeles (UCLA). It was then that he decided to join Dr. Richard Fitzpatrick and helped build Dermatology Associates of San Diego, Inc. with additions of other dermatologists including Dr. Kimberly J. Butterwick. Over the course of 14 years, they worked together to create an all-inclusive dermatology practice, which eventually expanded to four offices, two psoriasis centers, and fourteen dermatologists, physician assistants and nurse practitioners.
In 2002, Dr. Goldman felt ready to take on his next major challenge in the skin care industry. He left Dermatology Associates and founded Cosmetic Laser Dermatology, which continues to be one of the most sought-after cosmetic dermatology practices in the world. Building a globally respected practice means recruiting top talent in the dermatology field. Dr. Butterwick joined the practice in 2003 and then to train the best cosmetic dermatologists in the country, Dr. Goldman launched a competitive fellowship program in first cosmetic surgery through the American Academy of Cosmetic Surgery and cosmetic dermatology through the American Society for Dermatologic Surgery. Sabrina G. Fabi, MD, Douglas C. Wu, MD, PhD, Monica Boen, MD, and Kunal Angara, MD, all trained as fellows at the practice before joining as associate physicians.
With more than 150,000 satisfied patients at Cosmetic Laser Dermatology, Dr. Goldman eventually lent his unparalleled skill and expertise to West Dermatology, where he currently serves as Medical Director. Joining him in this endeavor were Dr. William Groff, who he still works with today, and the late Dr. Fitzpatrick.
With over 150,000+ satisfied patients, 50+ lasers and devices, 100+ years of combined experience, and an in-house dermatology research center, Cosmetic Laser Dermatology has become a world-renowned practice and destination for non-invasive cosmetic treatments.
The Rise of Cosmetic Dermatology
The desire to turn back the clock on aging is nothing new. But while historically, cosmetic procedures had been perceived as highly invasive or reserved for celebrities, advancements in technology created a paradigm shift, making dermatologic treatments more mainstream. Thanks to leading experts in the cosmetic dermatology industry, like Dr. Goldman and Dr. Fitzpatrick, treatments that once seemed out of reach became safer, more effective, less invasive, and more accessible. And Cosmetic Laser Dermatology's very own Dr. Goldman played a pivotal role in their growth and development.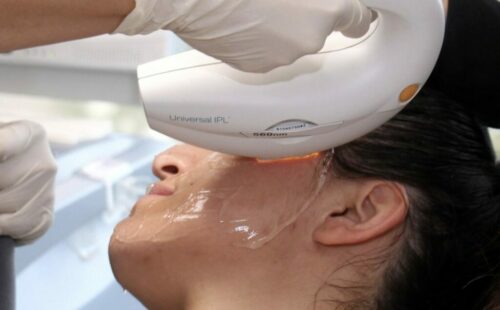 Dr. Goldman's pioneering research on multiple laser techniques, skin rejuvenation, liposculpture, and vein therapy, directly influenced the rise of cosmetic dermatology and made it the flourishing industry it is today. Throughout his career, Dr. Goldman helped develop many different skin care treatments and laser procedures, including:

The Ultrapulse CO2 laser and the laser resurfacing procedure in 1990

The Intense Pulsed Light (IPL) in 1992 

The Q-switched alexandrite laser in 1993 for treating tattoos and pigmented lesions

The Endoluminal radiofrequency and endoluminal laser closure procedure to treat varicose veins in 1994 

The innovative scientifically based skin care line SkinMedica in 1995

The long-pulsed Nd:YAG laser for treating superficial veins in 2000
Dr. Goldman also holds multiple treatment patents that have contributed to Cosmetic Laser Dermatology's meteoric success.
Introducing Cosmetic Laser Dermatology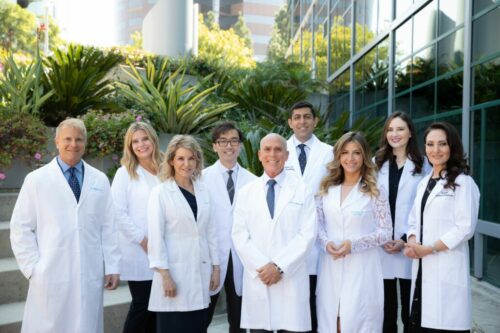 When Dr. Goldman first opened Cosmetic Laser Dermatology in 2002, he didn't expect it to be an overnight success — and it wasn't. It took four years for the practice to become financially successful. But as interest in cosmetic dermatology began to rise, Dr. Goldman and his team's unique experience, skill, and training quickly became highly coveted in San Diego, CA and the surrounding communities.
While traditional plastic surgery procedures, such as facelifts, began to lose their shine, minimally invasive treatments surged in demand. Laser treatments, radiofrequency procedures, light therapies, and injectables like Botox® Cosmetic gave patients the ability to achieve custom dermatologic care without surgery, downtime, or long-term side effects.
As Dr. Goldman's own treatments, such as IPL therapy and laser resurfacing, continued to grow in popularity, so did Cosmetic Laser Dermatology. Since its inception nearly 20 years ago, the practice has become a leader in the field of cosmetic dermatology.
World-Renowned Cosmetic Dermatology
Combining seven board-certified dermatologists, a physician assistant, and a medical aesthetician with the latest technologies makes Cosmetic Laser Dermatology one of the most well-known cosmetic practices in the world. By blending multiple dermatology treatments with the most advanced techniques and devices, the team can provide patients with natural and beautiful results without surgery.
Cosmetic Laser Dermatology consistently works to remain at the forefront of laser and cosmetic surgery research while maintaining the highest industry standards. Their board-certified dermatologists constantly participate in studies to discover the latest cosmetic breakthroughs and find the best skin care treatments that produce natural-looking results. 
Groundbreaking Research
Cosmetic Laser Dermatology has been part of over 280 studies since 1974. For instance, Dr. Goldman conducted and continues to participate in many clinical trials involving Botox®. In fact, Cosmetic Laser Dermatology was involved in the original FDA approval research programs almost 20 years ago. It became one of the first practices in the country to use the now popular anti-wrinkle treatment. 
With over 150,000+ satisfied patients, 50+ lasers and devices, 100+ years of combined experience, and an in-house dermatology research center, Cosmetic Laser Dermatology has become a world-renowned practice and destination for non-invasive cosmetic treatments.
Meet Our Staff
Mitchel P. Goldman, MD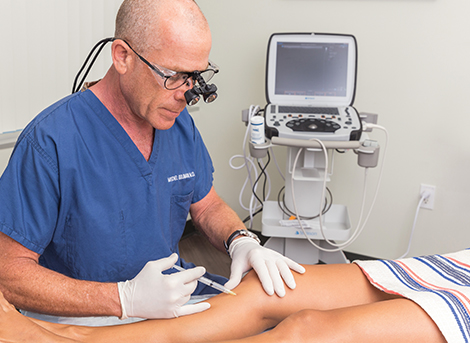 Dr. Goldman was President of the American Society for Dermatologic Surgery (ASDS) and Founder and President of the American College of Phlebology. He is also the co-founder of SkinMedica. Dr. Goldman is considered a leading medical authority around the world and has authored 14 medical textbooks on cosmetic and laser surgery, dermatology, sclerotherapy (Dr. Goldman is known as the godfather of sclerotherapy), ambulatory phlebectomy, and cellulite. Several of these textbooks are considered definitive medical texts in their respective fields. In addition, he has written over 350 peer-reviewed medical publications. He continues his academic work as a volunteer clinical professor of dermatology at the University of California, San Diego (UCSD). 
Dr. Goldman is considered a leading expert in laser surgery and resurfacing, liposculpture, sclerotherapy, dermal filler treatments, Botox®/Dysport®/ Xeomin®/Jeuveau® therapy, photorejuvenation, photodynamic therapy, and laser closure of varicose veins. 
Moreover, Dr. Goldman has assembled a group of accomplished board-certified dermatologists, physician assistants, and medical aestheticians who are all experts in their fields, allowing Cosmetic Laser Dermatology to deliver the highest standard of care worldwide.
Kimberly J. Butterwick, MD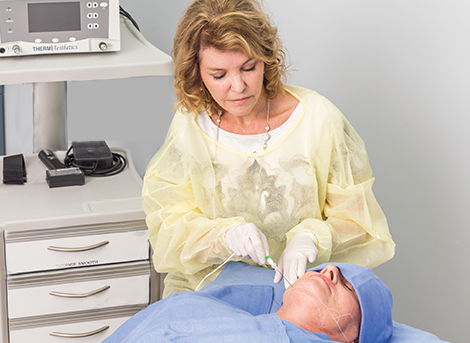 Considered one of San Diego, CA's leading authorities on injectables, filler technology, lasers, and liposculpture, Dr. Butterwick is known for her comprehensive examinations as well as her meticulous technique and artistic eye. She is well-regarded for providing patients with the best options to restore and rejuvenate their appearance. She has been referred to as the nation's premier "expert injector," serving on the advisory boards for Allergan's Juvederm®, Medicis, and Merz. In addition, she is a consultant and national trainer for Sculptra® for face volumizing.
The University City-based board-certified dermatologist frequently lectures on new techniques in facial volumizing, liposculpture, laser rejuvenation, skin tightening, and non-invasive body contouring. She is an authority on non-invasive lipolysis as well, such as cryolipolysis and ultrasound. 
Her clinical studies have been published in nearly 50 peer-reviewed medical articles and book chapters, and she has given well over 500 academic presentations. Dr. Butterwick has also served as a lead consultant with respected companies such as Olay and Pfizer to launch new skincare products into the market and is a co-founder of the SkinMedica product line.
Dr. William F. Groff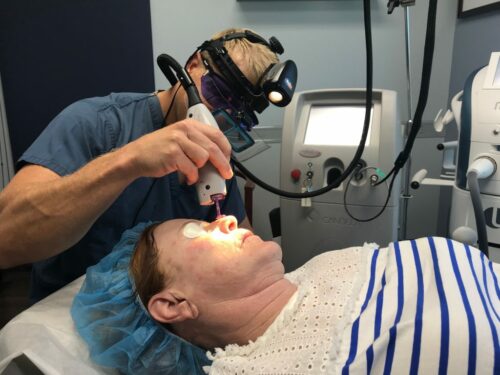 Dr. Groff is recognized as an acclaimed expert with laser procedures, cosmetic injectables, vein therapy, body contouring, liposculpture, tattoo removal, pearly penile papules (PPP), and skin tightening treatments. He also has an excellent reputation for correcting "botched" laser and cosmetic procedures performed by others. He prides himself on staying on top of the newest techniques and on participating in many clinical research trials that have led to the FDA approval of several cosmetic laser devices and cosmetic injectables.
He has pioneered some of the latest advances in laser skin resurfacing, including a technique called Take10. Take10 is a non-surgical alternative to a facelift. By combining the use of multiple laser treatments and therapies (including fillers and Botox), Dr. Groff can rejuvenate the skin and treat the signs of aging by reducing the appearance of sun damage, wrinkles, and skin imperfections on a patient's face, neck, and chest.
Dr. Groff has won the San Diego's Best U-T Readers Poll for being the best Cosmetic Dermatologist and the best Cosmetic Surgeon in San Diego for the past 4 years. He also recently won the 2021 La Jolla Light Best Dermatologist and Best Cosmetic Surgeon as well.
Sabrina G. Fabi, MD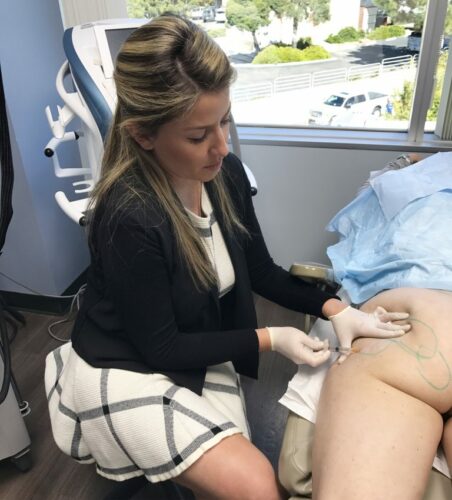 Dr. Fabi is an internationally recognized leader in cosmetic dermatology based near Encinitas. She is board certified by the American Board of Dermatology, a Diplomate of the American Board of Cosmetic Surgery, and an assistant clinical professor at the University of California, San Diego.
As the Associate Research Director at Cosmetic Laser Dermatology, she is actively involved in multiple injectable, laser, and sclerotherapy clinical studies, including Phase III FDA clinical trials. Dr. Fabi is considered a leading authority on Ultherapy and has pioneered many of its current applications, including its combination with other injectables and laser treatments to achieve a natural 3-dimensional rejuvenation on both the face and body. 
Dr. Fabi has authored over 100 medical articles, in addition to co-authoring 20 book chapters on various topics, including cosmetic injectables, intense pulsed light, lasers, liposuction, cellulite, skin tightening, and cosmeceuticals. Dr. Fabi has lectured in Spanish and English in over 30 countries to over 80,000 doctors on aesthetic dermatology advancements such as Ultherapy, vein treatments, fillers, neuromodulators, laser technologies, and body contouring.
She is also a medical correspondent on Fox News and has appeared numerous times on the Latin-American television network Univision to educate the Latino population on cosmetic medical advances.
Douglas C. Wu, MD, PhD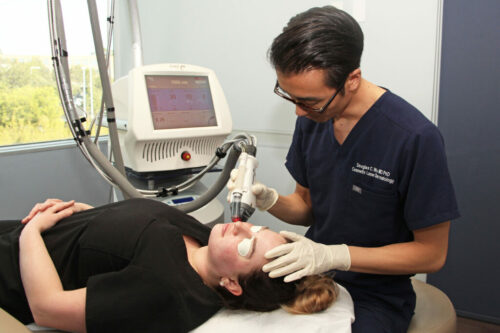 Dr. Wu is a double board-certified dermatologist in Canada and the USA with specialty training in cosmetic surgery via the prestigious American Society of Dermatologic Surgery Fellowship program. Working near Carmel Valley, Dr. Wu specializes in wrinkle reduction, volume restoration with injectable fillers, laser rejuvenation, tattoo removal, vein removal, liposculpture, and non-invasive body contouring.
Dr. Wu has authored numerous medical articles and textbook chapters in general and aesthetic dermatological literature and has lectured at major conferences across the globe. 
Monica Boen, MD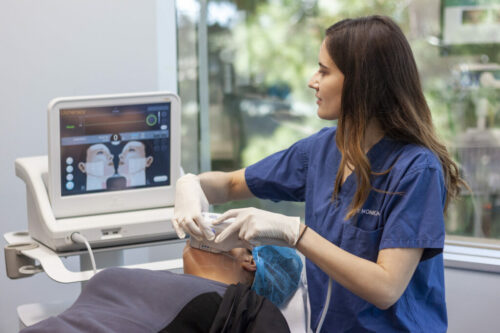 Dr. Boen is a board-certified dermatologist in San Diego, CA, with specialty training in dermatologic cosmetic surgery through the American Society for Dermatologic  Surgery Cosmetic Surgery Fellowship program. 
She specializes in skin rejuvenation therapies with neuromodulators, dermal fillers, and laser surgery. In addition, Dr. Boen performs tattoo removal, vein removal, skin tightening procedures with Ultherapy and Thermage, liposculpture, and non-invasive fat removal with CoolSculpting and ThermiTight®. 
Dr. Boen has written numerous medical articles and textbook chapters in general and aesthetic dermatology and presented her research at national dermatology conferences.

Leysin Fletcher, PA-C
Leysin Fletcher completed her Physician Assistant training at Midwestern University Graduate School in Glendale, Arizona, in 2003. Before attending PA school, she attended the University of Colorado at Boulder and graduated with a Bachelor of Arts degree in Kinesiology. Leysin has spent several years working in general/cosmetic dermatology and is experienced with multiple laser treatments. Leysin is a world renowned lecturer on CoolSculpting and serves as the Laser Safety Officer for the entire practice.
Farzaneh Momeni-Salami
Farzaneh Momeni-Salami is a professional medical aesthetician with over 30 years of experience treating the skin with the most innovative and effective techniques in Germany and the United States. Farzaneh has worked with the team at Cosmetic Laser Dermatology in San Diego, CA, for 15 years, contributing her expertise in customized skin treatment and post-operative therapy. As a leader in her field, Farzaneh has spent her career training fellow aestheticians, working as a clinical aesthetics instructor, introducing new product lines, and developing an exclusive clientele.
Customized Treatments, Superior Results
Cosmetic Laser Dermatology's team of dermatologists combines major cosmetic breakthroughs to bring patients the ultimate in rejuvenation. They offer patients customized care, including the most innovative laser, injectable, body sculpting, vein, and other aesthetic treatments available.
Cosmetic Laser Dermatology is pleased to house more than 50+ lasers and devices to treat many skin conditions. These systems are the most advanced technologies available, allowing the team to provide their patients with superior results. Furthermore, the devices' flexibility, power, and versatility enable them to combine procedures to further enhance results with fewer treatments. By customizing treatments and tailoring each procedure plan according to the patients' needs and goals, they can more effectively address skin issues with minimal downtime, leaving skin that looks and feels healthier, younger, and more beautiful.
Only Trust Your Skin With The Expert Dermatologists at Cosmetic Laser Dermatology
The team's experience and expertise in skin rejuvenating and anti-aging treatments are unmatched, as is their commitment to helping patients reach their goals and regain their youthful appearance and self-confidence. To learn more, contact Cosmetic Laser Dermatology in San Diego, CA today.