Here at Cosmetic Laser Dermatology, our expert dermatologists offer all the latest technologies in both non-invasive body sculpting and liposuction surgery in San Diego. It is our goal to help all of our patients achieve the body contour they want in the safest and most effective manner possible. To this end, we have every major FDA approved non-invasive body shaping device of note in our office, and we also perform tumescent liposuction in our in-house operating room. We have a high level of patient satisfaction, and we are with you every step of the way on your journey to a better body contour.
What is Body Sculpting?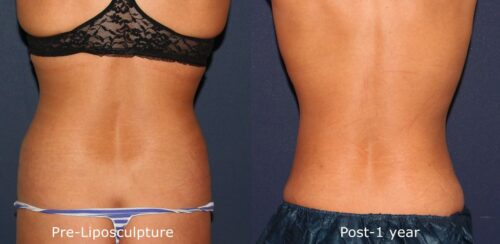 Body contouring, as well as body shaping and body sculpting, are terms that refer not to weight loss, but instead to reducing small areas of unwanted fat that cause undesirable bulges on, for instance, the abdomen, love handles, thighs, arms, back, or chin. There are a variety of these procedures available that have been tested, studied, and FDA approved for safety and efficacy. The most well-known body shaping procedure in San Diego is of course liposuction, but there are also a number of non-invasive modalities that can help to reduce your unwanted bulges.
The expert dermatologists at Cosmetic Laser Dermatology are highly experienced in performing all manner of procedures to help you gain a nicely shaped body. During your consultation, they will listen to your concerns and discuss your options in order to provide a custom treatment plan that will help you on your contouring journey.
Benefits of Body Shaping
There are many benefits to having a body contouring procedure done. If you have been struggling to lose your last few inches after weight loss, or if you have areas of fat that don't respond even to a healthy lifestyle, diet, or exercise, then body shaping can help you to reduce those inches and allow your body to reflect your lifestyle. Many people get frustrated when their bodies don't respond to their hard work, but unfortunately for many people these stubborn fat areas are genetic and simply won't go away even with the healthiest of lifestyles. In these cases, body contouring or laser liposuction in La Jolla can provide the extra push needed to feel great about how you look.
Liposuction Surgery
Also known as liposuction or liposculpture, body contouring surgery is one of the most popular cosmetic surgery procedures in San Diego as well as the rest of America. Lipo surgery is a minimally invasive procedure that involves using a cannula to extract excess subcutaneous fat. It provides dramatic results after a single session, and is very safe in the hands of experienced, board-certified cosmetic surgeons. At Cosmetic Laser Dermatology, our doctors perform tumescent liposuction, which uses only local anesthesia and allows for a shorter recovery period than "traditional" liposuction. Most of our patients are able to return to work a few days after his or her body contouring procedure, and when our director, Dr. Mitchel Goldman, had it done on himself, he was able to go cycling the very next day.
It's very important to remember that liposuction is not a weight loss tool. Fat does not weigh much, but it does take up space in the body. Removing subcutaneous fat does not result in a significant drop in weight, and in fact some people see an increase in weight on the scale due to fluid retention, swelling, and lack of exercise in the first few weeks. Liposculpture can instead help to reduce fat bulges and provide a better body shape, which in turn gives the appearance of having lost weight even though none was actually lost. To learn more about liposuction, visit medlineplus.gov
Non-invasive Body Contouring
If you are hesitant about undergoing liposuction but still want to reduce some of your small areas of unwanted fat, non-invasive body contouring in Del Mar may be a good option for you. In recent years, technological innovations have resulted in effective non-invasive shaping procedures that require no anesthesia and no recovery time, and often take an hour or less to perform. These procedures can't provide the same dramatic results after one session as liposuction can, but they are nonetheless very popular among people who aren't ready to commit to lipo or who are nervous about undergoing a surgical procedure.
The most popular of these non-surgical techniques is the CoolSculpting procedure. This procedure utilizes proprietary cryolipolisis technology to "freeze" fat cells, destroying them and allowing them to be flushed naturally from the body. CoolSculpting results in around a 20-30% reduction in fat cells after one procedure, and results come on gradually. It usually takes around 3-4 months to see full results from CoolSculpting. Multiple sessions can be performed if more reduction is sought by the patient.
Contact Cosmetic Dermatology Experts in San Diego
If you are interested in body contouring surgery or non-surgical procedures, contact Cosmetic Laser Dermatology in San Diego for a consultation and to learn more about which procedures we offer. Don't wait to get the body you want, call 858-943-2113 today!