Not only is skin on display 24/7, it is also a predominant factor in perceived age and overall well-being. Skin is the largest organ of the body and can be a gateway to what is going on inside the body.
Even slight skin tone and texture changes can impact aesthetics, which could be why skin rejuvenation treatments are some of the most popular minimally-invasive procedures.
In the webinar Beyond Skin Deep: The Impact of Skin Health on Perceived Age, Sabrina Fabi, MD, a board-certified dermatologist at Cosmetic Laser Dermatology, dives into skin quality and different procedures to improve various skin conditions.
Cosmetic Laser Dermatology is a top cosmetic dermatology and medical spa in San Diego with a team of world-renowned dermatologists that offer innovative cosmetic treatments and natural results.
Learn more about Dr. Fabi's approach to skin quality and how Cosmetic Laser Dermatology can help you achieve healthier skin.
The Cornerstone of Beauty
Most individuals perceive the cornerstone of beauty to be smooth, glowing skin. An initial inventory of skin qualities can help judge the overall health and age. Inconsistencies or imperfections can taint that image, such as:
Redness
Bumps and lumps
Pigmentation variation
Rough texture
Fine lines and wrinkles
Visible blood vessels
Flawless skin is a universally desired feature, especially among women since it is a feature most men find attractive. When considering skin quality and aesthetic beauty, many skin cues can indicate levels of health, such as:
Increased skin vascularity can mean higher estrogen levels and increased physical fitness
Increased blood oxygenation can mean increased aerobic fitness
Blood deoxygenation can indicate cardiac or respiratory illness
Lighter skin is a sign of femininity, youth, and higher social class
Even skin surfaces indicates younger age and good health
The Take10 for Healthier Skin
Different skin elements such as color, texture, and tone impact our perceived health and age and can be significantly improved with proven treatments and procedures.
Cosmetic Laser Dermatology designed the Take10 treatment as a non-surgical option to a facelift. The Take10 treatment dramatically reduces signs of aging up to 10 years and treats: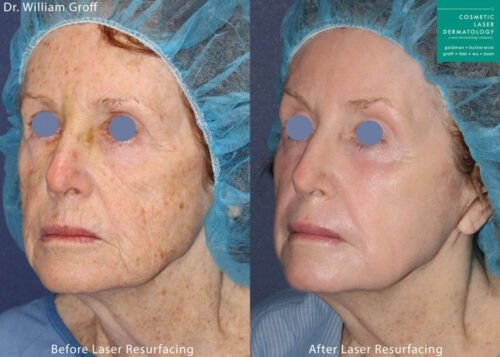 Age spots
Skin imperfections
Sun damage
Wrinkles and fine lines
Loose or sagging skin
Uneven skin tone and texture
Lost volume
With more than 50+ lasers and devices, Cosmetic Laser Dermatology can modify the Take10 treatment to include a blend of lasers, fillers, and Botox to meet your unique needs. Treatment combinations can consist of:
Fraxel re:pair laser: boost collagen production
Ultra Pulse CO2 and Erbium lasers: eliminates fine lines and wrinkles
Alexandrite TriVantage: treats brown spots
Vbeam Perfecta laser: treats red patches and broken blood vessels
Alexandrite and YAG lasers: minimize the visibility of facial veins and capillaries
Active/Deep FX lasers: provide fractional CO2 resurfacing
Dermal fillers, like Restylane, Juvéderm, Sculptra or Radiesse: adds volume
Botox Cosmetic, Xeomin, Jeuveau, or Dysport: treats fine lines and wrinkles
Chemical Peels: promote collagen production and healthy skin cell growth
Common Skin Concerns and Treatment Options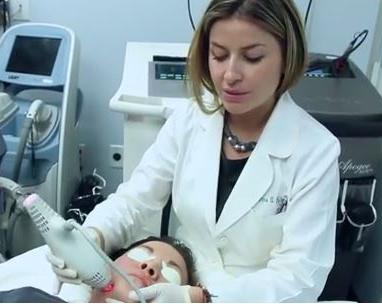 Many skin concerns that impact perceived age and attractiveness can be easily addressed with minimally-invasive procedures. Skin conditions and imperfections affect men and women of all ages and can be improved at a young age to promote healthy skin throughout the aging process.
Sun Damage: The Fraxel Dual laser targets the melanin in skin to remove uneven pigmentation. It also promotes collagen production and healthy skin cell regeneration for natural, long-lasting results.
Melasma: This condition is common in young women, especially after pregnancy. It is characterized by brown patches, typically across the cheeks and forehead. Melasma can be treated with the Fraxel Dual laser and maintained with Clear + Brilliant Permea.
Acne: One treatment option for active acne is photodynamic therapy, a three-step process that uses photochemical reactions to reduce acne, rosacea, and excess oil production.
Acne Scarring: Acne scars can be successfully reduced and often eliminated with a combination of photo fractional treatment, pulse dye laser treatment, and Fraxel restore laser.
Actinic Keratosis: Actinic keratosis is a pre-cancerous lesion that is different from an age spot. Photodynamic therapy can be an effective treatment for these lesions as well.
Rosacea: Rosacea is a chronic skin condition characterized by red patches and visible vessels. Intense pulsed light (IPL) is a quick and effective treatment to reduce redness and improve skin quality.
Age Perception
Skin is the number one cue for perceived age, so when aging symptoms are targeted with skin rejuvenation treatments, it can decrease perceived age and enhance the appearance.
Different procedures can improve skin quality and reduce your perceived age by 5-10 years.
Turning Back the Clock with IPL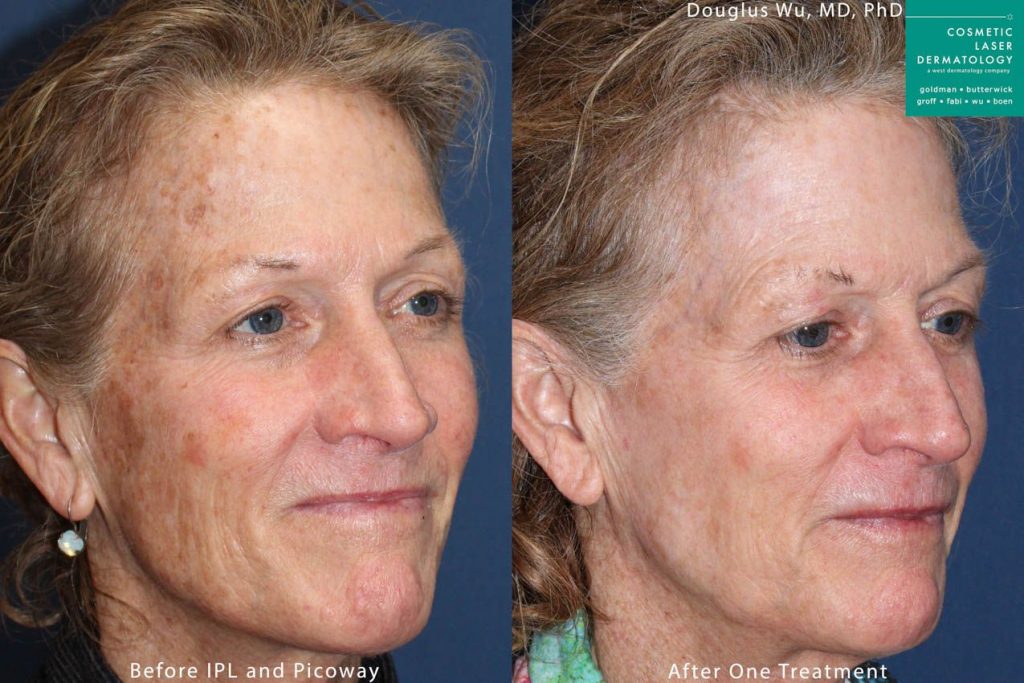 Intense Pulsed Light devices provide effective treatment that can actually slow and even reverse the aging process over time.
In a Journal of Investigative Dermatology study, researchers took patient biopsies before and after three IPL treatments. They found that gene expression from older patients after three IPLs were similar to gene expressions in 20-year-olds.
This study and other research show us that treatments like IPL can reverse the biological clock to some degree. Not all IPL devices are made equal. Professional-grade IPL devices require an expert to operate the laser correctly and use it properly on skin conditions to create significant and long-lasting results.
IPL can also be paired with other treatments to maximize results and achieve younger, healthier-looking skin.
Factors to Appear Young
Factors that impact perceived age include:
Skin topography: Reducing deep wrinkles, acne scars, texture can improve perceived age up to 10 years
Skin discoloration: Minimizing redness, brown spots, sun damage can improve perceived age up to 5 years
In one study, factors that were scientifically related to perceived age were:
Fine lines
Lip height
Graying hair
Cosmetic Laser Dermatology's expert dermatologists use scientific research to guide individual treatment plans that help patients achieve improved perceived age and attractiveness. Each treatment serves a purpose and leads to healthier skin quality.
Skin by the Decade
Skin continuously creates and sheds cells in a cycle that corresponds to age. Individuals aged:
20-30 shed skin approximately every 28 days
30-40 shed skin approximately every 35 days
40-50 shed skin approximately every 42 days
By the age of 50 and older, it can take up to 60 days for our bodies to shed skin. Dead skin cells sit on top of new skin cells, making skin look older and dull.
Cosmetic Laser Dermatology has lasers that can mimic cell turnover and produce healthier, younger-looking skin. It is critical to see a board-certified dermatologist to ensure you receive high-quality treatments that produce the best possible results.
Schedule Your Skin Rejuvenation Treatment at Our Medical Spa Today
It is never too early or too late to have younger, healthier-looking skin. Contact us to schedule a consultation at our San Diego medical spa and to learn more about your options in skin rejuvenation procedures today.